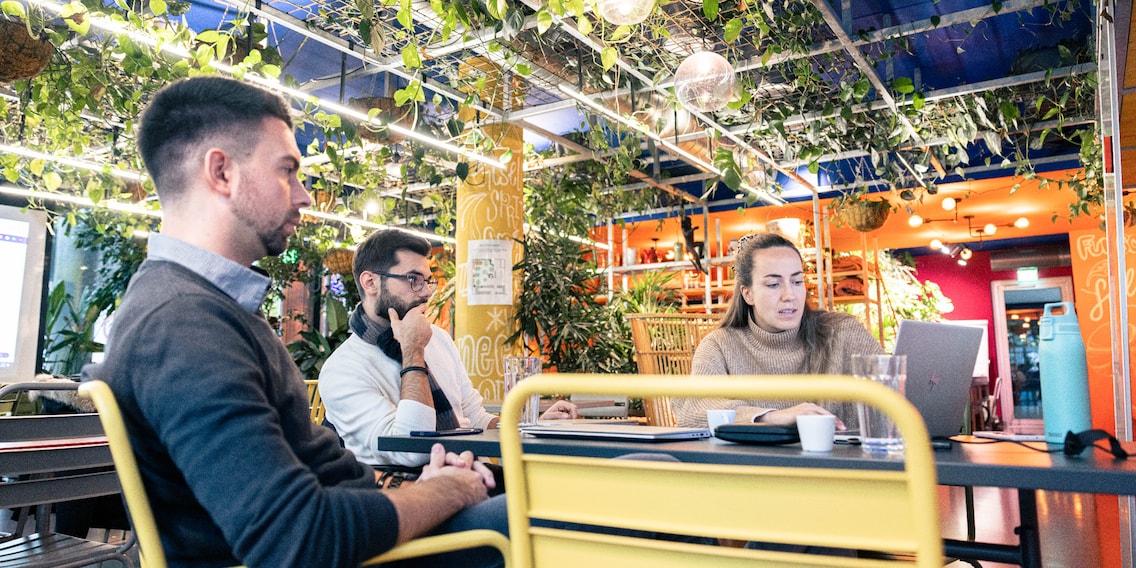 Working at Digitec Galaxus: what we're about
So, you're interested in one of our vacancies? Excellent! On this website, you'll find all the information you need in order to figure out if we'd be the right employer for you. Happy reading!
As Switzerland's largest e-commerce company and an internationally growing brand, Digitec Galaxus offers numerous professional opportunities – from logistics to software engineering to marketing.
However, as we all know, job descriptions are just one part of the picture. That's why we've put together a selection of articles to give you a glimpse behind the scenes. They'll reveal what sort of job opportunities you'll have with us, who works here, how we work together and which values guide us.
After Sales Service
The After Sales department makes sure warranty claims and returns are handled smoothly. This gives rise to a positive customer experience – and forms an important contribution to customer satisfaction at Digitec Galaxus.
Category Management
In Category Management, 270 employees ensure that customers visiting our platforms always find the latest, best products for their needs at consistently low prices.
Customer Service
Our Customer Service Team comes to the fore if something doesn't quite go to plan. Using friendliness, humour and accommodating solutions, they keep our customers happy, despite any hiccups that may have occurred. They're available via chat, e-mail or phone.
Finance & Accounting
Our Finance + Accounting Team bridges the gap between innovation, creativity and predictability on a daily basis. To this end, they support other departments with budget planning, process customer payments and provide key financial figures for planning promotions such as Black Friday Week.
Marketing
The team are in charge of TV ads, posters and the articles published in our magazine. Contrary to the typical way of doing things, 100% of our content is produced in-house. This also covers our box design, performance marketing and communicative brand management.
Apprentices
We currently offer apprenticeships in App Development, Facilities Management, Retail, Customer Communication, Logistics and Media + Communication. Our some 40 apprentices are taken care of by 12 vocational trainers, who're tasked with getting them ready for the world of work.
Logistics
Without our team of logistics heroes, everything would grind to a halt. After all, none of our customers would receive a single package if it weren't for our central warehouse teams working closely together.
People & Culture
We live and love our values. Because they are valuable tools and the guiding star for our collaboration - even across specialist, departmental and national boundaries. Our People & Culture Crew supports the company, our managers and our employees in really applying and living them. And they ensure that we find the right employees. In addition, the team accompanies each employee on their individual career path, takes care of recruiting and everything else that keeps people at Digitec Galaxus busy.
Product Development
Our Product Development Team develop not only our online shop, but the system behind it. We currently have 280 engineers, product owners, data analysts and UX designers working on making our customers' experience even better.
Retail
In our 10 stores throughout Switzerland, we supply hundreds of customers with newly ordered items every day. Anybody who wants to make a return can do so here quickly and easily. We're also happy to provide assistance and advice to anyone with questions about a product.
Supply Chain Management
Our ever-growing Supply Chain Management Team is divided into three fields: Development, Controlling and First + Last Mile. The team's most important task is to optimise the flow of information and goods from the manufacturer to the end customer.
*Have we sparked your curiosity? You can browse all of our vacancies here.
We're looking forward to receiving your application!
---