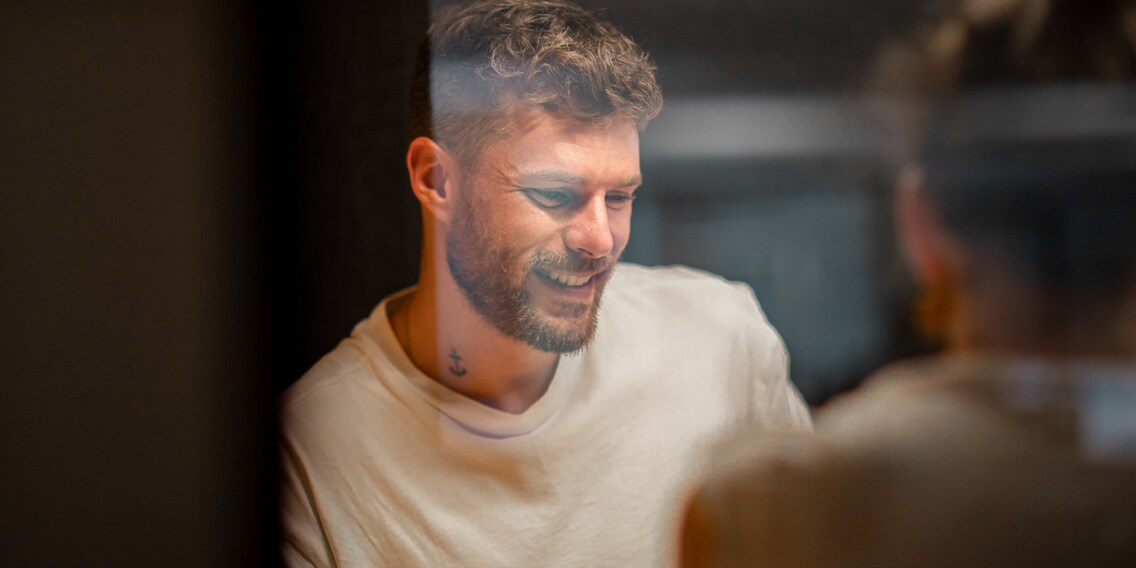 Why a prosperous banker left it all behind to come to Digitec Galaxus

Tim Tanner served the wealthiest of clients as a banker before deciding to take a job at Digitec Galaxus. Find out in this interview what his tattoos had to do with his career change and if the 32-year-old misses the prestige of his old banking job.
You worked as a banker for 13 years in various capacities, most recently as a wealth advisor. The richest of clients entrusted you with their millions. Now you work for Digitec Galaxus. What a change! What made you do it?
I had it all: my own office, great suits, lots of money and prestige. But there was no room for creativity in my job. The bank's hierarchy and rigid processes hardly allowed for «out of the box» thinking; creative solutions had no place. It was clear to me that my talents would be of much more use in an innovative environment. I had already been a fan of Digitec Galaxus for years. I thought the genuine, slightly provocative quizzes and unconventionally written articles were great. A product of people who truly believed in what they were doing. So I said to myself, «If I ever quit, it'll be to work for a company like theirs.»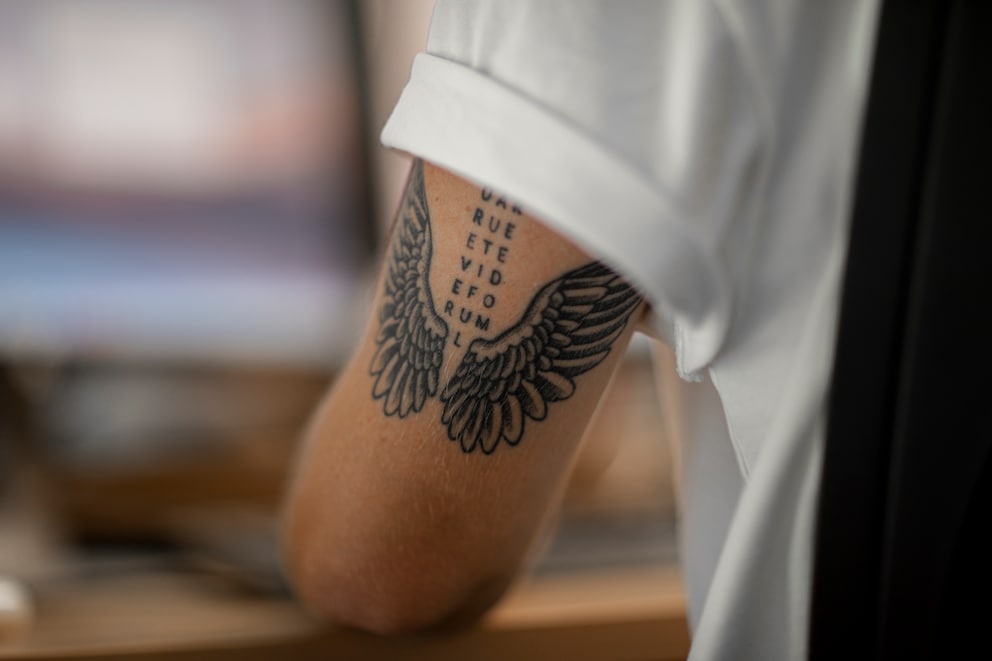 You're now a Category Development Manager at Digitec Galaxus. You're not investing money, so what exactly do you do?
I strengthen the ties we have with our product partners. My area of responsibility is quite broad, but I mainly focus on the automation of our order processing so that products reach our warehouses faster or are directly delivered to our customers.
Just why did Digitec Galaxus choose you for this job? You don't have the typical resume of candidates applying for such a position.
The first sentence in my application must have won them over (laughs). I played around with the stereotype of the uncool banker who doesn't belong at a place like Digitec Galaxus. At the same time, I made it clear why I wanted to drop the suit. Just because someone is wearing one, that doesn't make them better able to solve problems. With that line of thinking and my rebel attitude, I was able to demonstrate my pirate side, a characteristic of utmost importance at Digitec Galaxus.
Did your many tattoos also play a role?
You bet! But not in getting hired, rather in quitting. I didn't want to hide my tattoos under a suit anymore. I didn't want to hide ME under a suit anymore. After I quit the bank, I got a tattoo of a little anchor on my neck to remind me that I never want to go back. Because trying to keep it covered would be extremely difficult.
As a banker, you must have earned quite a bit. I'm assuming you don't get the same pay here. Doesn't that bother you?
The pay here is right for me. The benefits of working here – the flat hierarchy, being able to make decisions yourself, working from home, team cohesion – are worth more to me than a big balance in my account at the end of the month. With my career change, I can finally do what I've always wanted to do. I can use my creative problem-solving skills and be part of a cool team. The bank couldn't offer me that.
For many, the prestige that comes with being a banker is important. How do you deal with the loss of prestige, at least in certain circles?
After I quit the bank, I travelled around North and Latin America for a year and a half. There I realised how little I need to get by. Prestige suddenly held little importance for me. With a higher salary, you automatically adopt a different lifestyle. A lot of it has to do with the people you're around. It's easy to be tainted by your colleagues. A certain part of my personality back then was defined by my suit. Giving it all up wasn't easy, but my journey showed me that I am much more than a suit, a platinum credit card or an expensive watch. It's true that money alone doesn't make you happy and to be honest, that lifestyle never really suited me.
During this interview, I've sensed the enthusiasm and joy you have in working for this company and in your job. The sparkle in your eyes is refreshing! Is there anything you don't like here, though?
(Laughs) It's summer and there's no AC...but that's being really picky.
Have you also made an unusual job change? Or perhaps a complete career change? What has your experience been?
---

I sniff out the best behind-the-scenes stories the Digitec Galaxus universe has to offer. Why? Because I'm fascinated by people and stories. In my other life, I act on all types of stages, sometimes even in graveyards. As a voice-over artist for commercials, I've dubbed a pumpkin and a cow to name but a few. 
---
These articles might also interest you
Skeleton Loader

Skeleton Loader

Skeleton Loader

Skeleton Loader

Skeleton Loader

Skeleton Loader