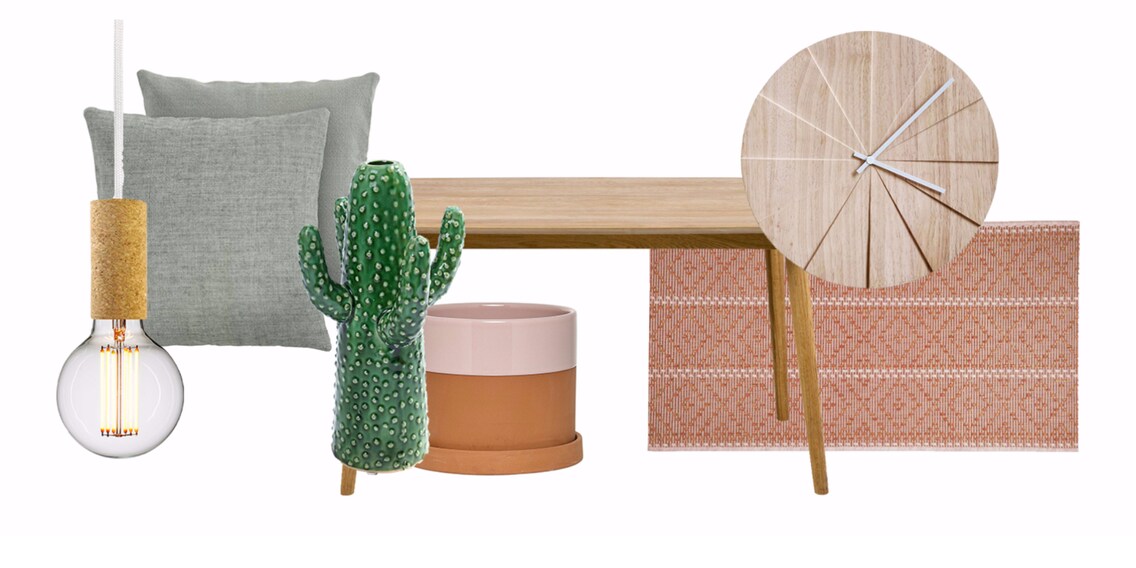 A lot of wood, warm terracotta, light linen and greens: Back to nature is the name of the game in 2017.
Pottery, leather, wood and lots of green: The home décor trends for 2017

Back to nature is the motto when it comes to interior trends in 2017: Wood, leather, pottery and linen are taking centre stage. The dominant colours are calming, earthy tones including warm terracotta for accessories, fresh, light colours for textiles and dark green in all areas. It looks like 2017 is going to be cosy and comfy.
Trend 1: Pottery
Hand-crafted items from the kiln will have you nostalgics out there rejoicing. The 70s pottery trend is back! Small imperfections and impressive glazing patterns add charm and make each item unique. If you want even more uniqueness, try getting behind the potter's wheel yourself!
Trend 2: Dark green
If you weren't blessed with green fingers, you're in for a treat this year: Although real plants are still very trendy, they can be replaced (or complemented with) by dark-green accessories. Particularly popular in 2017 are ceramic cacti in all shapes and sizes. Even dark-green wall colours are making a comeback! They have a calming effect on rooms and reclaim a bit of nature for your home.
Trend 3: Wood
To achieve a natural look, there's no getting round wood. So it's not surprising that it's always trendy. Wood radiates cosiness and is also an extremely versatile material.
Trend 4: Terracotta
Reddish earth tones are perfect for adding a few splashes of colour to your home. And we don't just mean terracotta flowerpots: Try crockery, textiles and even furniture with that Mediterranean touch!
Trend 5: Linen
The general love for linen is mainly reflected in home textiles: Curtains, decorative cushions and bedlinen in fresh, light colours will give your home an airy, natural look. Slightly creased material will even perfect the overall style!
Trend 6: Cork
Being a natural product, cork is not only decorative but also eco-friendly. The renewable material is harvested from the bark of the cork oak, which is stripped about every nine years. Cork is no longer only used for pinboards and bottle corks. Home accessories, lamp shades and furniture are also often decorated with it.
Trend 7: Leather
Following the velvet trend in 2016, leather vintage-style upholstery is all the rage this year. The golden rule is: the more patina the better. If you're reluctant about getting a leather sofa, try adding accessories that are either made of leather or decorated with leather details.
More about the trends in 2017:
---



When I'm not busy putting together home décor themes or planning marketing activities for Galaxus, I enjoy decorating my home with things I love and starting DIY projects I finish all too rarely. The inspiration I get comes from blogs, magazines and travels. My favourite home living styles: Nautical, Scandinavian and Nordic. 
---
---
These articles might also interest you
Skeleton Loader

Skeleton Loader

Skeleton Loader

Skeleton Loader

Skeleton Loader

Skeleton Loader