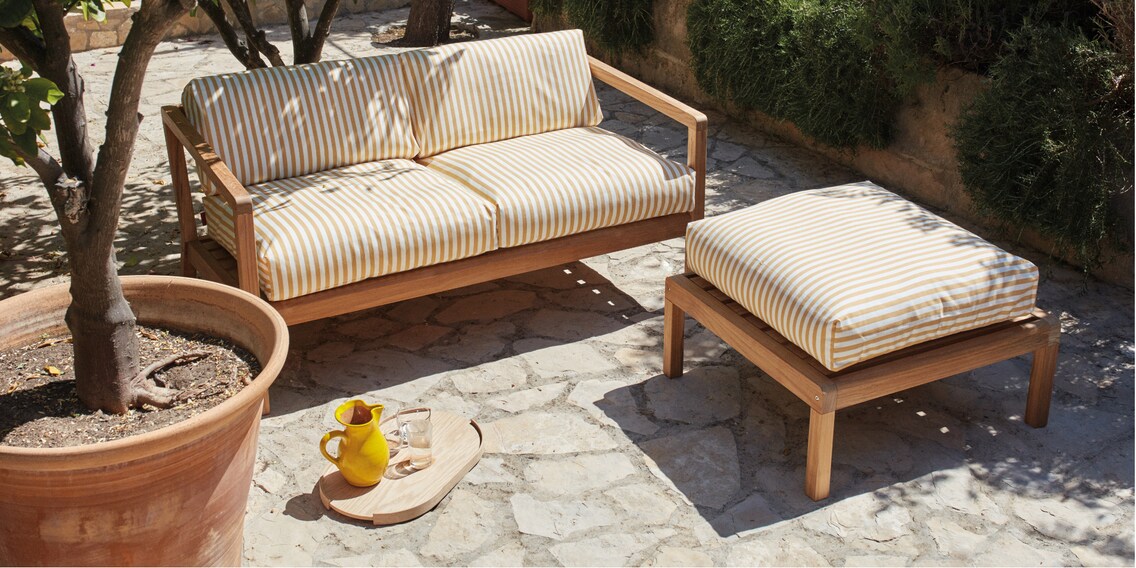 Three alternatives to chunky garden lounges

Rattan sofas, garden lounges and big sun chairs are beautiful, but mostly impractical. Fortunately, other outdoor seating options can be arranged in a variety of ways without a feat of strength.
Aside from the fact that I don't have enough room for a full-garden lounge, I don't really want one. It's too bulky and boring for me in the long run. The most you can do is move this clumsy furniture around or spruce it up with decorative pillows. What if I move? I imagine the lugging around would be tedious. That's why I prefer a compact solution. A true «sun chaser», one that can quickly move somewhere else – even into the cellar in winter, if necessary. If you feel the same way, I'm sharing my three favourite convertible seating options below.
Textiles
Thanks to garden-suitable materials, textiles bring a welcomed change to the outdoor living room. Water and UV-resistant cushions can be used for chairs and deckchairs. But they don't have to. They're equally nice for creating an upholstered landscape, to substitute for a lounge corner. Whether it's right next to the pool or where the sun is shining, use an outdoor rug like «Way» by Ferm Living as a base. Or reach for mats that you can simply roll up after use.
Hammocks
At least as relaxed as on a garden sofa, you'll dangle suspended from walls or trees in hammocks like «Path» by Ferm Living or hanging chairs such as «Grazia» by TecTake. Just one or two anchors are enough to hang them up. If there's no tree nearby, a solution is an option with a frame that you can quickly assemble and easily move thanks to its wheels.
Modular systems
Just two elements are enough to form a lounge or surface for lying down. For example, convert a side table into a stool by placing a pillow on it and move it in front of the chair. This way, it's a couch. In most collections like the «Virkelyst» by Skagerak you will find a table to match the seating. But you can also do it the other way around: turn a stool into a table by placing a tablet on it.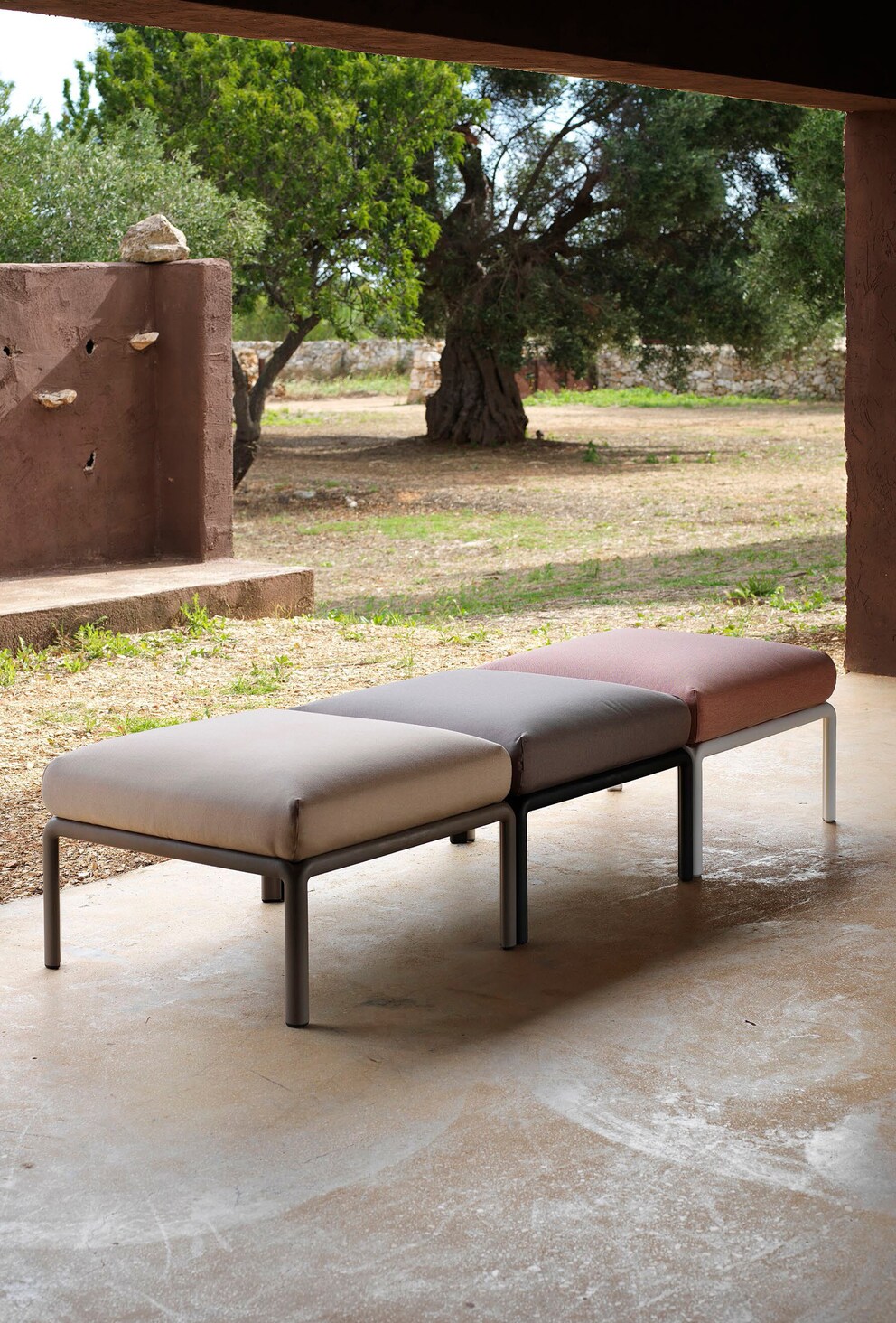 Stretch as far as you can! With several stools, such as those from the «Komodo» series by the Nardi brand, you'll relax as if you were on a reclining surface of a lounge. At the same time, you can take them apart. Whether placed across from each other or side by side, you'll have multiple seating areas when company comes.
There are individual elements with a backrest and with or without an armrest. Placed side by side, they can serve as a sofa. Or go for a modular sofa, such as the «Tradition» from the Skagerak range. They can be transformed into a chaise longue with the matching stool. To do this, arrange everything close together in an «L» shape.
The advantage of such designs is not only that they look breezy but that they also allow you to follow the sun or the shade more easily. It's also the possibility of expansion that makes them more attractive than that giant rattan sofa. After all, if one day you move and have more space, you can always add another cushion or module to the system. And conversely, if you have a place with a smaller outdoor area, you may have to part with just one element instead of the entire garden lounge.
---



«There are only two ways to live your life. One is as though nothing is a miracle. The other is as though everything is a miracle. I believe in the latter.»
– Albert Einstein
---
---
---
These articles might also interest you
Skeleton Loader

Skeleton Loader

Skeleton Loader

Skeleton Loader

Skeleton Loader

Skeleton Loader