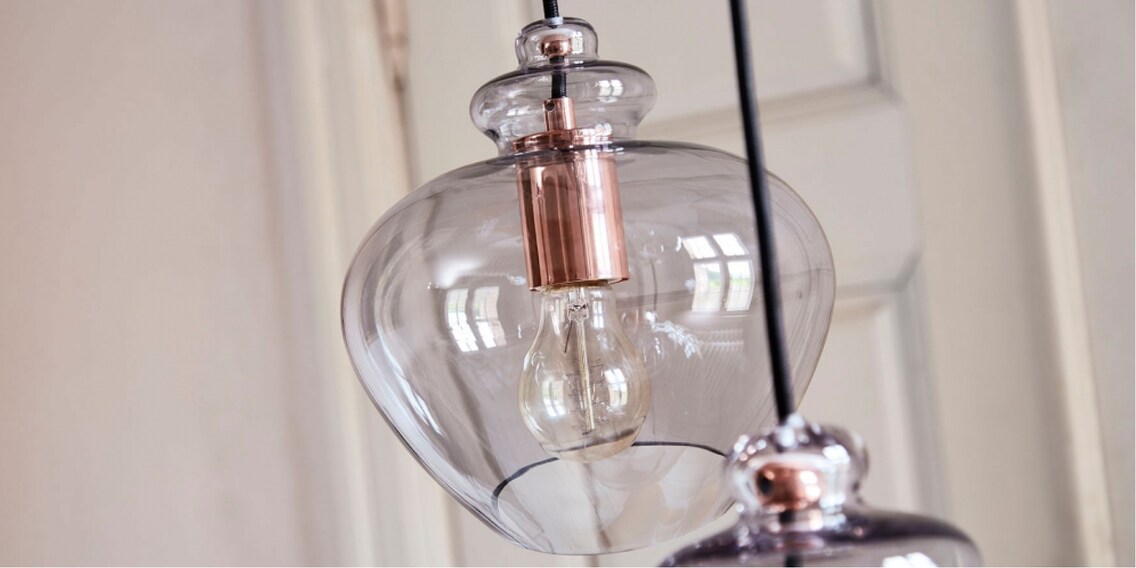 Pias Picks: through the looking glass

I like many things, but my apartment can't fit them all. So, many products end up in my watch list instead of my shopping cart. This time it's see-through furniture.
Flooded with light. That's how I like my apartment best. To enjoy as much natural and artificial light as possible, I like to use furniture made of glass, acrylic or other transparent plastics. Since they're see-through, they make the room look brighter. This is only one of six arguments in favour of introducing «ghosts» at home.
1. More light during the day
Dark metal or fabric ceiling lights against white walls can look weird. They look like a stain. Dark tinted glass lamps such as «Grace» by Frandsen, blend seamlessly with the wall because they're frameless. I find them the most beautiful combined with filament bulbs, which also reflect light.
2. Scratches turn into «ghosts»
No question – dust settles on furniture in any case. Unlike with walnut or black lacquer finishes, scratches on transparent designs turn into a ghost that haunts from time to time. You see it depending on the light, sometimes more, sometimes less. This also applies to small chips in the glass. Most of the time, everything looks clean.
3. More space – at least visually
Furniture made of glass or polycarbonate, which is often used by the brand Kartell, physically occupy space. Visually, they create room for imagination. Thanks to their transparency, even the smallest rooms still look big. The beauty is that no furniture or carpet pattern is hidden. They highlight the interior design and some things appear to be floating: vases on top of a glass dining table look as if they're flying.
4. Clear vision – for the moment
Chaos can also accumulate in transparent containers. Nevertheless, you'll find what you're looking for in it faster. And you'll be rewarded if you use them as a showcase and put effort into the arrangement. Then the things in it become decoration.
5. Adaptability – in terms of living style
Glass or plastic furniture is less adaptable in terms of functionality due to its hard shell. It's rarely foldable or stackable. Instead, it's like a chameleon when it comes to style issues. A colourless and transparent chair in baroque design fits into the most typical country house kitchen or the most modern concrete building, because it makes the colours of its environment its own.
6. Durable – as long as nothing breaks
Despite the delicate appearance, the ghosts of plastic and alike are robust. They forgive a little mishap. Only glass could shatter them. You should be especially careful with these pieces. Then they will remain with you even after a move. Because of their reserved nature, you won't get tired of them so quickly. So they can accompany you for years.
---



«There are only two ways to live your life. One is as though nothing is a miracle. The other is as though everything is a miracle. I believe in the latter.»
– Albert Einstein
---
---
---
These articles might also interest you
Skeleton Loader

Skeleton Loader

Skeleton Loader

Skeleton Loader

Skeleton Loader

Skeleton Loader