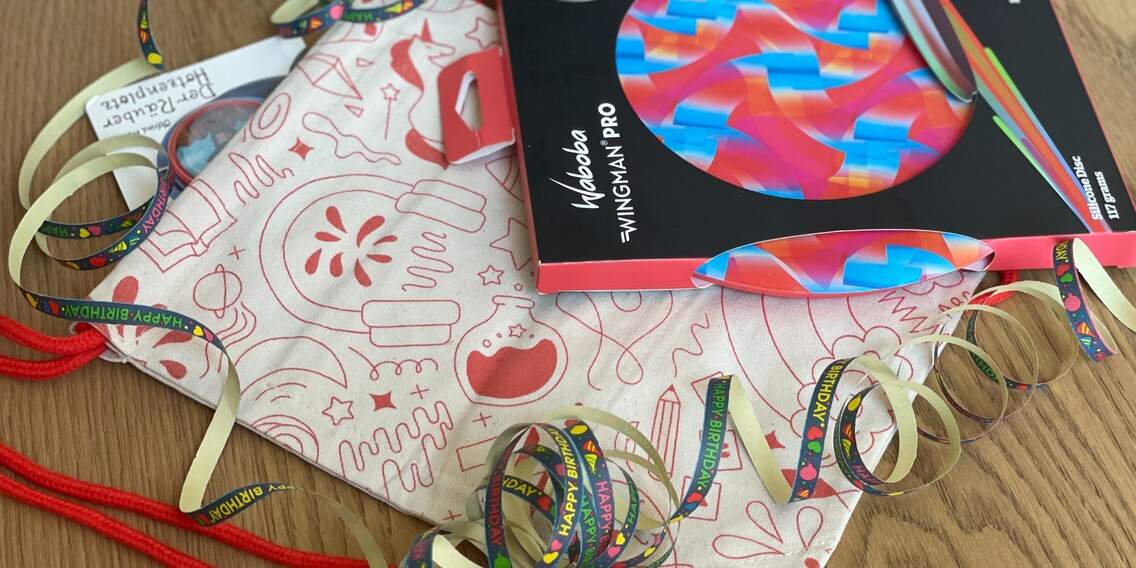 Not another kids' party invite?! Here are 20 birthday gifts for under 20 francs
Small, useful, inexpensive. Birthday presents for your child's school or kindergarten buddies should live up to these three criteria. If you're out of ideas after getting your 100th kids' party invitation, I've got 20 cheap gift ideas for you.
From kindergarten onwards, the party shenanigans begin. On an almost weekly basis, the birthday party invitations flutter into the house via schoolbag. And every time, the same question arises: what will we get the kid on their special day? It's gotta be small and inexpensive, but something they'd use, too. Not an easy feat if your repertoire of ideas has been used up barely halfway through party season. And giving everybody the same gift would likely lead to vehement protests from my daughter. After all, this dearth of ideas would quickly attract attention in her circle of friends.
With all this in mind, I had a question for my editorial team: «Which of your kids' birthday gifts have they actually used?» The result is a colourful list of presents for under 20 francs. Everyone should be able to find something on it.
1. Skipping ropes: good for more than just jump rope
To paraphrase Goethe: why keeping skipping into the distance when the good stuff is right in front of you? In other words, sometimes the simplest things are best: a skipping rope, for example. Every child knows how to use them. And anyone who doesn't fancy skipping can do what my daughters do: stretch the rope between two posts to fashion a ropeway or swing. Or alternatively, tug-of-war.
2. Wingman: the fancy, foldable frisbee
A frisbee is a safe bet, too. Unlike a conventional one, the Wingman is made of silicone, which makes it foldable. You can take it anywhere – it even fits in your pocket. Thanks to its «aerodynamic design», the manufacturer says it's able to fly for up to 60 metres. And besides these particular virtues, it looks fancy.
3. Moon Ball: to the moon and back
Similar to the frisbee, but in ball form, the Moon Ball can bounce on asphalt, carpet or tiles. So high, in fact, that even aliens are amazed by it, as you can see in the manufacturer's promotional video. Okay, I'm laying it on thick here. Sailing a few metres into the air, however, genuinely is a piece of cake for the little ball.
4. Birdhouse: for creative mini ornithologists
The birds in your garden aren't meant to live in just any old house during the winter months – they're supposed to have a pretty (or at least colourful) home. Kids can paint this little, wooden house any way they want. If they're lacking ideas, they can use the templates included by the manufacturer. Twelve paints and a paintbrush also come with the set.
5. Gymnastics ribbon: shaking things up
At first glance, the ribbon on the wooden or plastic handle is reminiscent of rigorously choreographed rhythmic gymnastics. For kids to twirl the ribbon impressively through the air, choreography isn't necessary – they just need a little practice. My children play with theirs in the garden or use them to accessorise their fairy costumes. Extra short bands are available for younger children.
6. Kekz bag: to take audiobooks on the road
Does the child celebrating their birthday have Kekz headphones at home? Great! With the newly released bag, you've instantly got a suitable gift. It ensures the sound system and its chips can be safely tidied away, or easily carried anywhere.
7. Journal: for secrets big and small
My daughter once got a diary as a gift from a kindergarten friend – an insanely kitschy, glitter notebook with a little lock. My first thought was: that's nice, but what's she supposed to do with that? It's not like she can write yet. Her first reaction was for her eyes to light up. I don't know what she's scribbled and drawn in there. After all, it's her «secrets book», as she calls it. She continues to cherish it to this day, and I've come to realise it's always a useful gift for both young and older kids.
8. Elastics: the jumping game that's seeing a revival
«England, Ireland, Scotland, Wales, inside, outside, puppy dogs' tails!» Remember that one? If you're an 80s child, you may have spent hours jumping in and out of the space between these elasticated bands. After disappearing from the playground, the cult game is deserving of a comeback.
9. Quartets: play, haggle, learn
Quartets is another example of a game that's faded into the past. Unjustly so. Because when it comes to combining fun with learning, the card game is still a classic. The good news is, the Quartet universe is as big and deep as the ocean, and it contains something for everyone.
10. Strawberry grower science kit: fruit from the strawberry fairies
With this science kit from Kosmos, children can plant wild strawberries in pots. Instructions for creating a strawberry mobile and fairy wings are included to tide you over until the plants bear fruit. My verdict on the set after testing it recently? Wholesome and inexpensive. Whether strawberries can actually grow in the tiny plastic pots, however, remains to be seen. So far, the rain has thrown a spanner in the works. You can find my review here.
11. Aeroplanes: for little amateur pilots
Everyone knows and likes it: the good old Styrofoam aeroplane. Quickly assembled, they really do glide through the air, light as a feather. And with their elegance, they're able to captivate an entire birthday party.
12. Kites: flying high in the autumn wind
Speaking of flying, if the child in question has an autumn birthday, a kite is a nice idea for a gift. Suitable for big kids and little kids alike, single-line kites are winners for kids aged 3 and up. Two- and four-liners, on the other hand, are more appropriate for older kite flyers. And with the latter, I'm talking about the really big kids i.e. parents, too.
13. Bath bombs: crafting the way to bathtime fun
We all have to wash at some point. So, bath bombs are always a hit. With the bath bomb maker, however, you have to earn your fun in the water. As soon as the handmade bath bombs hit the water, they fizz and fill the tub with colour.
14. Book voucher: because giving them the choice makes sense
Books are great, but difficult to give as gifts. How am I supposed to know what the recipient has already read? Checking with parents beforehand is one way to preserve the element of surprise for the child and make sure there are no duplicate purchases. The other option is to buy a voucher and let the child choose a book themselves.
15. Hula hoop: a classic toy and fitness trend
Hula hoops are, admittedly, challenging to wrap. It's better not to bother at all – a pretty ribbon tied around the hoop will do the job, too. Hula-hooping is said to strengthen the abdominal and back muscles, which is why so much hype has blossomed around the toy in the fitness world. Children, on the other hand, don't give a toss about this – they just want to have fun with it. And they're proud of themselves when they get the hang of it.
16. Throwing game: square peg, round hole
Throw the beanbags into the holes – it's as simple as that. In spite of this, or perhaps, because of it, this throwing game is a cool activity for warm summer days on the grass. I first played it at a wedding reception, where there were two discs and two teams competing against each other. What struck me was that both the kids and the grown-ups had a blast with it. (And yes, this gift costs a smidge more than 20 francs, but it's a worthwhile investment).
17. Magic set: learn the nuts and bolts of stage magic
Abracadabra, alacazam, please get me out of this gift-hunting jam. This set transports kids to magic school, giving them their first taste of the world of sorcery. It explains fifty tricks step-by-step, with some of them coming with additional online tutorials. With all of that, nothing can stand in the way of your little one performing as a magician at their next birthday party.
18. Diving set: underwater treasures in neon
A hundred times? A thousand times? I don't know how many times my daughter has fished these dive sticks off the bottom of the swimming pool. And yet, they still haven't given up the ghost. They seem indestructible. The neon rings, balls and sticks are filled with sand and covered with neoprene material, making them easy to spot and grab onto in the water. Perfect as a summer birthday gift.
19. Aquabeads: the new Hama beads
We all remember Hama beads: the tiny things that you placed nimbly onto a grid, then «glued» together with a hot iron. The alternative, Aquabeads, doesn't involve heat. You just need a few splashes of water. This new generation of Hama beads has been a big hit with kids for a couple of years now. My editorial colleagues Simon and Natalie have spectacularly demonstrated what not to do with the beads. You can watch their Aquabeads Challenge video here (just click the wheel icon for the English subtitles).
20. Experience voucher: memories, not toys
My daughter was over the moon with the voucher she got from a friend for her sixth birthday: an afternoon at the cinema together. It included everything a kid's heart desires – a cool kids' movie, a big bag of popcorn, ice cream and gummy bears. She came home blissfully happy and will have fond memories of the experience for a long time. Other experience gift voucher ideas might be a visit to the skate park, rock-climbing gym or a sleepover.
Got any more tips or ideas? Share them with us in the comments and help us develop a gift guide.
*This article is part of a free-form children's birthday series in which we examine the topic from different angles, interview experts and share ideas.
Here are the articles that have been published already:
---
Mom of Anna and Elsa, aperitif expert, group fitness fanatic, aspiring dancer and gossip lover. Often a multitasker and a person who wants it all, sometimes a chocolate chef and queen of the couch.
---
---
These articles might also interest you
Skeleton Loader

Skeleton Loader

Skeleton Loader

Skeleton Loader

Skeleton Loader

Skeleton Loader