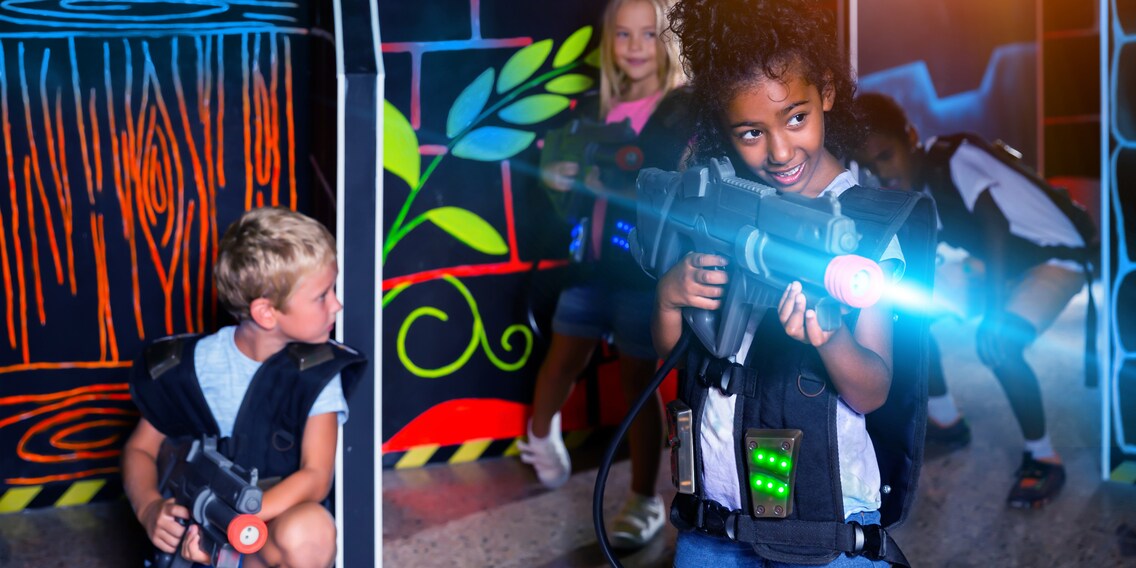 The children are getting older, and their birthday parties are getting more expensive

Gone are the days when I could make my children happy on their birthday with a scavenger hunt, a tall tale or a quiz featuring popular Swiss cartoon character Globi. Last year, we entered a new era of children's birthdays, which these tips can prepare you (better) for.
In the first instalment of our children's birthday series, my colleague Katja originally wanted to share how she managed to keep her three and six-year-old daughters' parties relaxed this year, even though their birthdays are only a few days apart.
But she quickly came to the realisation that this was more down to external factors than her own doing, and concludes that the birthday madness is only just beginning. Katja, I'd love to reassure you and say: «It's not that bad, you're imagining things,» but, unfortunately, that's not the case. And that's despite the fact that I'm fortunate enough (or simply did some forward-thinking family planning) that my children's birthdays are three months apart. So that you can mentally prepare yourself for what's to come, here's my warts-and-all report.
The magic formula: child's age = number of party guests
When my seven and nine-year-old were younger, the effort that went into a children's birthday party was manageable. And that wasn't simply due to the magic formula of age = number of party guests. It just took less to make the children's eyes light up. The party room windows were hastily taped with rubbish bags and the children's disco was ready. The Punch and Judy theatre (https://www.galaxus.de/en/s5/product/roba-kaspertheater-puppet-theatres-19875062) was quickly assembled to perform a show (previously rehearsed and performed in 15 minutes), which received thunderous applause. A robber scavenger hunt through the village was quickly put together, including a message in a bottle and a buried treasure chest, and the children thought they were in an exciting detective story. In short: manageable effort, maximum reward.
When my son celebrated his ninth birthday last December, Punch and Judy, scavenger hunts and children's discos were no longer going to cut it. We needed new ideas. And to all those who are nostalgic about children's birthday parties, you can forget the arguments «less is more,» «it used to be different» or «children don't need that much.» Because the decisive point – and this will be a common thread running through your whole parenting life from now on – is not what you as parents think is good, sensible or cool; it's what your children think.
If your children are invited to other children's celebrations – and we hope they are! – they'll inevitably develop a taste for unusual birthday parties. «Dad, it was so great at Lazerfun, especially because we went to the rope park afterwards and were allowed to see the film ‹Bad Guy› in the cinema after that. And the Happy Meal at McDonald's at the end was just the best.» By the end of this review, all my alarm bells were ringing because I could see the vicious circle of more and more stuff, more and more extreme activities – and yes, more and more expense – looming on the horizon.
More expensive parties are also more fun for the parents
I got away with it with my son. We went with him and his nine guests (see magic formula) to a cool skateboarding and climbing centre. Group discounts and the ability to bring our own drinks and cake meant the costs were still manageable. But because I don't just want to spread bad vibes here: yes, children's birthdays cost more and more as they get older, but they're also more and more fun for us adults. Which, of course, doesn't mean that I didn't enjoy anything about children's discos in the past.
Speaking of fun, my wife and I are jumping on the piñata bandwagon, or should I say donkey?
It's a cardboard donkey, which we stuffed with sweets, and the children hit it until the sweets tumbled out. You could question the educational value or lack of it, but it was fun. The custom originally comes from Mexico. It dates back to Aztec times, when, on the birthday of the war god Huitzilopochtli, a vessel filled with offerings was suspended from a post and struck with a stick so that the offerings fell at the god's feet.
Hey, boss, I need to work more (or be paid more)
But soon my children will lose enthusiasm for piñatas (unless I fill the donkey with bank notes). I'm also preparing for the fact that children's parties are getting bigger, more unusual and more expensive. This is not only due to the activities, but also the magic formula. So I'm already looking forward to spending my daughter's 15th birthday with her and her 15 friends at Alpamare, CinemaxX or the Western Ranch (including overnight stays). I am really looking forward to it, I just don't know exactly how I'm going to shell out for everything.
Maybe now's the time to talk to my boss about increasing my workload, but then I'd have less time for my children. They might not be that bothered, though. After all, they'd be able to have the hottest, craziest and most unusual kids' parties.
Header image: Shutterstock
This article is part of a loose children's birthday series in which we examine the topic from different angles, interview experts and share ideas. Do you have any input, requests or suggestions? Let us know in the comments or via email.
This article has been published before:
OpinionFamily

Help! My children have birthday almost at the same time
---



Half-Danish dad of two and third child of the family, mushroom picker, angler, dedicated public viewer and world champion of putting my foot in it.
---
---
These articles might also interest you
Skeleton Loader

Skeleton Loader

Skeleton Loader

Skeleton Loader

Skeleton Loader

Skeleton Loader