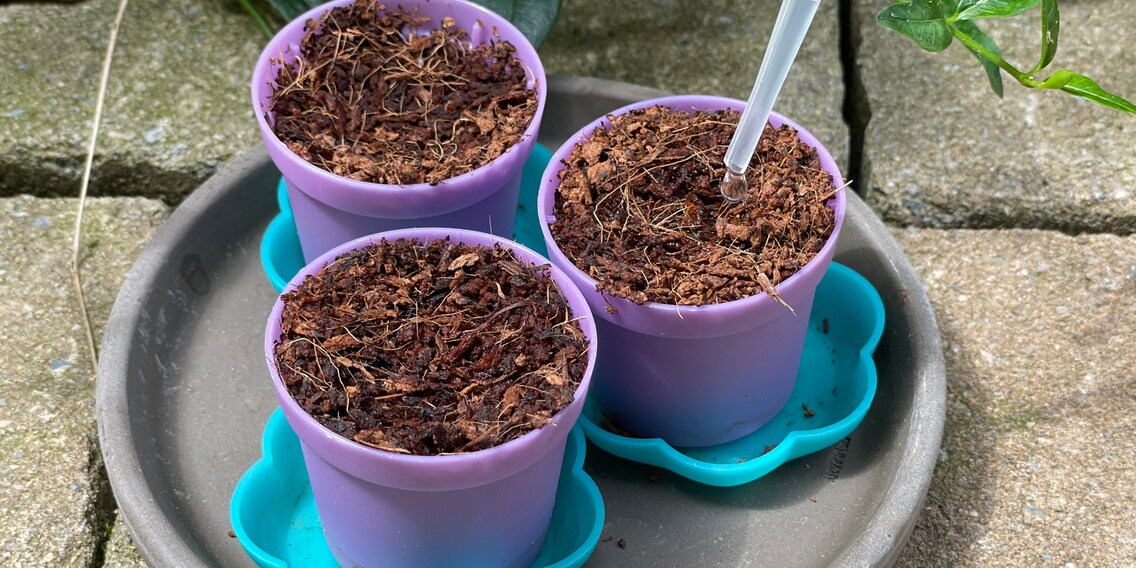 Kosmos «Fairy Strawberries»: so strawberries are supposed to grow in these tiny pots?!
Despite our reservations, my daughters and I are eagerly starting a strawberry-growing experiment. Now only the magical powers of the fairies can help. This is our berry saga, with little hope of a happy ending.
It was a classic basket filler: I hadn't reached the minimum order amount of 50 francs for free postage from Galaxus, so into the basket went the «Fairy Strawberries» experiment set from Kosmos. It supposedly enables my daughters to plant their own wild strawberries – a small, cheap and, at first glance, sensible surprise.
Although the purchase itself was spur-of-the-moment, putting the project into practice drags on. The experiment soon turned into our very own berry thriller. With a potentially dramatic ending. But first things first.
First up, I unpacked everything without the addition of clumsy, impatient little hands. My first impression: cute! Besides everything you need for the strawberry experiment – three plant pots with coasters, three soil pellets, a bag of seeds, a measuring cup and a pipette – the box also contains craft sets for a strawberry car and fairy wings, which I'll ignore for now. After all, it's all about the fruit.
My second impression: tiny! The purple pots look bigger on the packaging. Are wild strawberries really supposed to grow in here?! I'm neither a berry expert nor green-fingered. I was already on my second dead potted hydrangea by spring, my basil never usually lasts longer than three weeks, and even my cactus has run out of patience with me. But the size of the mini plastic containers made me doubt the success of our strawberry project before we even started.
But then my ambition kicked in. The same went for my daughters when they found out that they could grow their favourite berries. It'd be ridiculous if we – the three of us and the strawberry fairies – couldn't manage it as a team, wouldn't it?
Well, pride is known to come before a fall. And team spirit can also be tricky in practice.
Week 1: sowing and watching
Nevertheless, we were initially very enthusiastic, following the instructions and placing the soil pellets provided in water for five minutes until they were soaked and loosened. Then, using a teaspoon, we filled the mini pots with the wet soil. This requires some skill due to the size of the container, but even my three-year-old daughter managed it surprisingly well – according to the manufacturer, the experiment set is suitable for six to nine-year-olds – i.e. without making too much of a mess on the garden table. Then we sprinkled the tiny seeds into the pots and covered them with another layer of soil, which we carefully pressed down.
Job done. From now on, we'd only need to keep the soil moist with the plastic pipette provided. In other words, wait and watch them grow. My three-year-old doesn't understand why. The six-year-old thinks the whole thing is «boring rubbish». Children and patience aren't exactly the perfect match. Even my husband, who had so far only examined the packaging with suspicion, offered less than encouraging input: «It'll never work!»
Inside or outside?
To speed up the growing process – at least that's how I convinced the children to look for the perfect location – we worked together to find the best spot for the mini pots. According to the instructions, the right place should be bright but not in direct sunlight at first, and the temperature should be between 12 and 20 degrees. So it's a bit too warm on the kitchen shelf and too cold outside, at least at night. Challenge accepted: we placed the as yet ungrown strawberries in a bright yet shaded spot in the garden during the day. Weather permitting, of course. They then spent the night on the kitchen shelf inside. What demanding fruits!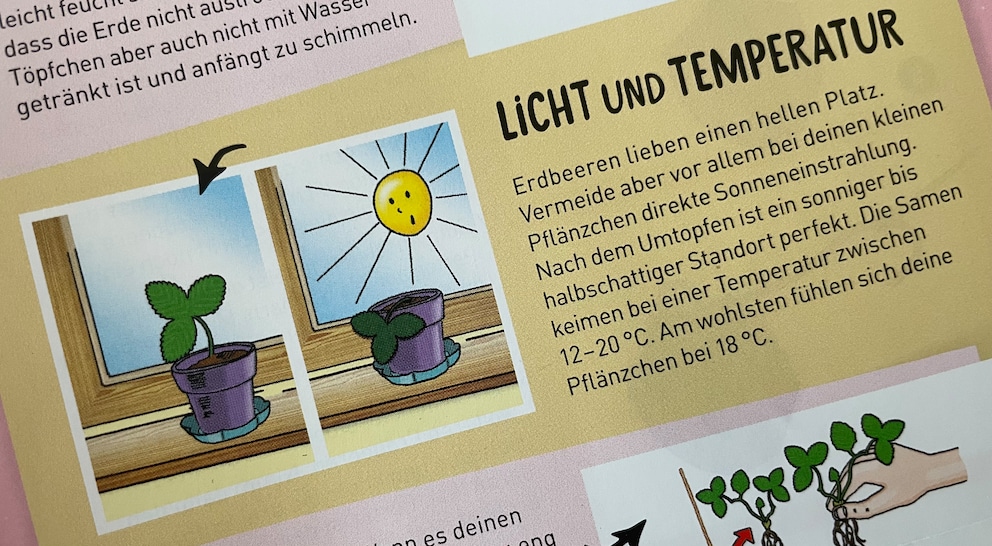 They're also demanding in the sense that they obviously soon outgrow their purple pots. «When your little plants start to feel a little pinched,» as the manufacturer puts it. This also solves the mystery of the tiny containers: the strawberry plants don't stay in there that long. But I don't want to get into to the detailed «Repotting» chapter in the instructions until we've reached that point.
The whole thing is nuts!
Instead, we're now continuing our strawberry education. The accompanying booklet contains useful (more like useless) information about the blood-red fruit and explains, for example, that it's not a berry at all.
That's right; strawberries are nuts. Even if they look and taste like berries.
Strictly speaking, they're an aggregate fruit. «Because the actual fruit of the strawberry isn't the big, red shape that you like to eat,» we read. «The real fruits are the many little yellow dots that you can see on them.» And new plants can develop from these little nuts – they're the seeds that we've just sown in the ground. In contrast, the red fruit attracts the animals that eat the strawberries. After they digest the nutlets, they excrete them, helping to propagate the plant.
But we're still miles away from attracting animals. Nothing happened in our pots for days. We waited, hoped, feared. And we begged the strawberry fairies to use their magical powers. But even after a week, there was no sign, no matter how small, that something was growing in there. The whole thing was nuts! We couldn't find any information about how long we should wait in the instructions either.
My children's patience was waning, so I took on the daily watering. So much for teamwork – the garden experiment had turned into a solo performance. I tried to keep the girls happy for a while with the craft sets, which only worked to a limited extent and, even then, only with my eldest. The three-year-old is still too young for the felt strawberry car and the cotton wool fairy wings.
Week 2: something's happening
On the tenth day, the fairies ended the work that they had done. Or to put it less theatrically: after 10 days, something was finally happening in the pots. One morning, tiny green shoots greeted us from the brown earth. A-ha!
The children were delighted and reported back for their watering duties. Their father was amazed. From now on, it seemed, we'd be able to watch our new housemates reach and stretch more and more each day.
And yet, it will feel like an eternity until we bite into our first strawberry. To my astonishment, this fact doesn't seem to bother the three-year-old; she just shrugs her shoulders indifferently. The six-year-old has a similar reaction and thinks that the extra waiting time doesn't really matter. They seem to have understood now. A lot of our plant project consists of waiting.
Week 3: the final surge
A week later, we were still waiting. Not for the red berries, not for the white flowers – we weren't even daring to dream about that – we were just waiting for the mini-mini plants to grow into mini-plants. After the brief euphoria, growth had already come to a standstill. Although at just under five millimetres, we couldn't even really call it «growth». At least the seedlings hadn't given up completely. We, on the other hand, had.
Now, our project manager had to demonstrate leadership qualities to her employees and ignore adversity. After all, Tesla and Marvel were once on the verge of extinction. But all my persuasion was useless. My team had left the sinking ship. I'd been left alone and helpless.
Had these delicate plants not had enough water? No, it wasn't that. One day there was even a hint of mould in one pot, so we immediately reduced how much we were watering.
Maybe it was too much water? Unlikely. The soil should be moist, that's what the instructions said.
Not enough light? No, the pots were always in the window or outside.
Should they have been outside in the first place? No, they were fine. After all, they were kept inside any time it was windy or raining, without exception.
Did they just not have enough indirect sunlight? Maybe. We haven't had much sun for the last few days.
OK, we're going all in now. More sunshine is forecast for the coming days, so I'm bringing out the big guns: from now on, I'll be moving the pots around several times a day to make sure they're always near the sun and have plenty of light but in a nice, shady spot. Sometimes inside, sometimes outside, depending on the temperature and wind conditions. My husband, my work colleagues and now also my children laugh at my (over)eagerness. But giving up is not an option. No effort is now too great for my strawberries, which still aren't actually strawberries.
Week 4: washed away
And they never will be now.
We'll never find out whether my complex relocation strategy would have borne fruit in the end – the rain ended our project prematurely. Or to be more precise: it washed it away before it even got started.
What happened? Like every year, the sunny days over Pentecost were accompanied by a few thunderstorms. The pots were protected under the pergola, but when rain is torrential and horizontal, even a roof stops being of any use. Help came too late, as most of the little plants were destroyed within seconds. The strawberry fairies bestowed their blessings on them.
My provisional verdict up to the moment of their premature death is still not bad at all. As the set is so inexpensive, it's a good present or birthday gift for a school or kindergarten friend. However, it remains to be seen whether strawberries actually grow in the tiny plastic pots.
One more attempt!
However, there's still one last chance for a happy ending. I ordered a second experiment set. Nothing more than a random shopping cart filler, this time with an ambitious goal: I want my own wild strawberries in my breakfast muesli this summer – even if I'm a bit late with the second sowing. Maybe this time I'll even build a small greenhouse for the germination phase, like my editorial colleague Carolin once did for her tomatoes.
Do you have any other tips? Email them or add them in the comments section. And cross your green fingers for me!
---
Mom of Anna and Elsa, aperitif expert, group fitness fanatic, aspiring dancer and gossip lover. Often a multitasker and a person who wants it all, sometimes a chocolate chef and queen of the couch.
---
---
---
These articles might also interest you
Skeleton Loader

Skeleton Loader

Skeleton Loader

Skeleton Loader

Skeleton Loader

Skeleton Loader