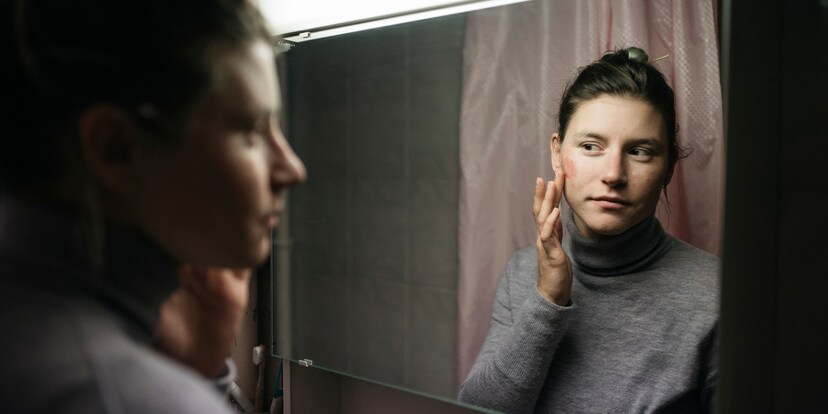 Carla applies dried, pulverised beetroot with her hands. It serves as natural blusher.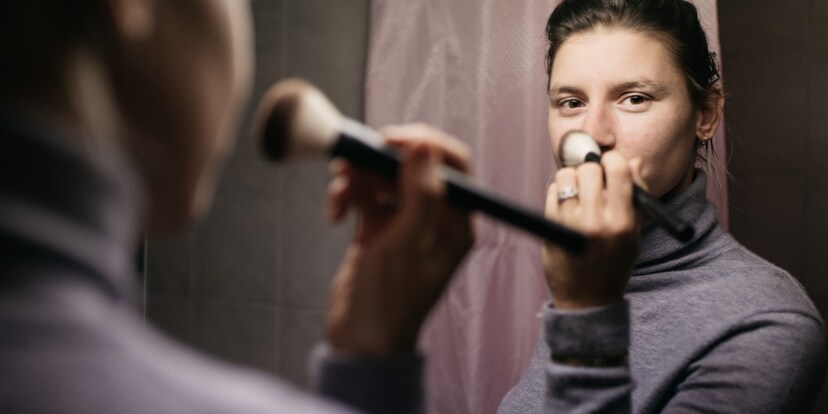 Make-up that's good enough to eat – literally
Carla Opetnik's lifestyle involves pretty much no waste, and she creates her own make-up. We visited this young woman from Zurich to show you what living zero waste can look like.
I was stunned when I set foot into Carla Opetnik's flat with our photographer Thomas Kunz. Wherever I look, there's lots to explore. The walls are covered in frames and little ornaments, books and plants tower up from any surface.
As chaotic as it all might seem at first glance, you soon realise there's really a harmonious sense of order behind it all. Initially, that's slightly unnerving as I'd have expected a minimal waste lifestyle to go hand in hand with minimalist home decor.
«What's that?» I ask Carla and point to a wooden thing in the entrance hall that looks like a little nesting box. «That's a motion sensor. As soon as anyone comes into the flat, it emits calming forest sounds,» she explains. Carla is a trained seamstress who is devoted to a zero waste and plastic-free lifestyle. And right now she's completing the Federal Matura.
Alongside that, she runs her own creative studio; holds stitching courses where you learn to mend your own clothes and she's part of the team at the hair styling company Zopfchopf. Oh, and she also paints pictures, as I find out over the course of the afternoon. But not just any pictures. Ridiculously beautiful pictures.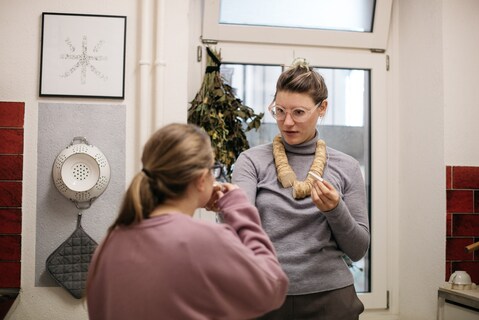 Carla begins by giving us a tour of her flat. I'm here to talk about her lifestyle, not to have a nosey around her home. But I catch sight of so many interesting things in every room that we keep getting distracted from our intended conversation.
Take her kitchen, for instance. It's jam-packed with glass jars, a cute avocado farm and a vermicompost. The worming compost is made up of three stackable elements, including earth and worms. You don't see the latter at first. You have to have a dig around for them.
What surprises me is that the compost doesn't smell. «Our landlord wouldn't let us have a traditional compost for organic waste so my boyfriend and I had to come up with something else. The vermicompost is great because it can take all of my organic waste and paper rubbish. You just put it in and the worms do the rest. What's more, I can take out the lowest element and use the earth to add to my plants.»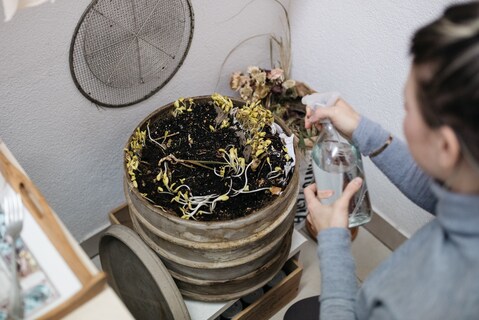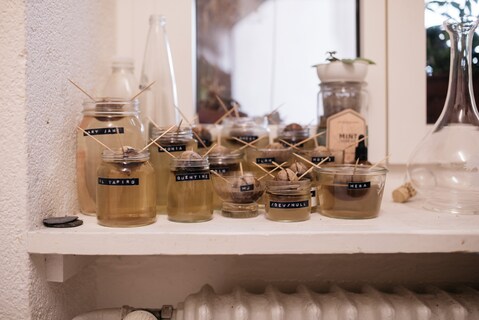 Moving onto the living room, I discover all the plants Carla was talking about when we were in the kitchen. It's a sight to behold. A wall of green jungle you don't want to avert your eyes from. Each plant has its own story or meaning – as with everything else in the flat. What I want to know is how someone who lives in such a conscious way can have so much stuff.
«I was one of four children and I started collecting things quite early on and hiding them from my siblings. I then carried this hoarding behaviour over into adulthood. The difference is that now you'll only find things in my flat that make me happy and that mean something to me. I promise I did get rid of a lot of stuff.» It's her beauty equipment in particular that has taken the brunt of her clearing spree.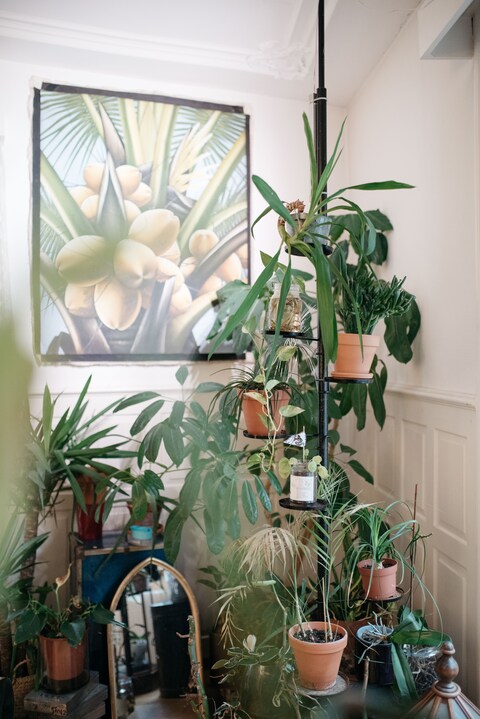 The beauty of nature
The 27 year old shows me what she still has in terms of make-up. And I can tell you already: it looks completely different to my collection at home. Where should I start? There's the old Barilla jar where she keeps her potato starch for powdering her face. I have it on good authority you can also use arrowroot powder. As I've no idea what that even means, I push Carla for more information.
«You can get arrowroot powder in any pharmacy that stocks natural medicines. Arrowroot grows locally but very few people know that. If you need to, you can also mix the white powder with turmeric or other spices to create something that matches your skin tone,» she says.
And right next to the arrowroot powder is a container with a reddish pink powder. «That's dried, pulverised beetroot. I make it myself and use it as a blusher. To apply it, I just wet my finger or my cheeks and rub it into my face.»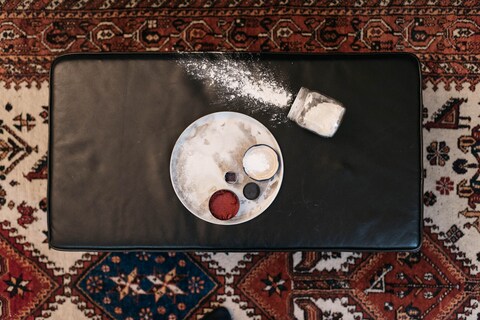 Right next to the blusher is her charcoal, which acts as a black eyeliner or eyeshadow. «A friend brought it back from India for me. But there are other options. Some people burn almonds in a pan and then puree them to create a kind of black paste. In theory, you can burn anything. For instance, if you burn wood you'll get a fine dust similar to that of burnt almonds. You then bind it together again with some liquid before applying. I use a damp brush,» she explains.
The key is in finding what works for you, she goes on to say. The whole thing is a process. What works for one person could be an absolute disaster for someone else. «Some people prefer to mix their charcoal with Vaseline before they apply it, while others would rather use alcohol, which evaporates once they put it on.» Carla emphasises that it's important not to throw in the towel after the first attempt.
«For instance, it took me ages to find a viable deodorant alternative. In the meantime, I've found coconut oil mixed with lots of bicarbonate of soda is effective. I apply it many times throughout the day. You might be wondering how it works. The bicarbonate of soda kills off the bacteria responsible for the body odour and the oil is there to nourish and care for the skin. Sadly, other types of oil didn't work for me. But having said that, I'd like to replace exotic coconut oil with a locally sourced product in future.»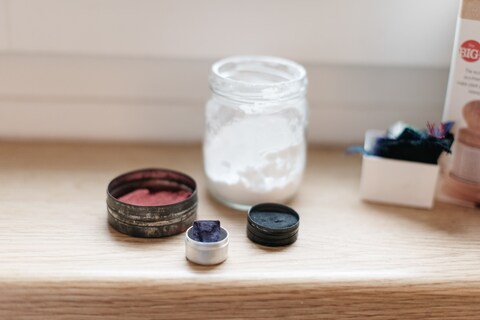 As a beauty junkie, I'm intrigued as to whether the limited colour options will become boring as Carla is such a creative person. «If it's a special occasion, I like to get my make-up done by a professional. I don't have to own everything just because it looks nice. In any case, you often find you only use a handful of colours in an eyeshadow palette these days. And I've never gone through a whole lipstick in my life. That's why it seems pointless for me to squirrel away products.»
But it's not just the beauty world that Carla manages to navigate without plastic. Hygiene is another area where she incorporates her ethics. She cleans her teeth with a mixture of activated charcoal and fairtrade, organic coconut oil. While the charcoal acts as a gentle abrasive, the oil is said to have antimicrobial and caring properties.
In terms of a cleansing routine, she just washes her face with soap and water in the mornings – the same goes for her daily shower. Hair removal doesn't escape the plastic banishing either. Armed with a safety razor, Carla only produces waste when she changes the blade from time to time. I feel instantly embarrassed. I've always got a few disposable razors lying around at home. It's not that I didn't know they weren't environmentally friendly. I just conveniently ignored that fact until today. And I make a promise to myself there and then to change that.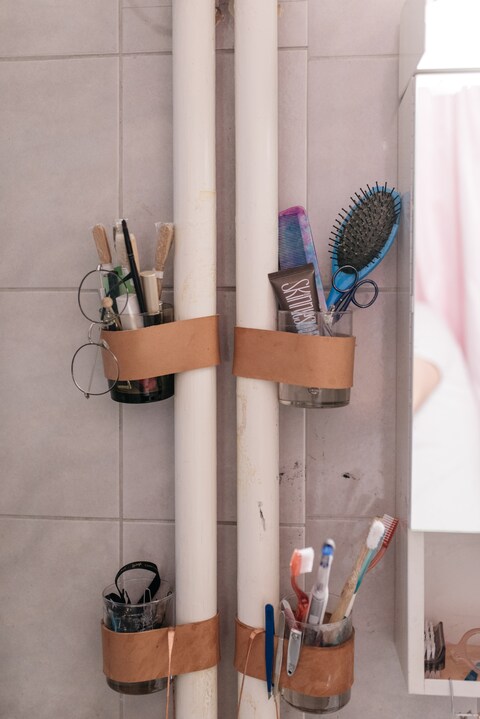 Where letting go begins
Carla tells me that it all started when she bought the book called The life-changing magic of tidying up by Marie Kondo. «Once I'd read that book I was a woman on a mission. The first thing I did was cut back my wardrobe. And then I switched my focus to the kitchen. That was the first time I became aware of the amount of rubbish we were producing.
I kept researching and came across the zero waste movement from the US. That's when I made up my mind not to buy any more packaging. I started with a 30-day challenge, charted my experience on social media and connected with like-minded people.»
It's common to struggle letting go of things. If you're someone who feels like that, here's a tip from Carla that helped her a lot. Take photos of objects you're having difficulty getting rid of and post them on Facebook but with the privacy set so only you can see them. Given this social media platform always likes to remind its users of old photos, you'll get regular reminders about how great you think the products are – but they won't have even crossed your mind. You see, there's a difference between must-haves and nice-to-haves.
Minimal waste or zero waste?
According to Carla, minimal waste is the definition of zero waste. That sounds a bit confusing at first but Carla explains it's not about perfection or producing no waste, it's about the road leading to it.
«Everyone's goal or the definition of the ideal is different. That means you want to feel as little as possible that you're missing out on things and avoid producing waste as much as possible. You shouldn't forget that your mental and physical health always come first.» So if you can't afford something, you find a way that fits in with your own situation.
An example would be getting your next Starbucks coffee in a recycled jar rather than in a fancy, new flask. It's about using what you already have and rethinking or repurposing it. And doing things you like in a slightly different way.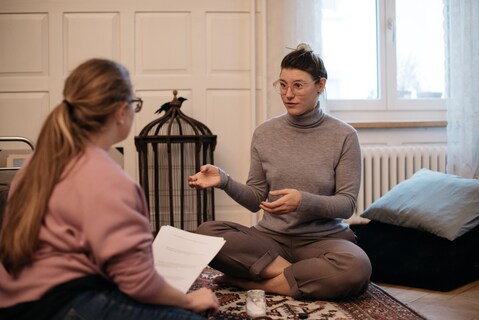 «Most women have their work cut out trying to get rid of things in the bathroom. They've got loads of tubes and pots they don't want to part themselves from. It was the same for me. At first, I kept using my plastic bottles of shampoo until it was all finished and the bottles were thrown away. Then the search was on for an eco-friendly deodorant. And although I don't plaster on make-up, all the products I did own came in plastic packaging. So I had to look for alternatives that were in keeping with my new lifestyle.»
The simplicity of Carla's products have their advantages. For one, you don't need the rigmarole of make-up remover and cotton wool to take off your make-up. All you need is some water. On top of that, the products Carla uses don't contain any harmful substances, which is something your face will thank you for.
I was interested to hear if she had found any natural alternatives that could give mass produced make-up a run for its money. «No, not quite. It's rare to find a one-to-one replacement. It's more likely you'll find something and switch over to it or adapt to it. For example, homemade products don't always last as long and aren't always as pigmented as you might be accustomed to. But my own products make me feel like I'm doing something good. And that's a feeling I hardly ever get when I buy from shops. For me, that was the wow effect.»
Talking animal testing and lazy customers
Involuntarily, I get a fleeting image of my endless drawers at home filled with make-up. You couldn't get me to part with it. Carla is incredibly understanding when I tell her about my quandary. «If you want to stem the tide of rubbish and plastic at home, you don't want to start with the place where it's most difficult. The trick is to start small.»
So the next time you go shopping, you want to give your purchases some thought. Ask yourself if each brand is one you want to support. What is the parent company like and what stance do they take? Do they test on animals? How do they treat their employees? Do they recycle? Nowadays people are quickly overwhelmed because they often don't know where to begin with their questions. That's probably one of the reasons why so few people do their homework on companies.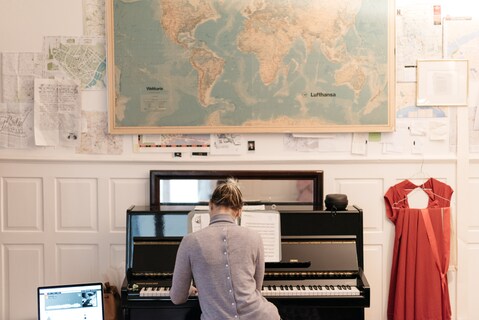 «It beggars belief that well-known brands still test on animals. Products like that are a no-go for me.» Another subject Carla raises is greenwashing, which is being fuelled by all sides. «For example, when Garnier releases a product such as the hair food mask that comes in recycled packaging and marks a step in the right direction, why can't the parent company implement that across all their products?»
We're in agreement that most companies have a more economic rather than ecological interest in the environment. It's all about image. And a good image sells. Equally, if customers don't clamour for change, companies will maintain the status quo. It's as simple as that.
Outside Carla's flat, the night is starting to draw in. But before Thomas and I say our goodbyes, I'm keen to find out which parts of her life Carla thinks are open to improvement in terms of upping her eco scorecard. «In the near future, I'd like to be able to decide where my electricity comes from. At the moment, that decision still lies with my landlord so I've still got a bit of persuading to do.»
Want to hear more from Carla? Here are some of the Zopfkopf tutorials we filmed with her in the summer:
---

As a massive Disney fan, I see the world through rose-tinted glasses. I worship series from the 90s and consider mermaids a religion. When I'm not dancing in glitter rain, I'm either hanging out at pyjama parties or sitting at my make-up table. P.S. I love you, bacon, garlic and onions.
---
---