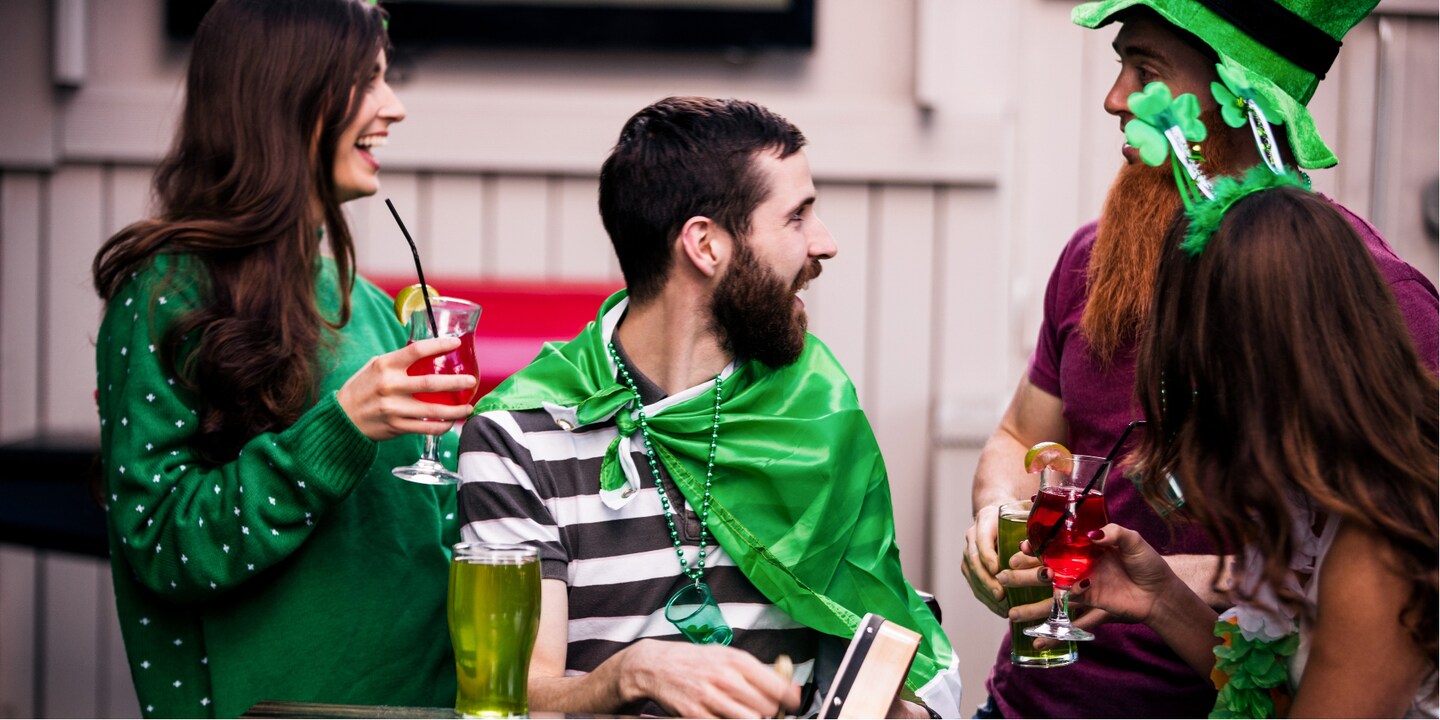 Leprechaun costumes and green drinks: our Saint Patrick's Day picks
«If you're enough lucky to be Irish… You're lucky enough», they say. On 17 March, we're all lucky enough to get to join in and enjoy leprechaun costumes, green drinks, live music and Irish craziness on Saint Patrick's Day.
The feast day of St. Patrick, patron saint of Ireland, has become a day of celebrations all over the world. Irish pubs are hugely popular – also in Switzerland. I'd almost dare to say there's at least one in every large Swiss city. But trying to prove this turned out to be pretty tricky: Firstly, what's a «large» city in Switzerland? And more so, which pubs are Irish, which English, Scottish, American, Australian, you name it?
Whichever nationality you are, here are a few ideas on how to celebrate St. Patrick's Day this year: I've decided to put together a selection of St. Patrick's Day-themed products that will make anyone in any pub or at any home party feel a bit Irish.
It's all about the costume
How about an Irish morph suit or a leprechaun costume? Nothing's too extravagant for 17 March!
Love for detail
A bit more subtle, but no less suitable: these accessories will also make sure you look the part.
Rather wouldn't dress up? You'll get away with wearing greenish clothing, too.
Liquid Irishness
Ireland is known for the black gold and great whiskey. Fancy a guinness or a drink with green apple syrup?
Get your greens in
Green beer, green cupcakes, green popcorn – everything's green on St. Patricks Day. How to turn anything green:
For your house party
Planning to invite friends and want to give your home a St. Patrick's Day pub look? Here's all the right music on Youtube or Spotify, as well as decoration and clean-up equipment.
Into rugby?
The day before St. Patrick's Day, 16 March, is the last day of the rugby Six Nations Championship. If you're into rugby, don't miss Italy vs France at 1:30 p.m., Wales vs. Ireland at 3:45 p.m. and England vs. Scotland at 6 p.m. You're sure to be in for a treat.
How are you celebrating?
What's the craic? Let us know what you're up to on this year's St. Patrick's Day! What's on in your local pub? Thanks for commenting below.
Let's all feel a bit Irish and celebrate this year's St. Patrick's Day with green drinks, Irish music and good friends!
---

Looking at her Swiss and British passport, there's no denying this lady hails from the hinterlands. Raised in the village of Müllheim, she also has roots in the Welsh town of Brecon. Eva plays Gaelic football at «Zürich Inneoin GAA Club» and is always up for a quirky project. She's currently collecting dog poop bags from all corners of the earth and has accumulated around 100 so far.
---
---
---
---
---
---
These articles might also interest you
Skeleton Loader

Skeleton Loader

Skeleton Loader

Skeleton Loader

Skeleton Loader

Skeleton Loader