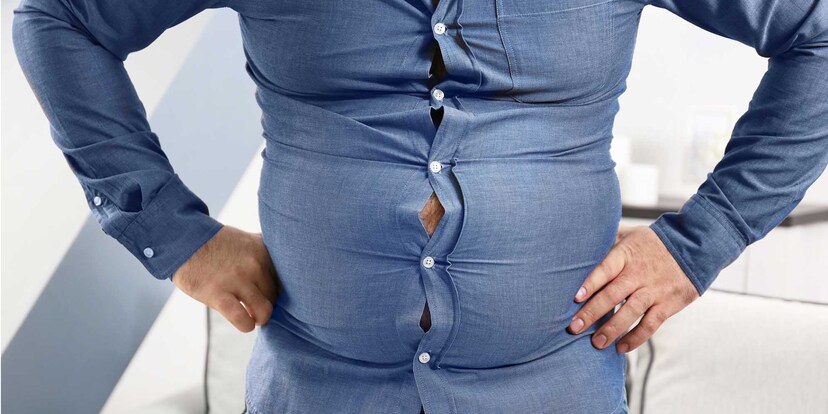 How to get rid of your beer belly
… or at least hide it. Here are five clothing tricks that will cover up your extra weight around the waist.
The other day, I was sunbathing at an open-air swimming pool when I overheard three guys next to me discussing how many calories which drink has and which diet they're on to stay in shape. I couldn't help but listen to their conversation and laugh myself silly in my head. What's more unattractive than guys who spend hours talking about nutrition and calories? I'd rather go without and have a man with a bit of a tummy. Here's some advice – not on getting rid of your beer belly – but on hiding your extra weight with the right clothing.
#1 Size
The number 1 rule is: Buy the right size. If your clothes are too large, they'll make you look heavier than you are; if they're too small, you'll highlight your love handles. When you're buying a shirt, make sure you get the size right. If a shirt isn't stretched around the buttons, you're safe.
#2 Colours
In terms of colours, tone-on-tone dressing is key. Combining similar colours from head to toe must be the easiest way to hide extra weight around your waist. Tone on tone means either wear dark with dark or light with light. Muted colours such as black, navy, anthracite, forest green or burgundy are usually more flattering. Make sure your top and bottom never end at the widest point of your body. If you can't live without patterns, go for a nautical shirt with vertical stripes or a chequered shirt with more dominant horizontal than vertical stripes. This will stretch your upper body. ## #3 Tops
If you're not a fan of shirts, choose a polo shirt (top button open) or a V-neck top. Another simple trick: Make sure the back of your shirt is slightly longer than the front. An open (!) jacket or blouson also helps to slim down your waist.
#4 Bottoms
Dark trousers with a straight cut boost the slim look. Baggy pants or wide cargo pants with lots of pockets along the trouser leg are an absolute no-go – unless you're going for the SpongeSob SquarePants look.
#5 Accessories
Accessories – a cap, white sneakers, sunglasses or a scarf, for example – take the eye off the problem area around your waist. If you want to wear a belt, just make sure it's not too tight. Nobody can pull off the muffin top look!
Creating that slim look:
If all these tricks don't help, you might as well leave the house topless – but please don't use public transport:
Enjoy this article? Click on the «Follow author» button and don't miss out on the next style guide.
---

When I'm not exploring the depths of the sea as an open water diver, I enjoy plunging into the world of fashion. On the streets of Paris, Milan and New York is where I keep my eyes peeled for the latest trends. And I'll show you how to take them from the catwalk to your everyday life.
---
---