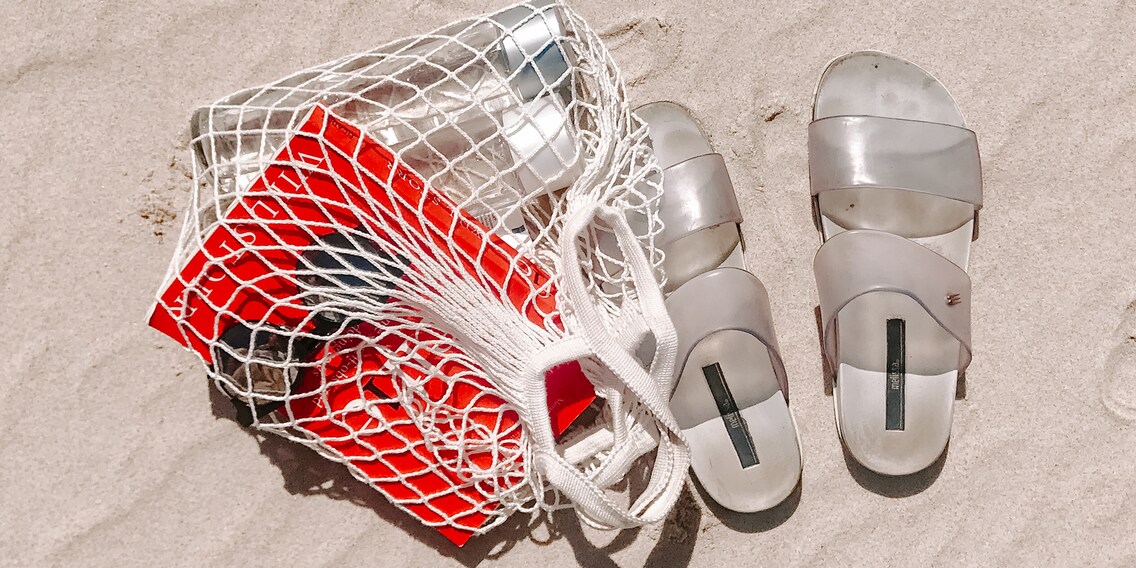 When rubber meets the road: the best water shoes for your beach holiday

Translation:
Julia Graham
Pebbles prickle, sea urchins lurk, and sometimes it's just the hot sand scorching your feet. It's a clear argument for wearing water shoes. Which should you pack in your suitcase this year? It all depends on what type of beach person you are.
Did anyone say beach holiday? My eyes already start to light up. If I could, I'd spend all year alternating between reading, snacking, swimming, licking ice cream, guzzling cold drinks and getting a tan next to or underneath a parasol – and then going through everything on that list again. Unfortunately, I'm yet to find anyone willing to finance this full-time. But that explains why open-air pool trips and aforementioned beach holidays are my favourite time of the year. I immediately get the urge to throw all the essentials into my bag. The older I get, the more this is likely to include increasingly useful things rather than the likes of UNO and cooling thermal water spray. While sunscreen is a must, stuff such as head coverings, a good book and – depending on the destination – water shoes are also suitcase essentials.
For example, two years ago I ended up clambering over the rocky and sea urchin-filled coast of Croatia in a bikini and rubber shoes. Was it a good look? Definitely not. Did it save me getting cuts and stings? Absolutely. A year later, I threw the same pair of shoes into my Sicilian suitcase. That was just to discover with envy that my travel companion was a huge fashion step ahead of me. Instead of a semi-aesthetic basic model like mine, he'd packed the adult version of the cute Jelly sandals. The same kind of shoes I'd hurtled around in every summer about 30 years ago.
By then, two things were clear. Firstly, not all water shoes are the same. And second of all, I need a new pair. If you're in the same boat, this guide will act as your life buoy in a flood of options.
Disclaimer: sadly, the classic Jelly sandals aren't available in our range at the moment.
You're…
… adventurous, have a thirst for experiences and want hassle-free footwear
Then you need something practical that serves its purpose, and where aesthetics come second. Traditional surf and water shoes take you from your towel to the water's edge and back with confidence.
… a water rat who mainly wants to paddle
If you want it to be clear from your shoes that fun in the water is your thing, then Crocs and Jelly sandals are your kind of beach companions. They're bright, fun and evoke childhood memories. Off you go and play in the waves.
… actually way too cool for water shoes
So, you like hanging about the beach? But you don't want to out yourself as an overzealous tourist with all the gear. No problem. If you'd actually rather hang out under a parasol with an iced coffee and your book but you can't stop yourself going for a casual cool down in between, there are stylish options that mark a compromise.
… active, but somehow also an imposter
The combination of swimwear and water shoe looks quite special. If you find that too embarrassing, you'll just have to fudge your way through it if worst comes to the worst. This works best when you have water shoes that look like plain old trainers.
Incidentally, I replaced my old model with Jellys, so the only time I'll be in the shade of my holiday companion is when I'm protecting myself from the sun.
Header image: Social.Cut via Unsplash
---



Always up for good hits, even better trips and clinking drinks.
---
---
These articles might also interest you
Skeleton Loader

Skeleton Loader

Skeleton Loader

Skeleton Loader

Skeleton Loader

Skeleton Loader