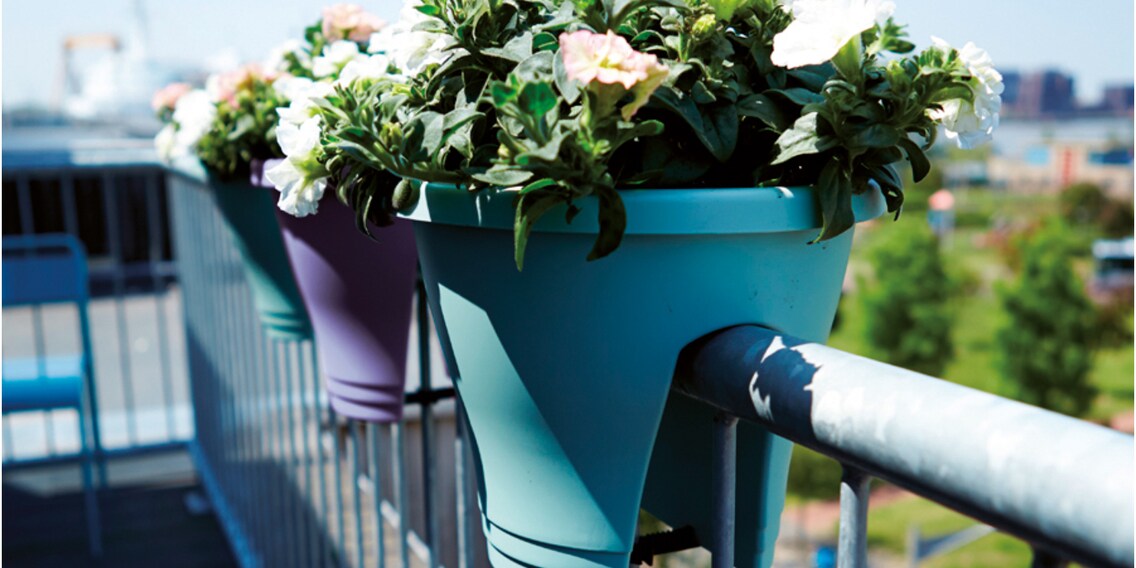 The urban balcony – more than storage space

City balconies are hardly ever large and at best overlook a bit of green courtesy of the local park. But let's assume you've got to make do with less than 8m² and your only views are of the concrete building next door. Then it's high time for a balcony makeover! We'll show you how you can turn your rubbish bag depot into an inviting haven.
A splash of colour in the concrete jungle!
Colourful furniture instantly creates a summer atmosphere, even on dreary days. Get creative with colours and patterns – anything goes as long as you like it! To make the most of every inch of your future urban haven, space-saving furniture is the be all and end all. Try to go for multifunctional, foldaway or stackable pieces of furniture. Why not move weatherproof indoor furniture outdoors so you can enjoy it all year round? Fairy lights or colourful lanterns will set the mood for evenings spent on the balcony. Go for airy furniture designs whenever possible: Delicate pieces with a wired look don't add bulk and also happen to be in fashion.
Planting upwards
Make the most of vertical surfaces and go for pots that are stackable or that can be attached to the railing. This will save a lot of precious floor space.
You might also like this article:
---



When I'm not busy putting together home décor themes or planning marketing activities for Galaxus, I enjoy decorating my home with things I love and starting DIY projects I finish all too rarely. The inspiration I get comes from blogs, magazines and travels. My favourite home living styles: Nautical, Scandinavian and Nordic. 
---
These articles might also interest you
Skeleton Loader

Skeleton Loader

Skeleton Loader

Skeleton Loader

Skeleton Loader

Skeleton Loader