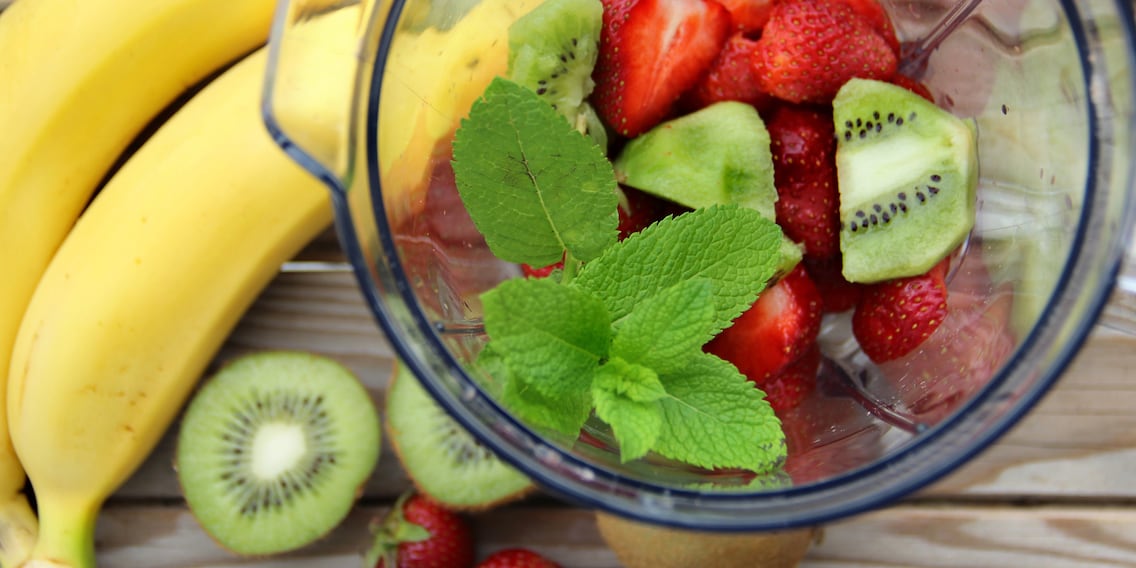 The four best blenders – because we prefer it mixed, not stirred
Do you also prefer your smoothies well mixed and not just slightly stirred? These top four blenders ensure that no vegetables escape in one piece.
The Rolls-Royce of blenders
Max RPM: 35000
Jug: glass
Special features: high-speed blender with high-quality glass jug
The Philips Avance Collection Blender HR3652/02 is a real powerhouse. Compared to the NutriBullet RX 10 (see here), this blender with its 35000 rotations per minute (RPM) and 1.9 horsepower (HP) doesn't just put your motorbike to shame. As one of the few blenders with such a high power rating and a high-quality glass jug (other high-quality blenders usually have a plastic one), it makes some larger sets of wheels look a bit pathetic.
Don't worry if you're thinking the glass jug could shatter when solid objects like avocado stones hurl against it at 35000 RPM. We can give the all clear. The jug (quite literally) holds true. What is more, glass is very easy to clean and more scratch-resistant.

Full steam ahead
Max RPM: 30000
Jug: BPA-free plastic
Special feature : Integrated heating system
The NutriBullet RX 10 is the pocket rocket of the blender family. It features more than 2.3 HP and brings a proud 30000 RPM to your kitchen. Unlike the Philips Avance Collection blender, the NutriBullet RX 10 has a plastic rather than a glass jug. But what it lacks in aesthetics it makes up for in features with its integrated heating system – perfect for making soups and sauces. If the Nutribullet were an athlete, its speciality event would be transforming all types of food into a silky smooth texture. But it can also freestyle, requiring a mere seven minutes to steam vegetables into piping hot soups.

Sporty never stops
Max RPM: 23000
Jug: BPA-free plastic
Special feature: Handy bottle for on the go
Even though the Electrolux Sports Blender may seem slightly less sporty than the Philips Avance Collection Blender and the NutriBullet RX on an RPM level, it is perfect for sportspeople and those wanting to become more sporty. It is definitely more convenient for on the go. Its 100% BPA-free plastic bottle is particularly slimline, meaning it fits into any kind of sports bag. We guarantee that even if you only use it to make chocolate smoothies, it will stay lean!
What is also great about the Electrolux Sports Blender is that the bottle is dishwasher safe. So while you're having a post-workout shower, the bottle can be having a relaxing soak in the dishwasher.

Calling all design buffs
Max RPM: 18000
Jug: BPA-free plastic
Special feature: its design
After all these powerful beasts we've introduced, you could say the SMEG 50s Retro Style is the pretty one. It has already won prizes for its unique design at beauty contests. Despite its delicate appearance and striking round shape, it crushes every kind of fruit and vegetable with ease. Don't worry if its pink dress isn't really your thing. It comes in lots of other outfits, each better than the last.

You may also find these interesting:
ReviewCooking

Dieser Höllenmixer stellt dein Töffli in den Schatten
---
---
These articles might also interest you
Skeleton Loader

Skeleton Loader

Skeleton Loader

Skeleton Loader

Skeleton Loader

Skeleton Loader