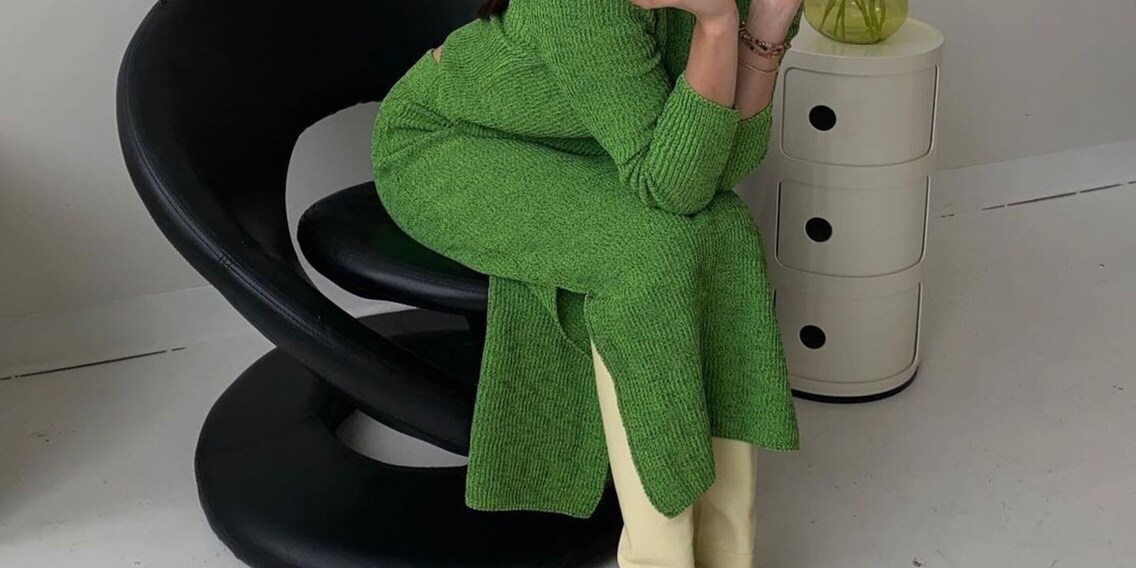 How to wear dresses and skirts in winter without freezing

Translation:
machine translated
Dresses and skirts are not just for the warmer months. I'll show you how to effectively protect yourself from the cold without trousers - and stay on trend.
In winter, we instinctively stow skirts and dresses in the back corner of the wardrobe. The thought of the dry, icy air whistling around exposed legs makes you shiver. Thick trousers are the logical complement to thick coats, thick jumpers and thick scarves - you might think. But sometimes the logic just isn't obvious. Sometimes you have to fiddle around a bit and get creative.
1. layer stockings on top of each other . In summer we can get by without tights, in autumn a thin pair is enough - but in winter we need to bring out the heavier guns. A great trick to fake the sheer look of 20-den tights: wear a thicker pair of tights or leggings in your skin tone as a first layer and then put on a pair of sheer black tights over them. If you want to be extra cosy, there are even skin-coloured models that are lined with fleece on the inside.
2. Choose boots that reach at least below the knee . We want to protect the trouserless leg from the winter air as much as possible. A stylish way to do that: knee-high boots or overknees. The latter have recently come back into fashion. If you're thinking of delicate stiletto boots and think "I'll fall on my face on the black ice", don't worry. High boots are also available without heels and with winter tread. Models with chunky soles look particularly modern. Pointed-toe heel boots are really chic, even for evenings.
3. Go for the on-trend combo with midi and maxi skirts . With really thick stockings and high boots, you can also be warm in a miniskirt. However, midi and maxi skirts are more in line with the winter vibe, a touch warmer and very trendy right now. Combined with high boots, they create an elegant look that completely covers your leg. Particularly exciting is the combination of over-the-knee boots and long skirts with slits that reveal more or less of your boots depending on how you move. Knitted skirts are nice and cosy, while wool skirts are particularly warm. Leather skirts, which can look heavy in the summer, also suit the season particularly well.
4. Try jumpers that are also dresses . Not only skirts, but also dresses come in winter looks. Of course, a light linen summer dress looks a little out of place. In cold temperatures, opt instead for knitted dresses that you can also wear in spring and autumn. Flowing, loose styles are especially comfortable and very stylish at the same time. Combining them with high boots is elegant without being overdressed.
5. Round it off with a long coat . Stockings doubled, boots to the knee, skirt to the calf: doesn't sound like shaky knees, does it? Finally, you can still kick it up a notch with a maxi coat, another trend piece of the season. An almost floor-length coat not only completes the look, but also keeps you really warm around the legs. This is especially important if you're wearing a mini skirt. Flowing wool coats, structured blazer-style coats, voluminous puffers and opulent faux-fur coats are great in maxi.
---



Has endless love for shoulder pads, Stratocasters and sashimi, but a limited tolerance for bad impressions of her Eastern Swiss dialect.
---
---
These articles might also interest you