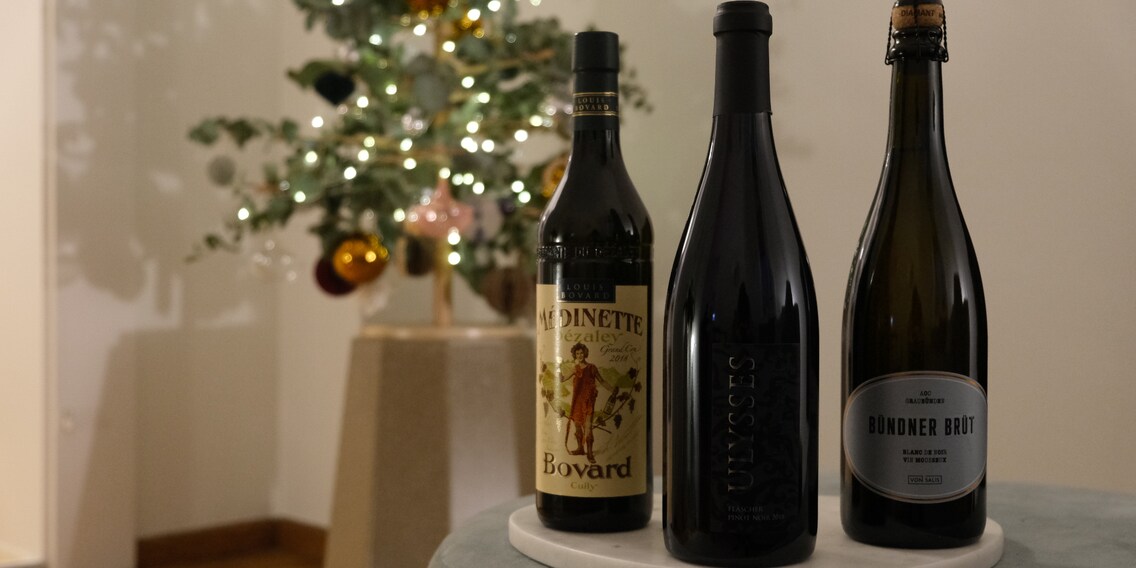 Hand-picked Swiss wines to raise glasses with this Christmas

The reputation of wines from Switzerland has improved over the years. What used to be considered plonk can now keep up with the competition from abroad. To prove this, I'd like to introduce three Swiss wines that will complete your Christmas.
Swiss winegrowers have finally understood. It's not quantity that makes money, but quality. Less yield, better pressed and vinified. To be honest, I almost exclusively drink Swiss wine. This is less driven by patriotism but more by my quality standards. While gallons of boring, overpriced so-called «New World» wines are shipped halfway across the globe, Swiss wines have become increasingly exciting in the last decades.
Ironically, the reason for this is that the Swiss wine market was opened up to imported wines in the early 2000s. Previously, Swiss winegrowers were able to rely on quantity instead of quality. But after the market was opened, they were suddenly confronted with cheaper, higher quality competition from abroad. Many winegrowers struggled to sell their «heartburners». The open market forced them to deliver quality and to experiment. We wine consumers are now reaping the fruit of the effort that's been put in over the last few years.
It's ecological nonsense to drink wine from Australia. After all, you get a Swiss wine that's just as good for the same price. Wine expert Renato De Gennaro from «von Salis» and I selected three Swiss wines that are perfect for Christmas. Renato added a comment to each wine.
Red wine
Swiss wine still suffers from a rotten image. «Yuck, no way am I drinking Pinot Noir! It's way too watery.» This is something I hear a lot. Yet, it's precisely this type of lighter wine that doesn't overpower all its subtleties in flavour and is exciting to discover. This pick is aged in wood for 12 months. The wine goes perfectly with Swiss Christmas classics including meat fondue or roasts.
The wine region Bündner Herrschaft – a stronghold of Switzerland's Pinot Noirs. Countless years of experience, passion and a perfected craft result in high-class wines time and again. This includes the Fläscher Ulysses. Aged for 12 months in barriques, this wine is a world of aromas of dark fruits paired with notes of wood and tobacco. The finely honed tannins deliver an elegant and persistent taste experience.
Discover more Swiss red wine
White wine
It's a preconception that drives me and my Swiss-French roots nuts: «Chasselas is sour and tasteless.» That might be the case if you're buying a one-litre bottle of cooking wine from Denner. After all, the most Swiss of all grape varieties is an honest, unforgiving kind. Poor soil can't hide behind floral notes of the grape. Bad winemaking is something you can taste. Quite literally. A good Chasselas, however, is a revelation and goes fantastically with fish, as a pre-dinner drink or with raclette and fondue.
Your archetypical Chasselas. The Médinette impresses with its body and complexity. At first: mineral flint notes in combination with hints of citrus and quince, which unite in a perfect harmony of flavours. It's safe to say that this exceptional Chasselas represents Western Switzerland with an incredible power and presence.
Discover more Swiss white wine
Sparkling wine
Offensive Prosecco has been flooding the Swiss market for two decades. This cheap sparkling wine from Italy is largely undrinkable and, at its worst, comes in a can. Swiss alternatives aren't usually more expensive but much more exciting. Take «von Salis Bündner Brüt», for example.
A novelty from von Salis: Bündner Brüt. This sparkling Blanc de Noir wows with an incredibly fine perlage. Berries, citrus and subtle peach notes on the nose, followed by a harmonious and elegant palate. The experience is completed with a fruity finish.
Discover more Swiss sparkling wine
Dare to go for Swiss
The Swiss Federal Railways switched their entire onboard wine range to Swiss wines. And rightly so! Local products are by no means an unpalatable hype propagated by backward eco-hippies. Instead, they're sustainable and of high quality. Admittedly, it takes a bit of courage and curiosity to get to know and appreciate Swiss wines. But once you're committed, it's hard to shake the fascination.
---



When I flew the family nest over 15 years ago, I suddenly had to cook for myself. But it wasn't long until this necessity became a virtue. Today, rattling those pots and pans is a fundamental part of my life. I'm a true foodie and devour everything from junk food to star-awarded cuisine. Literally. I eat way too fast. 
---
---
---
---
These articles might also interest you
Skeleton Loader

Skeleton Loader

Skeleton Loader

Skeleton Loader

Skeleton Loader

Skeleton Loader