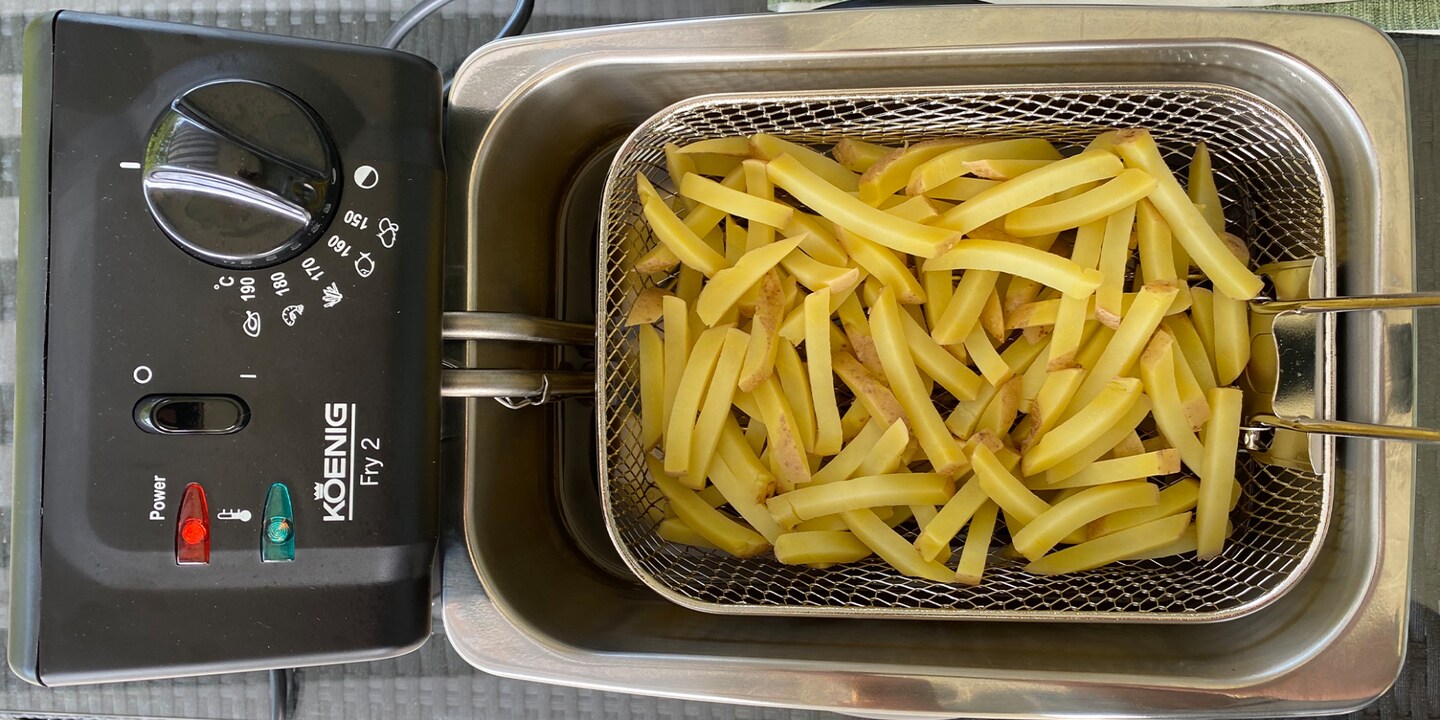 From boiling vinegar water to hot frying oil: my chips on their way to perfection.
Are parboiling and vinegar the secret for perfect homemade chips?
Homemade chips sound easier to make than they actually are. Not oven fries, wedges or other ready-made alternatives. I'm looking for the perfect chips, homemade from scratch. In my third attempt, I parboil the potato sticks in vinegar water.
My first try resulted in chips that were good, but far from perfect. The second round, I double-fried them and the result was a lot better. They were tastier and crispier. But I'm still not completely satisfied and I believe there's room for improvement. Thanks to extensive research and helpful comments from the Community, I came across another interesting trick: placing them in boiling water to remove all starch from the potato sticks after cutting them. Adding some distilled white vinegar is also said to work wonders. Is this going to take me one step closer to the perfect homemade chips?
Another day, another attempt
Cooking them twice rather than once has made the chips more flavourful and crispy. Now an additional step is supposed to help me reach chips heaven. As before, I cut the potatoes into seven millimetres thin sticks with the potato chipper. Again, I use waxy and starchy potatoes, as I still couldn't decide which variety produces better chips. So far, both had upsides and downsides. This is where I change my method: instead of drying the potato sticks, I boil them for about ten minutes in water to which I've added two tablespoons of vinegar. Then I deep-fry them twice. First for three minutes at 150 degrees Celsius, then I let them cool down to room temperature and cook them again at 180 degrees Celsius for about four minutes. I deliberately increase the temperature by ten or five degrees compared to my last attempt, as that's what many recipes recommend to do.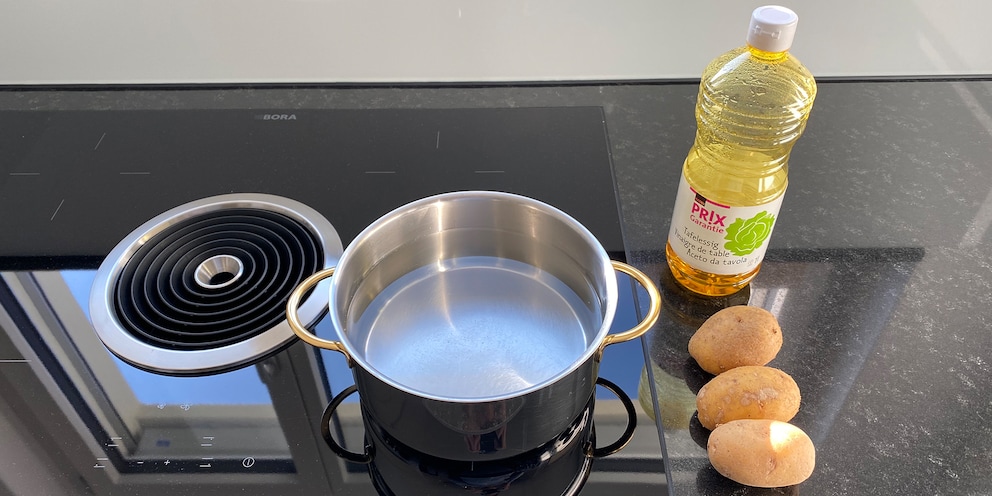 On my quest to find the recipe for perfect homemade chips, I came across the trick to add vinegar to the water from recipes and with the help of the Galaxus Community. Vinegar is supposed to prevent the chips from browning too quickly in the deep fryer before they can even get crispy. In addition, parboiling them with vinegar make sure I'm not left with a crispy crust but almost no filling in my chips. It strengthens the potato structure and the fries retain their shape, the inside and outside don't separate and the chips take on an even golden-brown colour. To keep the inside nice and fluffy, the potato sticks need lose as much starch and moisture as possible during the parboiling process. The two rounds of deep-frying do the rest.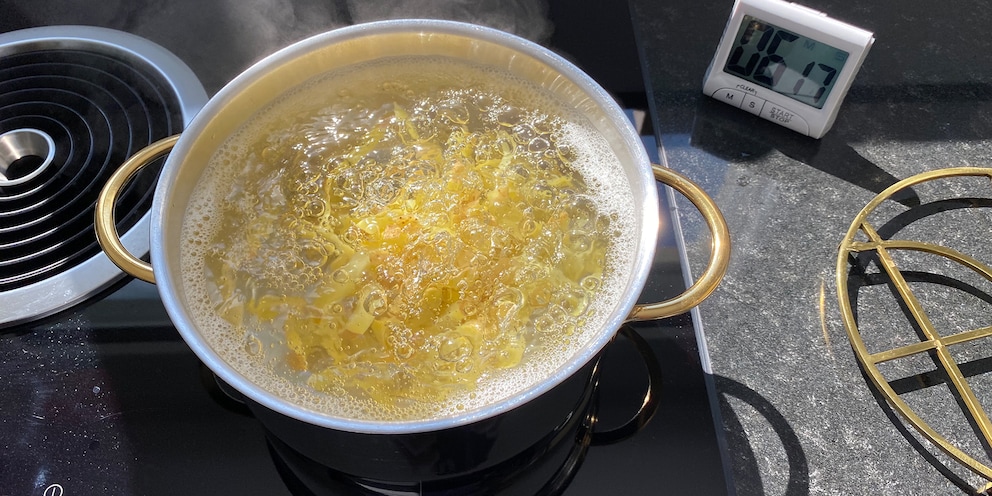 Boiling the starch away
Actions speak louder than words, so let's get going. I cut the potatoes into thin sticks. By the way, I've grown really fond of the potato chipper, as it takes tedious work off my hands with just one movement. Now I boil the sticks in a pan filled with about two litres of water and two tablespoons of vinegar. The recipes and commentaries recommend parboiling them for ten minutes. I choose eight minutes because my sticks are thinner than in most recipes. Boiling the potato sticks too long would make them fall apart and ruin my chips. After eight minutes, I remove them from the water, dry them off and deep-fry them for three minutes at 150 degrees Celsius. Then I place them on a grid covered with kitchen paper and let them cool down. Six hours later, I deep-fry them again at 180 degree Celsius during four minutes. That's it. Shortly before the kitchen timer goes off, I ask myself: will it be worth the effort?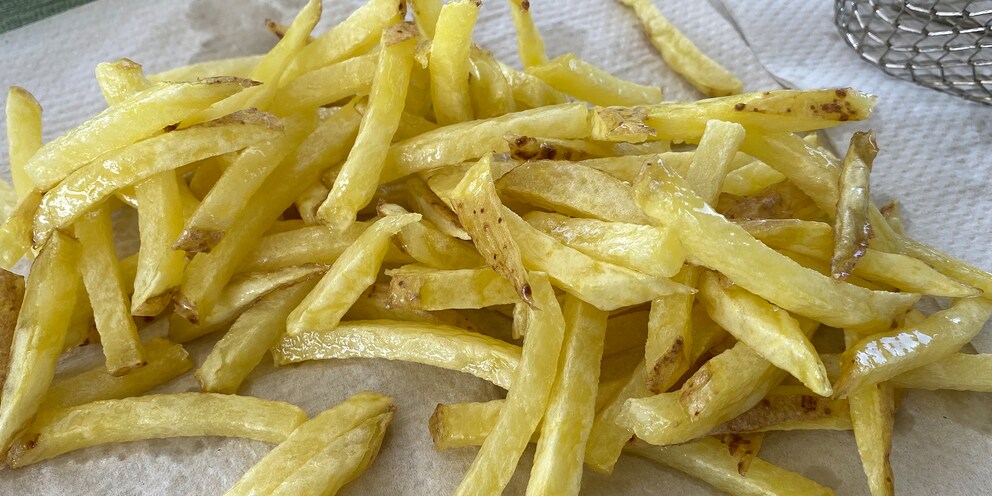 Oh, yes, it was absolutely worth it! The chips made from waxy potatoes look excellent when I remove the lid of the deep fryer. Great colour: not too light, but not too dark either. But are they crisp? Yes, they are. I can hear that as soon as I take the chips out of the deep fryer and pour them onto the household paper. I try one and decide: these are very tasty chips, close to perfection – very close indeed. A thin crust was already visible on the fries after deep-frying them once. They owe this to the vinegar bath. The fries are extremely crispy, that's impossible not to notice when I take a bite. On top of this, they're not as dark as they were in my first two attempts. They're nice and creamy on the inside and taste great. After about ten to fifteen minutes, they lose some of their crispness, but still taste delicious.
What about the chips made from starchy potatoes? They're just as great as their waxy counterpart. The starchy potato sticks are also covered with a thin crust after the first round of deep-frying them. Parboiling them in vinegar water was definitely worth it. Just as in my first and second attempt, the starchy chips are lighter in colour than the waxy ones. They're crispier on the outside and fluffier on the inside, which I like. The classic earthy potato flavour is also noticeable and the unmistakable deep-frying smell rises to my nose. Even though the chips made of waxy potatoes taste a little bit better, I would choose the starchy ones. The long-lasting crispness, the fluffy inside and the golden-yellow colour make up for the slightly less intense potato taste.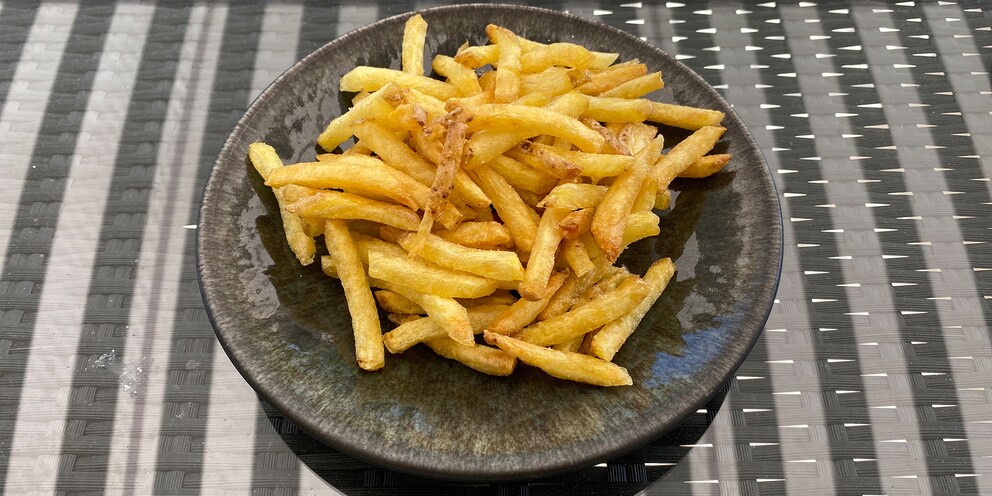 My verdict: very close to perfection
My project is full of surprises. I wouldn't have thought that parboiling them in vinegar water would make the chips even crispier and tastier. After parboiling and deep-frying them once, I suspected something could have gone wrong, as the chips looked anything but appetising – just like in the second try. They weren't only soft, they also had a slight sour smell of vinegar. Luckily, this smell disappears after the second deep-frying round. In the end, everything worked out and I have two plates of excellent chips in front of me. Well, I had. They were gone in no time.
Is that it, is there no room for improvement? I don't think so. But I'm going to try another trick: in my next and hopefully last attempt. I'll freeze the chips overnight between the first and the second round of deep-frying them. Might this be the final step to perfect homemade chips? I'll know soon enough. Any other ideas? Thanks for sharing your tricks in the comment section. Want to know what else will happen on my quest to find the perfect homemade chips? Follow me by clicking the «Follow author» button on my profile.
---

When I'm not stuffing my face with sweets, you'll catch me running around in the gym hall. I'm a passionate floorball player and coach. On rainy days, I tinker with my homebuilt PCs, robots or other gadgets. Music is always my trusted companion. I also enjoy tackling hilly terrain on my road bike and criss-crossing the country on my cross-country skis.
---
---
---
---