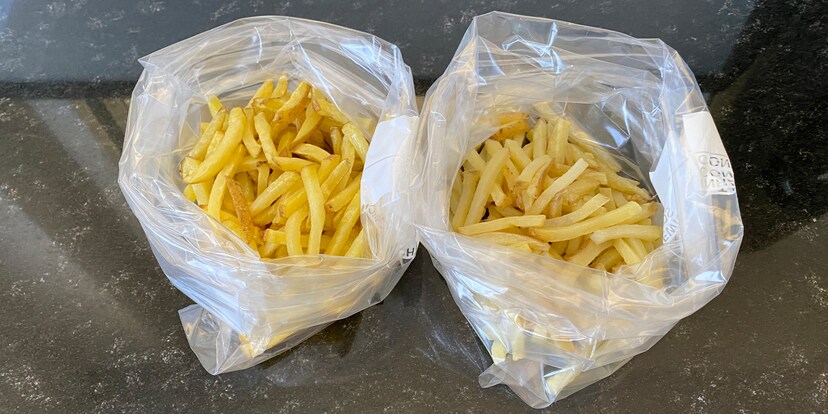 My parboiled and deep-fried homemade chips are waiting to spend the night in the freezer.
The secret is freezing: I've found my perfect homemade chips
Homemade chips sound easier to make than they actually are. Not oven fries, wedges or other ready-made alternatives. I'm looking for the perfect chips, homemade from scratch. In my third attempt, I freeze the chips overnight after the first round of deep-frying.
My first attempt resulted in chips that were far from perfect. The second time around, I double-fried them and they were a lot better. My third attempt was close to perfection – the chips were excellent in taste and very crispy. But I'm still not 100% satisfied. There's sill room for improvement. A few of you have suggested deep-frying the chips once and then placing them in the freezer overnight. I'm going to give that a try. This is supposed to make them even crispier. I hope this is the last step in my journey to making perfect homemade chips.
Is freezing the secret?
Parboiling them vinegar water made my homemade chips even more delicious than when I only fried them twice. This time, I'll repeat my third attempt but add a step: I'll freeze the chips overnight after the first round of deep-frying. Up to that moment and after taking them out of the freezer, I won't make any changed to my recipe. I won't increase the temperature nor duration when I fry them a second time, although my chips will go straight from the freezer into the deep fryer. This is what it says in many recipes I found online and in the comments I received as feedback on my previous attempts.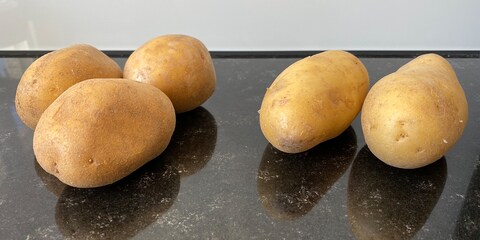 Some recipes don't only recommend cooling the chips before the second frying process, but freezing them – for at least one night, if not longer. There is a good reason for this: any residual moisture that hasn't escaped during parboiling in vinegar water or when drying them, will turn into ice crystals in the freezer. The moisture can damage the potato structure during deep-frying. However, if it is «trapped» in a frozen state, it evaporates immediately when dipped into the hot frying oil. The result? Chips that are crispier, fluffier chips and have a much better and more intense flavour. This method also allows me to produce chips ahead and throw them in the deep fryer whenever I feel like having homemade chips for dinner.
The long wait is over
I'm getting good at preparing my homemade chips: I cut them parboil them in boiling vinegar water for eight minutes, dry them and deep-fry them at 150 degrees Celsius for three minutes. Then I add the new step, which is hopefully the final touch for my perfect chips: I put a portion of pre-cooked and deep-fried chips of both potato varieties into the freezer overnight. The next day, my fries are rock hard and ice cold – just what I need to achieve a perfect crust and intense flavour. I don't defrost them, but place them in the deep fryer while they're still deep-frozen. I cook them for four minutes at 180 degrees Celsius. All I can do now is wait and hope that when I open the lid, I'll realise that I've finally found the recipe for perfect homemade chips.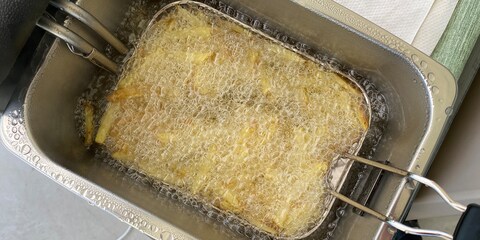 The four minutes are up, I open the deep fryer and examine my work: the chips made from waxy potatoes have a darker colour again than last time. They look very crispy and smell delicious. After freezing them, they looked lighter than the starchy fries, but frying them gave them a nice tan. I pour the basket onto kitchen paper and hear how crispy they must be. I take a bite and am happy: they're very tasty and super crispy. They taste exactly the same as in my last attempt when I skipped the freezing. I can hardly believe that they're even crisper than last time around. They're so delicious that I have to force myself not to eat all at once. I need to keep a few for the final photoshoot.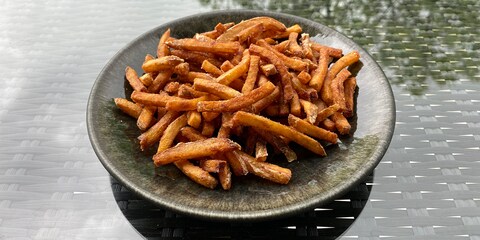 Next, I take the floury chips out of the freezer. They look the same as right after I deep-fried them for the first time. After frying them a second time, however, they're slightly darker than before – but not as dark as their waxy counterpart. I guess the reason for this is that the longer second frying process is longer. They look like perfect homemade chips – more so than the waxy ones. Do they taste as nice and crisp as the look? Yes, they do. They're super crispy and taste excellent, too. Unlike the starchy chips from my third attempt, I can taste the typical earthy potato flavour.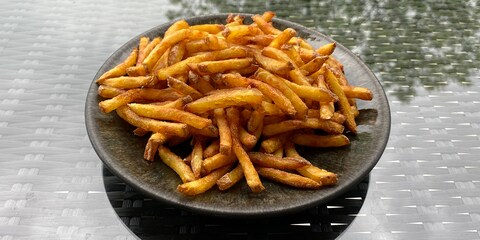 My verdict: I've made it
It's with joy (and a tiny bit of sadness) that I realise my experiment is over and I've just prepared the perfect homemade chips. After parboiling them in vinegar water, they were already so nice that I didn't think they could be much better. But then I came across the freezing method. And indeed, deep-frying frozen chips made them taste even better. Both fries – the ones made from starchy and the ones made from waxy potatoes – turned out crispier when I froze them. In terms of taste, I can't tell the difference between the waxy chips that stayed in the freezer overnight and the ones that didn't. But this new method boosted the potato flavour of the chips made from starchy potatoes. I've finally made up my mind: my recipe for perfect homemade chips includes starchy potatoes.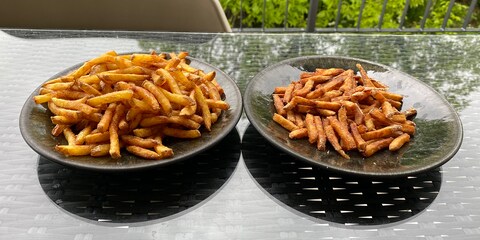 My method for perfect homemade chips also includes parboiling in hot vinegar water, double-frying and freezing them overnight between the first and second round of frying. I took on the challenge, worked on it for a long time and finally succeeding in making chips that are perfect – in my opinion. The end of this exciting project marks the start for a new adventure: I'm looking for food that's usually not prepared in a deep fryer and deep-fry it. If you want to join me on my deep-frying mission and see what's next, follow me by clicking on the «Follow author» button on my profile.
---

When I'm not stuffing my face with sweets, you'll catch me running around in the gym hall. I'm a passionate floorball player and coach. On rainy days, I tinker with my homebuilt PCs, robots or other gadgets. Music is always my trusted companion. I also enjoy tackling hilly terrain on my road bike and criss-crossing the country on my cross-country skis.
---
---
---