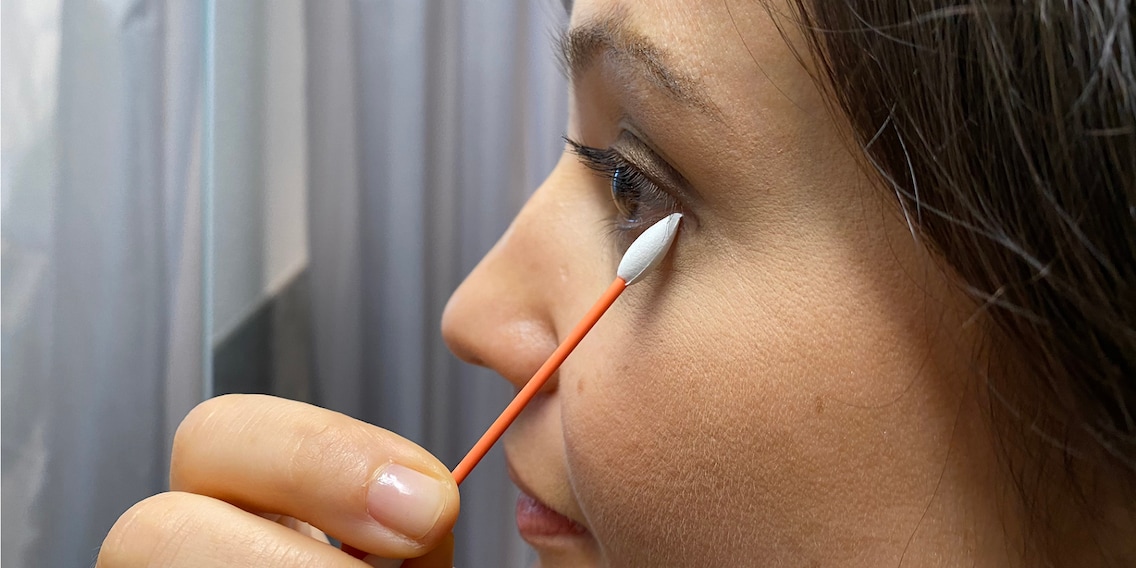 A sustainable cotton bud? I'm all ears!

Using a cotton swab multiple times? Sounds kind of gross. But it's not. The reusable cotton swab by Lastobject has won me over.
Cleansing my face is an integral part of my evening beauty routine. To avoid sacrificing two cotton pads every time I carry out this daily ritual, I switched to reusable make-up removal pads my dear colleague Anne Chapuis makes some time ago. This helps me save 730 pads worth of cotton wool waste every year. When I learned that the average person in Switzerland produces 100 kilogrammes of plastic waste annually, this really got me thinking. According to Greenpeace Switzerland, this is around three times more (in German) than the European average. A shocking number.
Cotton swabs are a part of this pile of plastic. I regularly use them to correct smudged make-up and carelessly chuck them in the rubbish. This must stop. Time for a solution! By chance, I come across «Lastobject». The Danish brand produces reusable cotton buds in various colours and in two versions: one to clean your ears, the other to correct make-up. As I was told from a very young age that Q-tips shouldn't be used for your ears, I decided to focus on the make-up model.
Three Danish product designers came up with the sustainable cotton bud. Lastswab is the trio's answer to regular throwaway ear buds. The reusable swab is washable and should survive about 1000 uses. This would help me reduce both my plastic waste and carbon footprint.
Unlike conventional ear buds, Lastswab's centrepiece is made of nylon instead of polypropylene. The ends are made of TPE instead of cotton. TPE's a type of rubber that's used in the field of medicine. Lastswab comes in a storage box made of a biodegradable corn-based polymer.
Haters gonna hate: the life cycle of the materials used to make this product is not more sustainable per se. Lastswab only becomes sustainable after 1000 uses, which the bud is supposed to outlast. At first, I found the idea of using the same cotton swab over and over again a little strange. If you feel the same way, it's worth thinking about how you use your toothbrush: over and over again plus you put it in your mouth.
How it works
In terms of look and feel, Lastswab's design is sound and hardly any different from a regular cotton bud. Only the ends feel less fluffy than your standard swab. Actually, their shape is an improvement to a regular cotton bud. One end is rounded, the other pointed. This proves particularly practical when I'm correcting smudged make-up around my eyes. To fix mascara slips, I apply a few drops of eye make-up remover I'm currently using. This works quite well. However, I do need to apply a little more pressure when rubbing off the smudges. Afterwards, I wash the swab with some soap and water. I'm surprised at how easy it is to clean. Contrary to my expectations, the bud doesn't look grubby. My waterproof eyeliner comes off without leaving a trace.
The lowdown
I'm happy to have found an alternative to standard disposable ear buds. This sustainable alternative is easy to use and fast to clean, which surprised me. In terms of materials, Lastswab is not particularly sustainable, but it's durable. This alone makes it worth considering. After all, supposedly eco-friendly ear buds made of bamboo or cardboard end up in the bin, too.
Discover the Lastswab range.
---



When I'm not exploring the depths of the sea as an open water diver, I enjoy plunging into the world of fashion. On the streets of Paris, Milan and New York is where I keep my eyes peeled for the latest trends. And I'll show you how to take them from the catwalk to your everyday life. 
---
---
---
---
These articles might also interest you
Skeleton Loader

Skeleton Loader

Skeleton Loader

Skeleton Loader

Skeleton Loader

Skeleton Loader