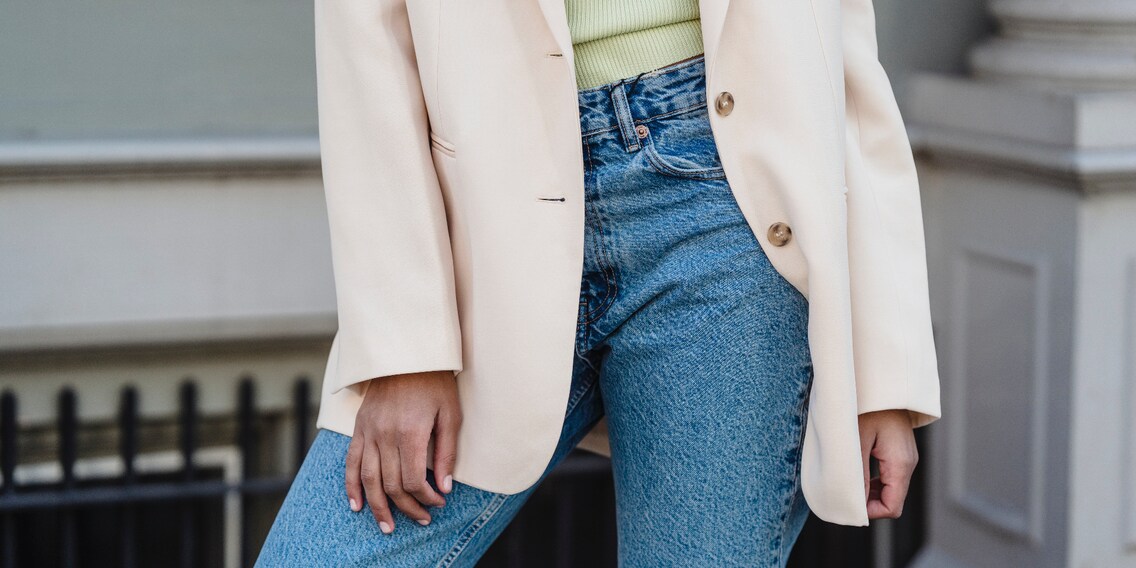 The skinny jeans era is over: five alternatives that show your figure off

For a whole decade, skinny was the undisputed favourite denim cut. But that's all over now. There are five other styles on the horizon that are just as figure-enhancing as a slim fit.
There was a time when my palette of pants consisted exclusively of skinny jeans. Body-hugging from waist to toe. Not to mention the high percentage of stretch material. But in recent years, skinny jeans have gradually been squeezed out by wider cuts – both in my closet and on social media. While the darling of the twenty-tens has pretty much disappeared from my Insta feed, Tiktok has seen Generation Z having a go at millennials, demanding they finally chuck their tight pants. Tiktok clips with the hashtag #noskinnyjeans have generated around one million views. The «New York Times» even labelled it denim war.
So after a decade of being women's undisputed denim darling, skinny jeans have lost a lot of their appeal. That's not to say that the figure-hugging cuts are gone and we'll be hiding our booties in baggy pants or wide leg jeans. After all, there are alternatives to the slim fit that will hug your body just as much.
Straight leg jeans
Last week, US market research company NPD Group announced that straight leg jeans have dethroned skinny jeans, making them the best-selling fit in the States in 2021. Not surprising, really. They are the older, more stylish sister of the skinny jeans, after all. With a similar fit at the top, they look more timeless because of a spandex ratio that's generally lower and a straight cut that goes all the way down to the ankles.
Flared jeans
If you like the look of the wide leg jean but want an edgier option, you should find it in flared jeans. They fit snugly at the top and flare outward from the knee downwards. This cut creates a silhouette that beautifully accentuates curves. Once labelled as 70s nostalgia pants, the flare is currently becoming increasingly popular.
Bootcut jeans
If you find the flared jeans a bit OTT, the bootcut might be up your street. With a cut that's just as figure-hugging, the more subtle flare lives up to its name by fitting nicely over boots or any other type of footwear.
Cropped flared jeans
Can't handle the retro, no matter how subtle the flare? Then the cropped flared jean with its modern twist might be for you. The 7/8 length is less reminiscent of the classic flare and takes a bit of volume out of the flared leg.
Leggings with a twist
Leggings aren't exactly the epitome of fashion. I still shudder thinking back to the combo from hell I sported in my early teens: leggings, mini skirt and sneakers. But with a few little details – stirrups and front slits are particularly en vogue at the moment – and the right styling, leggings can actually look elegant.
Header image: Blue Bird via Pexels
---



Has endless love for shoulder pads, Stratocasters and sashimi, but a limited tolerance for bad impressions of her Eastern Swiss dialect.
---
---
These articles might also interest you
Skeleton Loader

Skeleton Loader

Skeleton Loader

Skeleton Loader

Skeleton Loader

Skeleton Loader