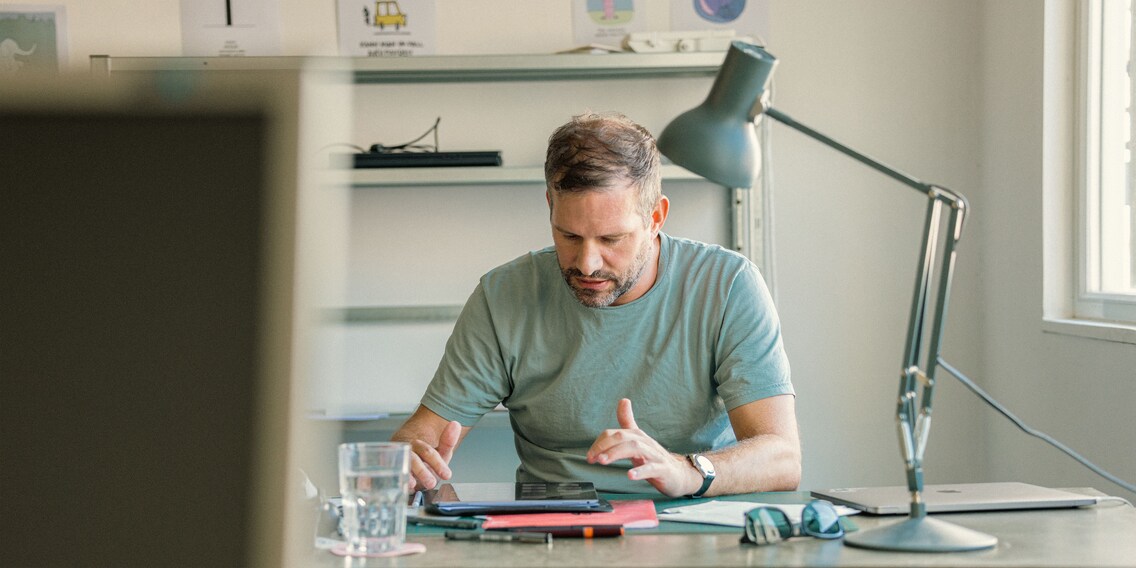 Stephan Lütolf: the man behind the Galaxus cartoons

In his cartoons, he comments on global current affairs for a variety of platforms – and as of recently, Galaxus. Consequently, he sees himself as more of a journalist than an artist.
The stairway leading up to his workspace was built without permission, and didn't gain legal approval until after its completion. Stephan Lütolf tells me this story as soon as we enter the studio in Zurich Enge, which he shares with fellow graphic designers and media professionals. The incident conforms to the stereotypical notion of a creative workplace – much more so than the inconspicuous, white apartment building that accommodates it.
A childhood without TV helped him learn to draw
The portafilter coffee machine is befitting of the creative stereotype too. Stephan, however, surprises me by saying: «I don't have any artistic notions. I see myself as more of a journalist who works with drawings as a medium.» Drawing is simply what he's always done. «Maybe it's because we didn't have a TV at home and I had to create the pictures myself.» Comics, on the other hand, played a large part in his childhood. He discovered «Globi» through the Swiss side of his family, while the French side introduced him to «Tintin».
During his time in the Swiss Scouts, he illustrated the club's magazine. This is where he came up with his artistic signature, which he still uses to tag his cartoons today: Cic. «My buddies in the Scouts christened me Cicero after the great Roman orator,» says Stephan. To this day, he still doesn't know why. «For whatever reason, the name stuck and was shortened to Cic as the years passed.»
Every drawing begins with pencil and paper
Back then, he drew everything on paper from start to finish. Even today, his drawings start life on paper. Given that his cartoons now exclusively appear online, he transfers the pencil sketches over to an iPad. «Using the illustration program Procreate, I'm able to sort of trace them virtually. You can even do little animations with it.»
He uses these drawings for his weekly contributions to the newsletter of Swiss broadcaster SRF. What he's especially well known for, however, are the world affairs pie charts he produces for SRF 3's social media platforms. His work for Galaxus, on the other hand, is slightly more wide-ranging and less political. Sometimes he turns his attention to national events, other times it's Federal Council press conferences or Swiss idosyncracises that take his fancy. Most of his inspiration comes from media consumption. «I do my research the way a regular journalist does. If I have an idea, I bounce it off other people working in the studio. Either that, or I'm so convinced by it that I put it to paper right away. But it's my clients who get the final say.»
His style is defined by a lack of know-how
Once he's decided on a topic, the hard part is over and done with. He's able to mentally switch off when drawing, as the motifs quickly become very clear to him. «It's probably because I have a limited level of technical skill. I've never done a course or gone to art school – I taught myself everything,» says Stephan. This is what quickly allowed his own style to emerge. «I can only draw cartoons, nothing else. I'm not an artist – drawing is a means to an end for me.»
In fact, Stephan studied history in Zurich and Lausanne. «I don't think that's directly useful to me in my current job. Maybe sometimes, when I'm verifying sources.» Most of his cartoons, however, don't go deep enough to require a great amount of research. «Otherwise, most people just wouldn't get them.» He did his degree purely out of interest – an interest that still endures today. Perhaps his fellow Scouts were wise to nickname him «Cicero».
The two do share a certain ambivalence towards the kingmakers of their time. Social media is to Stephan what Julius Caesar was to Cicero. Upon broaching this topic, his incredibly contented, positive disposition is for the first time marred by misgivings. «When there's a heavy backlash to one of my cartoons, I do start to have doubts,» he says. In his Galaxus cartoon on Swiss wrestling, for example, he was repeatedly accused of using outdated humour. «In cases like those, I do ask myself whether I'm becoming a typical, old, white man. But when the next cartoon is published, it's exactly the same people who get worked up.»
A conformist joker
Humour, Stephan says, has become more complicated. Not only because of the appetite for outrage, as Stephan calls it, but because of the media landscape itself. It's why he's one of those collaborating on the crowdfunded satirical site «Petarde», which went live at the beginning of October. Formed in response to Markus Somm's takeover of the magazine Nebelspalter and the publication's resulting new direction, the group believes satire – and indirectly, the freedom of the press and media at large – are under threat. As a result, their platform makes room for uncensored satire. «I'll have a little more freedom in my approach to humour than at SRF or Galaxus.»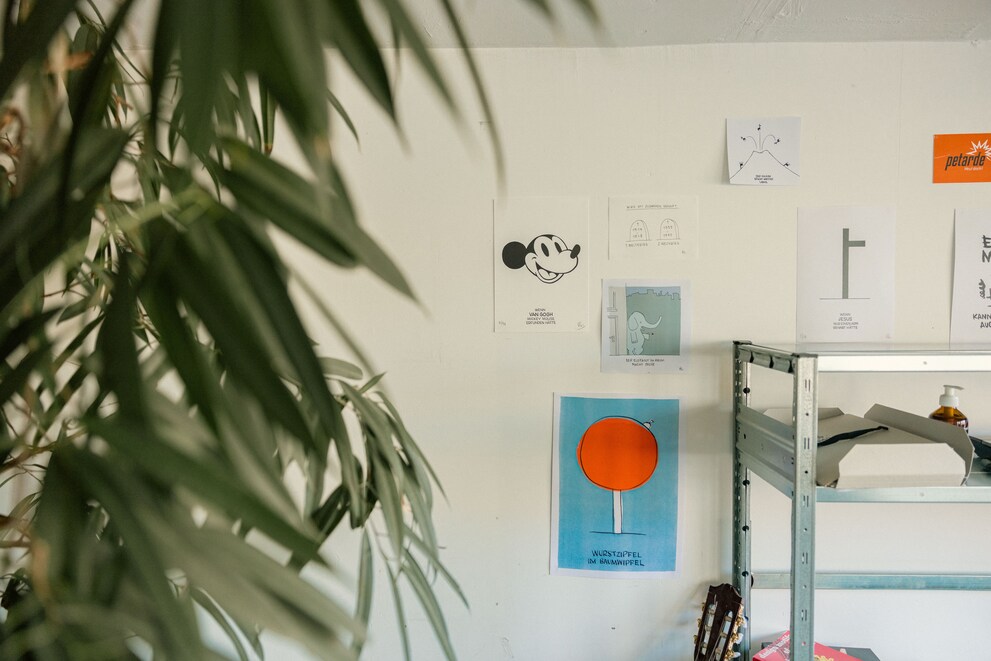 Otherwise, Stephan is actually very mainstream; a nine-to-five kind of guy: «I'm a morning person. I get nothing done in the evening.» If an idea springs to mind, he quickly scribbles it down and looks at it the next day. His three children automatically give him structure and routine. «I take them to school in the mornings before going to the studio, and at lunchtime, I often cook for them.» Breaks like these help him climb the once illegal stairway to his studio with a renewed sense of focus and vigour.
Turns out, the unassuming apartment building and the creative space within it actually suit cartoonist Stephan Lütolf to a tee.
---


My life in a nutshell? On a quest to broaden my horizon. I love discovering and learning new skills and I see a chance to experience something new in everything – be it travelling, reading, cooking, movies or DIY.
---
These articles might also interest you