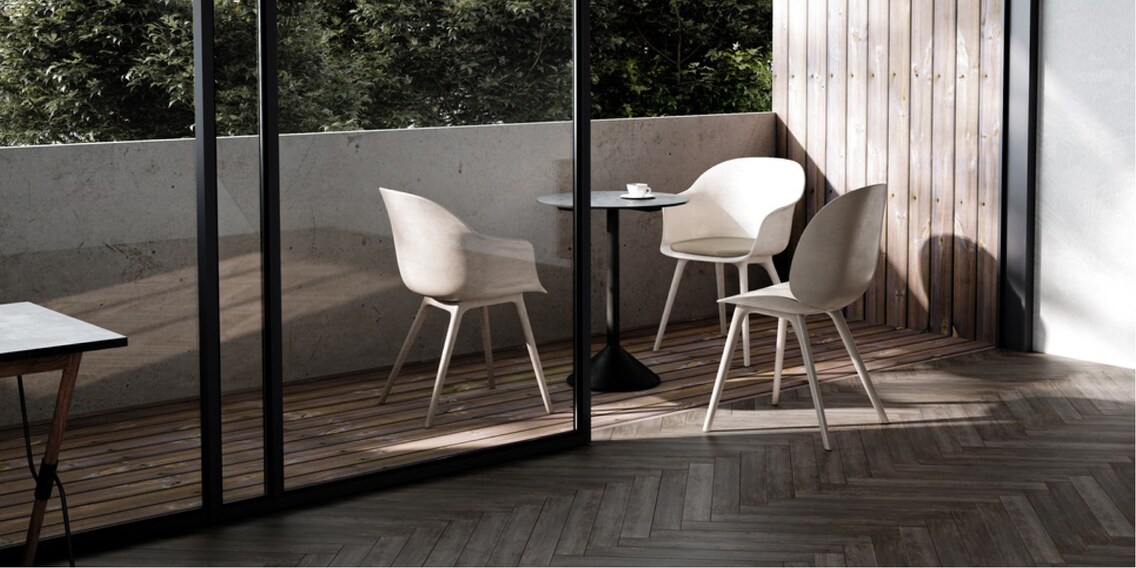 Pia's picks: freedom thanks to «in-between» collections

These new outdoor furniture pieces could just as easily be positioned indoors. This sets them apart from their ancestor, a staple in every chip shop.
«Monobloc» may be the best-selling piece of furniture of all time, but I'd never want to see it in my garden. After all, these days, you can get cosy outdoor collections, or as I like to call them, «in-between collections», which complement stylish interiors.
The one-piece plastic chair in cold white was designed by French engineer and entrepreneur Henry Massonnet. The chair was actually originally targeted towards upper-class customers. In the end, though, it wound up in every other chip shop. Not on account of its gorgeous appearance, but because it was particularly handy, easy to clean and inexpensive. Thanks to mass production, it could be manufactured in less than a minute. The polypropylene was injected hot into a mould, cooled, and voila – the standard chair was finished.
Over the years, many have attempted put an individual spin on the plastic chair and make it prettier. To no avail. Even the puzzle pattern set into the backrest of the «Inca» variation fails to convince me. Especially since there are now great alternatives, including the new «Bat chair» from Gubi.
The price of the bat chair might raise a few objections. But like so many other current designs, and quite unlike the Monobloc chair, its chic appearance means it excels indoors, too.
Homey outdoor designs
Although Gubi has been making luxury furniture since 1967, it has only just launched an outdoor collection. It includes the aforementioned «Bat» in alabaster white, and the «Beetle» with its curvaceous shell reminiscent of a beetle's body. It's waterproof, and thanks to UV protection, the chair can also survive being outdoors. But the Milan-based, Scandinavian brand isn't the only one to make these additional touches. Blomus has also been a trailblazer in the world of in-between collections. The lifestyle label, which has its roots in the Sauerland region, was founded under a different name back in 1921. In the last two years, they've launched garden collections, likely under the assumption that people are more discerning these days when it comes to style and comfort. People want to turn their backyards into open-air living rooms, not haul the furniture and cushions back inside after every use.
For the flow
In architecture, too, I've been reading that there's desire for more room for manoeuvre. Areas of the home which flow into each other are becoming increasingly common. Whether it's a loggia or winter garden, they all tear down barriers and bring us a little closer to nature. In-between designs are the logical consequence of that. They're not quite for indoors, not quite for outdoors and prompt a casual mixing of the two. Which is exactly what I'm looking for. I want furniture that matches my flow. Furniture that allows me to live life in the open air, then come indoors in winter. Instead of buying everything twice, I can get one dining chair for both indoors and outdoors, such as this one from Kave. The same applies to other seating and tables.
Moving your living room outdoors requires furniture that's sun and waterproof, made of lightweight materials and tactile fabrics. Blomus has designed this year's «Stay» collection so that I can quickly create a cosy outdoor lounge anywhere. Bulky garden lounges can't compete with that. The «Breeze» from manufacturer Zuiver could also hold its own as a living room sofa if my next apartment doesn't include a sunny outdoor space. Which is more than I can say for the Monobloc chair. Despite its unspectacular form, it's a real hit with me. So, how has the Monobloc chair made it this far? The answer might lie in Hauke Wendler's documentary or in the book released by publisher Hantje Cantz as an accompaniment to the film. The writer spent eight years tracing the story of the plastic chair around the world and speaking to people who have one. Stay tuned.
In my regular «Pia's Picks» series, I share items from my watch list that you might like too. This time it's homely garden furniture, next time it's design's answer to fireflies – outdoor lamps.
Header image: Gubi
---



«There are only two ways to live your life. One is as though nothing is a miracle. The other is as though everything is a miracle. I believe in the latter.»
– Albert Einstein
---
---
---
These articles might also interest you
Skeleton Loader

Skeleton Loader

Skeleton Loader

Skeleton Loader

Skeleton Loader

Skeleton Loader