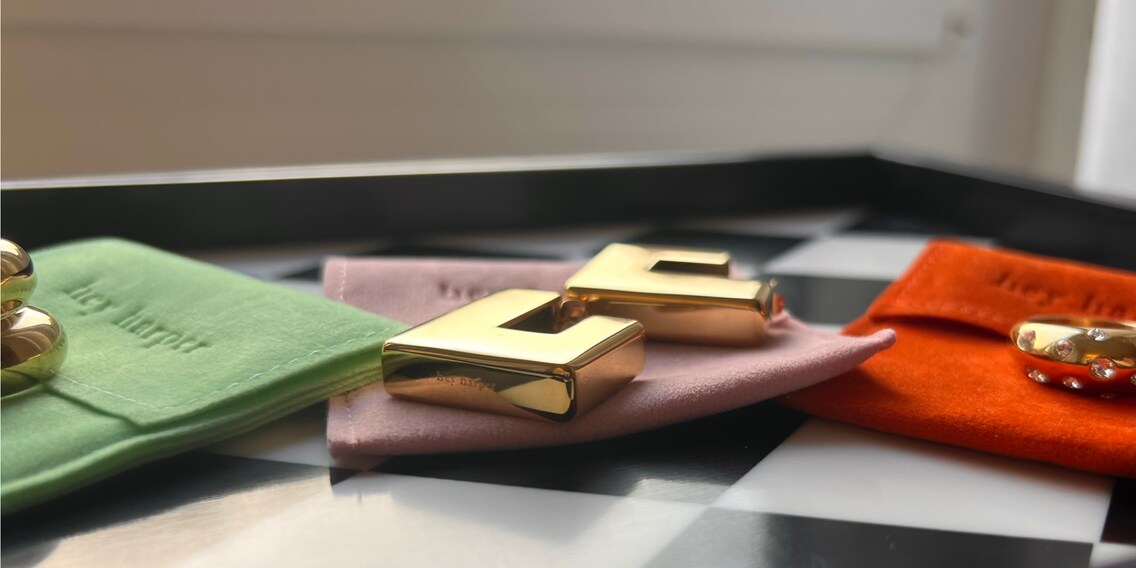 Hey Harper review: gold fashion jewellery that doesn't lose its shine – too good to be true?

The gold coating of this Portuguese jewellery label is supposed to withstand sports, the beach and sauna sessions. I tested how robust the pieces really are.
Whenever I go for gold-plated costume jewellery, I know it won't last. It's always a deceptively pretty piece with an ugly core that's just waiting to peek through the surface and turn green and brown when it breathes air. It's a guaranteed outcome. Even if you keep your jewellery far away from lotions, perfume or water and always take it off before doing sports. Regular wear is enough to have the thin gold layer wear off.
Hey Harper promises its products are different, claiming they'll even survive sauna sessions, diving trips and the occasional accidental cycle in the washing machine. How is this possible? The core, which is made of stainless steel, is coated with 14 carat gold using the so-called PVD process.
What on earth is «physical vapour deposition»?!
Put simply, in so-called physical vapour deposition, the coating material is vaporised and then condensed again over the target object. This makes the coating much more resistant to corrosion than conventional gold plating. Hey Harper is so serious about this that the company even gives you a lifetime colour guarantee.
I'm at least as curious as I am sceptical about this claim. The designs also really appeal to me. I love minimalistic but chunky jewellery, but it's often difficult to find quality pieces at a decent price. On the German-speaking market, for instance, pieces made of gold-plated sterling silver tend to come in quite the delicate and inconspicuous designs – and don't survive wear and tear, either. So, you can imagine my reaction when I heard about these mythical statement pieces that don't lose their colour. I had to test them immediately!
Hey Harper versus hand sanitiser
Purely looks-wise, I'm immediately taken by the pieces. But how robust are they, really? From September until the end of November, I put the «Double Rebecca» ring, «Dina» earrings and «Mila» necklace to the test – making sure to treat them very crassly. I doused them in perfume, wore them over thickly applied body lotion and slept and showered while wearing them. I also conveniently «forgot» the ring in the pocket of my jeans that I threw in the wash. How'd they hold up? After being subjected to my torture, the colour hasn't changed on any of the three pieces.
I'm particularly impressed by the ring. I had it on nearly every day, and that means something in my case. When I'm out and about, I'll easily end up reaching for hand sanitiser several times an hour. The ring survived this unscathed. Why am I so excited about this? Well, because I'm usually quite skilled at misplacing my rings if I have to take them off to disinfect my hands.
The situation after one year
The fact that the pieces still look top notch after three months of very intensive wear is promising. But I do wonder how the jewellery holds up in the long term. Luckily, my colleague Laura has the answer. She happens to have owned two «Rebecca» rings for the past year. I go ahead and compare hers to a brand new «Double Rebecca» ring as well as the one I've been testing since September. The newer two look a bit brighter.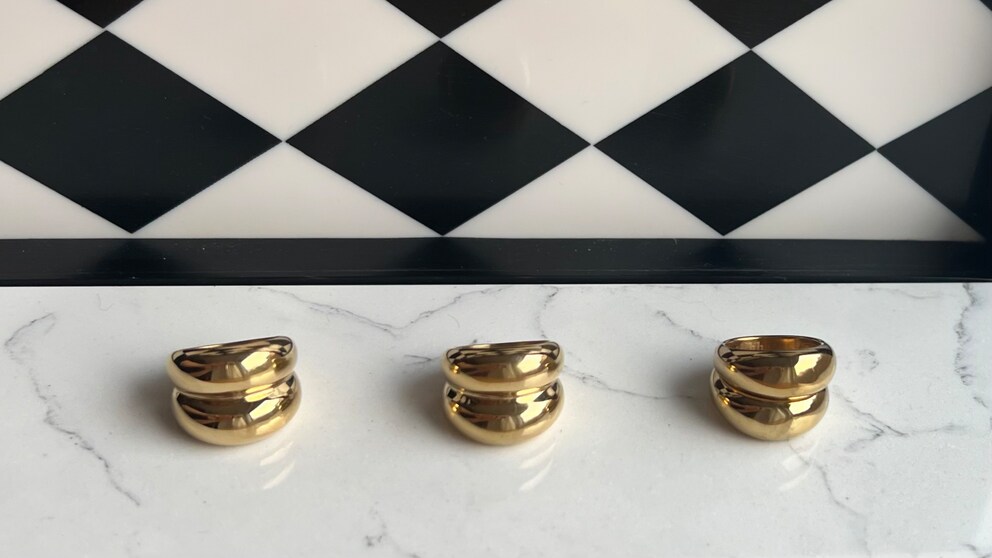 This is indeed something that can happen over time. According to Hey Harper's website, the gold tone may darken slightly with wear, but it won't fade. So, if you prefer a lighter shade of gold, this might bother you. Another thing the PVD coating doesn't protect against is scratching. Upon very close inspection, I can definitely make out small scratches. This is hardly avoidable.
My verdict: Hey Harper jewellery probably doesn't remain flawless forever. That being said, I do find the robustness and the value for money to be above average. I really enjoyed wearing the pieces so often. Once my testing was up, I had a hard time parting with the PR samples. So much so that I actually ended up purchasing my faves.
---



Has endless love for shoulder pads, Stratocasters and sashimi, but a limited tolerance for bad impressions of her Eastern Swiss dialect.
---
---
These articles might also interest you