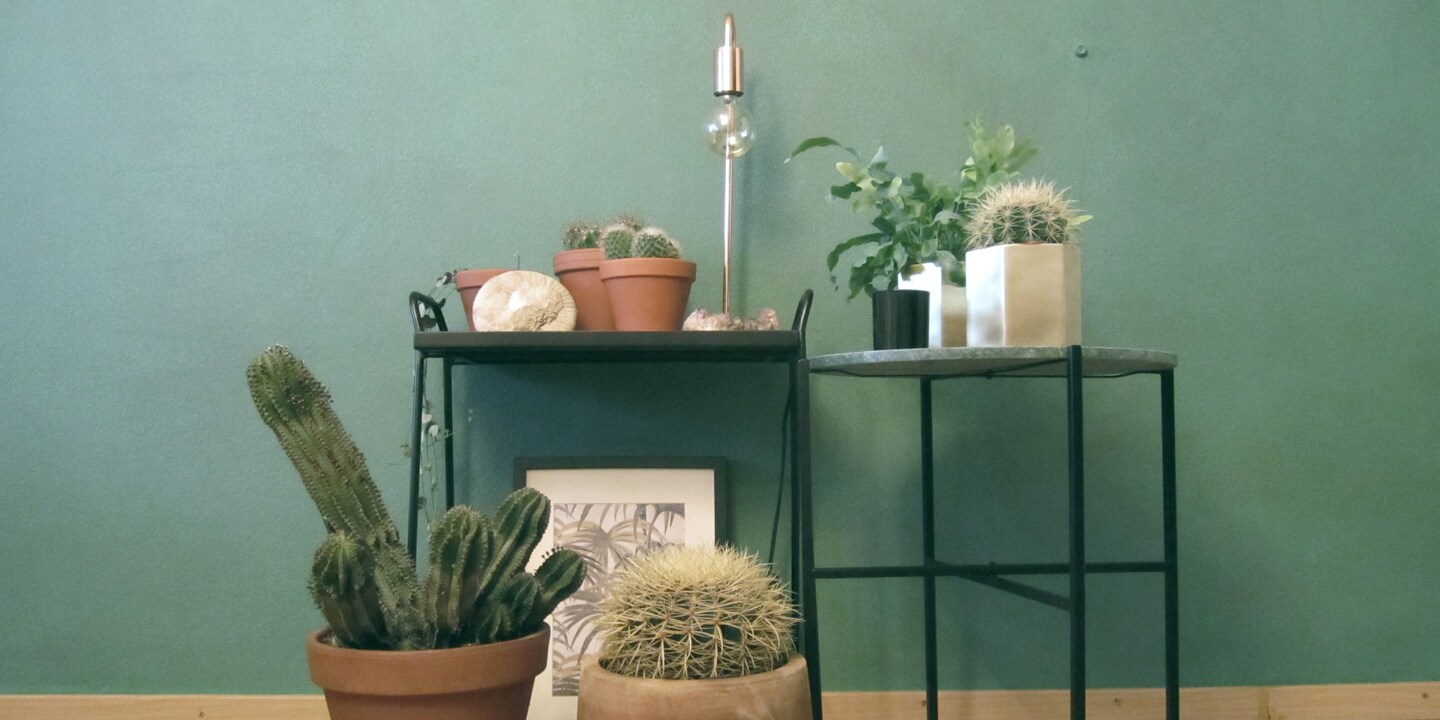 Green Living: The return of the succulents

Those green flatmates are making a comeback and calling on all tenants to surround themselves with glorious green. This trend started to emerge with the wave of urban gardening that swept over our lawns – and now it's rolling into Swiss living rooms.
This look is definitely cutting its own path by mixing Mid-Century and Natural Living. It's reminiscent of life in a greenhouse. Decorative greens are no longer used selectively but abundantly placed at various heights around the home. The little arrangements are similar to the cactus collection you had as a kid or something you'd find on grannie's window sill. Complement the cacti with items like the Makramee hanging basket by Bloomingville, wire baskets by Menu or plant columns and tables by ferm LIVING. 70s-style brushed metal pots in gold or copper combined with bog-standard terracotta pots from your local DIY store will add a twist to the overall look. Complete it by combining green marble (the type you're likely to find in side tables) with floral print cushions or pictures.
Lighting elements like the Sputnik lamp and its smaller version can make for great accessories to intensify the Mid Century design. Naturally, almost all kinds of cacti and succulents will look good. Mother-in-law's cushions, various types of Agaves or the money trees are our desert must-haves. If you're going for a more tropical look, try staghorn, ferns or an evergreen vine from the Monstera family. Fun fact: the latter was already very popular in the 70s and 80s and is now enjoying its revival.
Items to get the look:
You might also like:
---

I'm always looking out for new trends, true to the motto: «Decorate in a style today everyone will want tomorrow». As I have to take it down a notch at work, I express myself in my own home. It's where you'll find curiosities, collectables from faraway places and handmade things side by side. Interior design should always be personal and authentic – just like you are.
---
These articles might also interest you
Skeleton Loader

Skeleton Loader

Skeleton Loader

Skeleton Loader

Skeleton Loader

Skeleton Loader