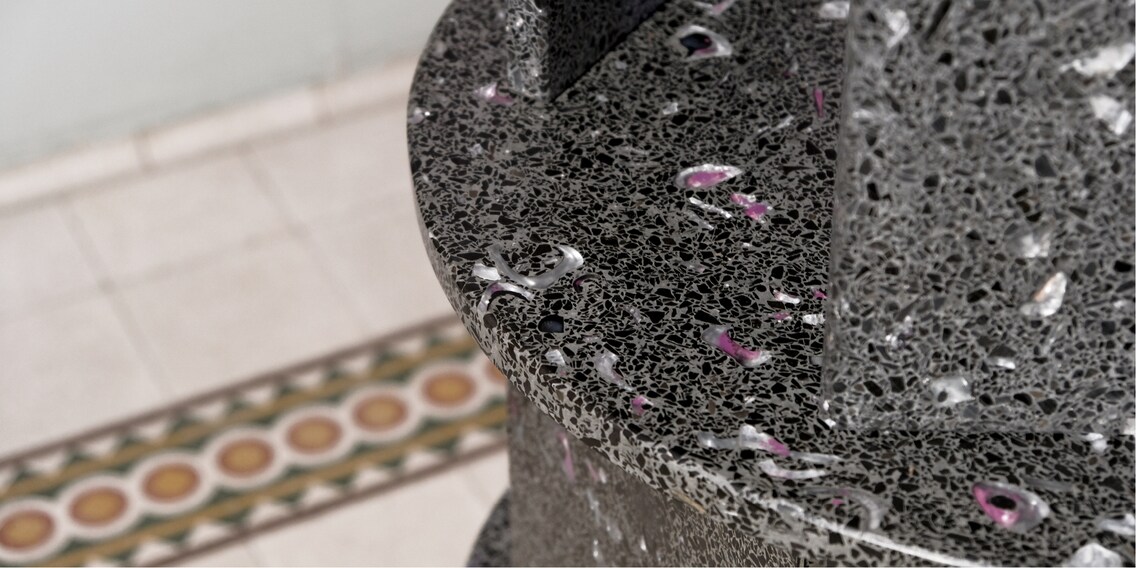 Can you guess which waste material is in this terrazzo table?

Berlin-based designer duo llot llov has created a coffee table made out of a somewhat different kind of terrazzo. It's made of recycled material that's usually never used in terrazzo production. In fact, it's rarely recycled at all.
The table «Glacier Base Table» by llot llov is composed of three rectangular slabs that form a hexagon covered by a round table top. It was produced in a limited edition of five pieces. The terrazzo mix used for the table also includes a waste product you wouldn't usually find in this flooring material. Can you figure out what it is by reading the following paragraph?
Guessing game
Before the mystery terrazzo ingredient ends up in a rubbish dump, it's used to give something a new look. It feels a bit cool to the touch. Using it isn't hugely challenging. All it takes is a bit of practice and then it's super easy. Before using the product, you need some prep time. As soon as you've taken that time, you should start around the edges. The process can be repeated as often as you like until every facet has been highlighted.
Survey
What waste material do you think went into the terrazzo?
Stapling pliers
Nutcrackers
Nail varnish
The competition has ended.
The big reveal
The terrazzo the side table's made of goes by the name «Glacier». It contains old nail polish bottles and was created in collaboration with the beauty brand Catrice and the upcycling platform Trash2Treasure, or T2T for short. Earlier this year, I spoke to T2T founder Astrid Haury who told me all about this idea.
These are the second edition of the «Glacier Base» tables. The first collection consisted of a light marble mixture, nail polish bottles as well a random mix of nail polish colours. For the «Glacier Dark Edition», Catrice bottles in various colours were crushed and mixed with black marble to create a concrete mixture. In the process, the glass particles and nail polish sink to the bottom of the cast stone slab, only to be revealed again after it's polished.
The different coloured varnishes in combination with different quantities and cuts always create a new pattern. That's why each of the five objects from the «Glacier Dark Edition» is unique.
This is the third instalment of the «Guess what?» series, in which you can use my clues to guess a design piece's «secret ingredient». Follow me and be the first to know when the next picture puzzle's out. You can find previously published articles in the series here:
---



«There are only two ways to live your life. One is as though nothing is a miracle. The other is as though everything is a miracle. I believe in the latter.»
– Albert Einstein
---
---
---