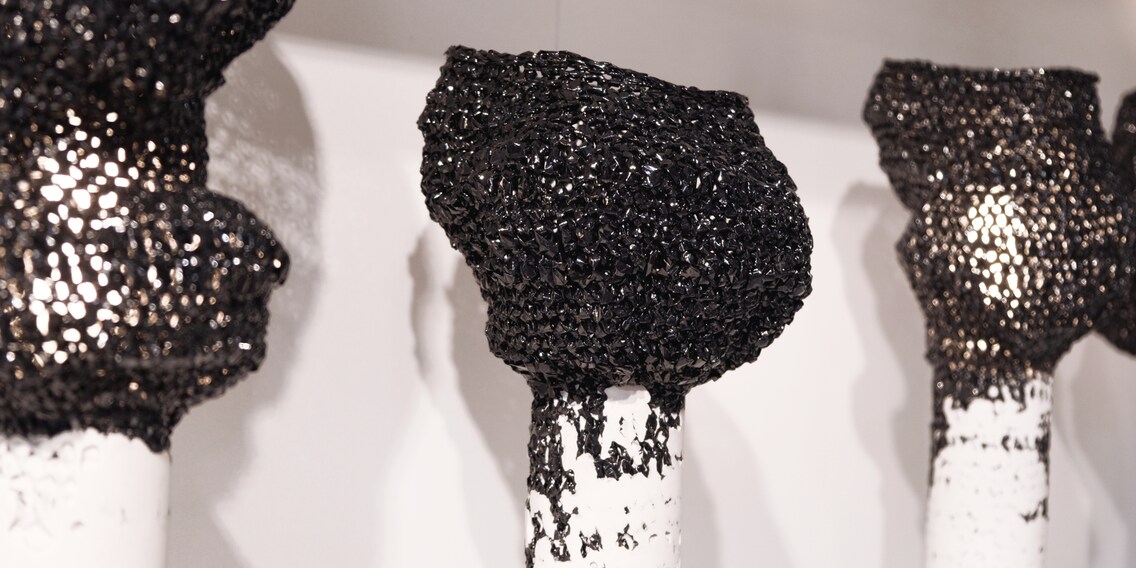 Which vintage product has been reinterpreted for this lamp?

In designing this lamp, fashion designer Gilles Werbrouck made use of a product you'd typically find in the bin. But what is it? Read my clues and take a guess!
When I'm at a design expo, I try to guess what the objects are made of, often falling wide of the mark. Sometimes, it's because I'm not able to touch them. However, it's often because of the increasing number of materials out there that I've neither seen nor heard of. The last design piece to leave me puzzled like this was a lamp designed by [Gilles Werbrouck] (https://www.gilleswerbrouck.com/). On display at the Milan Furniture Fair, it snagged second place in the SaloneSatellite Awards. To create it, the designer took a seemingly useless material and transformed it into a brand new product. Maybe you'll be able to figure out what that material is from the features I'm about to mention. After you've taken your guess, I'll make the big reveal.
Guessing game
Gilles' design «Lamp, 2021» essentially consists of two parts: a sort of mesh lampshade and a cylindrical base. The latter is made of a gypsum-based material in an acrylic resin called jesmonite, which is poured onto the black mesh – that much I'm willing to give away.
This mesh, however, is made from a material that'd be considered trash today. This wasn't the case in the nineties. Back then, it was a bearer of love declarations – and more. It generally appeared in the form of a long, narrow film, which could be found on rollers. And it had quite a magnetic effect on people. Once it got going, I'd often sing and dance to it. Sometimes, though, I'd listen in silence. Now that you've read my clues, it's time to put your money where your mouth is.
Survey
What is this lampshade made of?
Parcel strapping
CDs
Magnetic tape
The competition has ended.
The big reveal
The design process behind this lamp combines not just two different techniques, but two different materials. Its gypsum base emerged from a collaboration with visual artist Hugues Loinard and was made by way of a casting technique. And the lampshade? Gilles wove it together using the magnetic tape from VHS cassettes.
The designer wanted to use VHS tapes because they reminded him of old times; of family movie nights and arguments about what to rent from the video store next – moments he reminisces about in this interview. Now that we no longer have to rewind a tape to replay a scene, and many magnetic tapes simply end up in the bin, he wants to give the narrow film a new meaning.
Choosing textiles has been central to Gilles since the launch of his brand. After gaining two fashion master's degrees specialising in knitwear design, he started his own studio in 2018 to apply the knowledge he'd gained to interior design. He saw that knitted materials were only showcased rarely. In his eyes, however, they have great potential in terms of textures, thread and colour choices, elasticity and finishing techniques. «Lamp, 2021» demonstrates that woven materials can be integrated into a room without involving any kind of clothing. Weaving allows Gilles to produce as little waste as possible, while adding value to lifeless items lying around the studio, such as VHS magnetic tape.
Another of the design studio's trademarks is that every object is completely handmade. Thirty-six table lamps were made, all according to the same process. Despite this, every version looks different – and unlike many garments and lamps, doesn't come off an assembly line.
This is the first instalment of the «Guess what?» series, in which you can use my clues to guess a design piece's «secret ingredient». Follow me so you don't miss the next one!
---



«There are only two ways to live your life. One is as though nothing is a miracle. The other is as though everything is a miracle. I believe in the latter.»
– Albert Einstein
---
---
These articles might also interest you
Skeleton Loader

Skeleton Loader

Skeleton Loader

Skeleton Loader

Skeleton Loader

Skeleton Loader