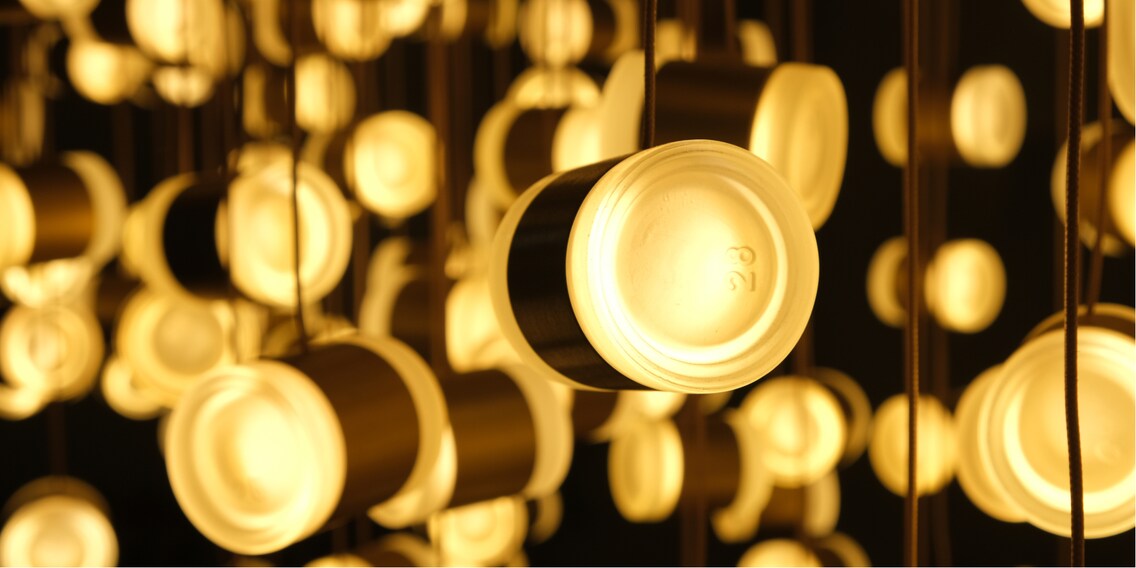 Products' second lives can be far more beautiful than their first

Astrid Haury is the founder of upcycling platform «Trash2Treasure». A trend researcher, she looked more closely at the past and was persuaded by the idea of using waste as raw material in the present.
Cosmetics always have an expiration date. Or so I thought. Let's take a look at everyday nail varnish, for example. It claims to last around two years. After that, it becomes gluey or the top of the bottle gets sticky. If it's not sold, it's incinerated. But why? Future and trend researcher Astrid Haury has a better solution. She wants her start-up Trash2Treasure to give a new lease of life to the colourful liquid and other cosmetics industry waste.
Astrid has years of experience in the communications and innovation department of German cosmetics company Cosnova, which owns beauty brands Catrice und Essence. As part of an in-house think tank, she examined the type and amount of waste generated by the company's production processes. She observed that the attention to detail paid during the manufacture of cosmetics products is lacking in other areas. «I think a product should be followed from idea to manufacture to the end of its lifecycle,» Astrid tells me during our remote interview – she in Frankfurt, me in Zurich.
Beauty at the heart of everything: make-up doesn't just beautify on the outside
Expired nail varnish is usually thrown away and incinerated. It can't be recycled as beauty products in reusable monomaterial packaging. Astrid tells me that the components – nail varnish and glass – can't be cleanly separated. Summer 2019 was particularly bad, and millions and millions of bottles of nail varnish lay untouched at Cosnova, unable to be sold before they expired. To salvage the whole lot, Astrid organised a workshop and called on selected designers and product developers to come up with creative ways to recycle or reuse the remaining products and leave the bottles as unchanged as possible.
Berlin duo llot llov's terrazzo design incorporating crushed nail varnish bottles made the biggest impression on Astrid. She liked the depth of marbling created by the glass and residual varnish. With Cosnova's financial backing, she was soon overseeing the production of an over three-metre-long table top. «Making a panel shows you whether you can use a material for product development, as in most cases it needs to withstand resistance.» And it did. The new terrazzo table top was later used to make the Bob dining table, which I was able to admire up close at the Milan furniture fair Salone Internazionale del Mobile 2019.
The colourful marble and sand mix can be used in the kitchen or as a shelf, table and much more. Alongside the single-unit Bob, the terrazzo was also made into a coffee table and a lamp. Eventually, Trash2Treasure – T2T for short – would like to make bigger table tops so that the product is scalable if another high volume of bottles of nail varnish ends up expiring. «Companies often have the great material and the money,» explains Astrid. «Designers have the great ideas. But the two halves of the equation don't often come together because they don't know what they should be talking about. They should be seen more as an ecosystem.» The nail varnish upcycling project has started a conversation and kicked off Trash2Treasure.
When it comes to design, look backwards first
T2T sees itself as a link between companies and designers. «We want to encourage the conversion of industry waste because having a more environmentally friendly relationship with supposed waste is very compatible with the concept of beauty,» explains Astrid. Astrid thinks product developers' motto should be «connecting the dots», as Steve Jobs once said about creativity. It's about «looking backwards first to design the present».
«We want to encourage the conversion of industry waste because having a more environmentally friendly relationship with supposed waste is very compatible with the concept of beauty.»
The start-up's upcycling projects aren't earning any money (yet). At the moment, researching and increasing visibility to find new partnerships is much more important to Astrid. As a result, the three-strong team showcased another creation at the last furniture fair: Creamlight Cloud, a light fixture made from 290 eyeshadow pots that would have ended up in the bin due to faulty screw tops. «Glass usually melts down well, but we wanted to show what could be made out of it instead,» explains Astrid.
Design duo Llov Llot is also behind this light installation. Each pair of frosted glass eyeshadow pots makes one dimmable LED light, hanging on delicate coaxial cables. The centrepiece is made from anodised aluminium in matt gold. The design is currently a one-off piece. A smaller version is available in limited numbers on request. There's no raw material left to make more, so the next idea is already in the pipeline. TRASH'chen bags, for example. They're made from old Cosnova banners and will now be used as cosmetics bags, clutches and pencil cases. They're set to be the first commercial product that T2T is looking to sell in its online shop.
Taking upcycling to a new level
In Astrid's eyes, sustainability still isn't being talked about enough. «People look for cyclical systems and recycling opportunities, but that's not enough to change things. We should create a different perception for used materials to ascertain the value of a product.» T2T is a model of what it should look like when industry and designers work together to make something new from existing materials. «Beauty is much more beautiful if we see it in waste too,» is Astrid's opinion.
«We should create a different perception of second-hand goods to determine the value of a product.»
The future researcher is set to be the driving force in companies to make sustainable products affordable and attractive. Then they can learn from her example: having a huge table top produced on her first attempt, rising to the toughest of challenges right from the start. Who knows what other beautiful things could be made if we gave things a second lease of life instead of getting rid of them.
Who are the people who are always on the lookout for better design solutions? Who thinks up a new chair or table although there are thousands upon thousands of them already? In this series, I'll introduce you to them. Follow me for the next instalment.
---



«There are only two ways to live your life. One is as though nothing is a miracle. The other is as though everything is a miracle. I believe in the latter.»
– Albert Einstein
---
---
---
---
These articles might also interest you
Skeleton Loader

Skeleton Loader

Skeleton Loader

Skeleton Loader

Skeleton Loader

Skeleton Loader