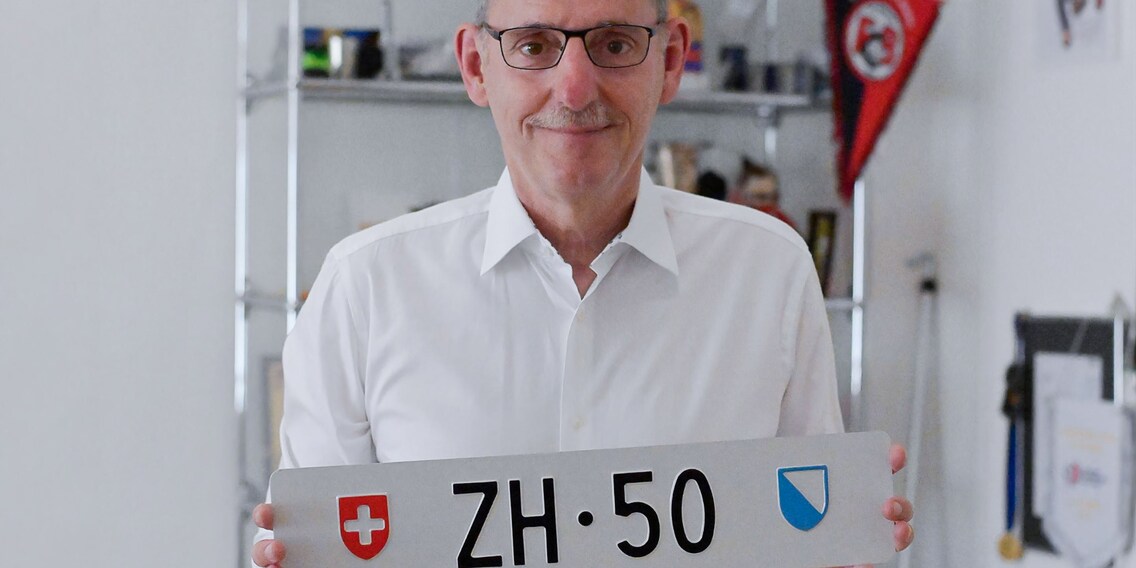 «ZH 50» – what you get for the same price as a sheet of metal

When special licences plates with low numbers or the like are up for auction, there's always someone who'll pay hundreds of thousands for it. Think that's an absurd sum for a car licence plate? Here's what else you could get from our range for the same price.
202,000 francs. That's how much money the Canton of Zurich got for the licence plate «ZH 50». It's the first two-digit Zurich licence plate to be sold at public auction to date.
202,000 francs is a lot of money. However, compared to other licence plates, it's not much at all. «ZG 10», for instance, was auctioned for 233,000 francs in February 2018. To this day, it's the most expensive licence plate in Switzerland, closely followed by the Zurich record holder «ZH 100», which was sold for 226,000 francs in November 2022. «ZH 50» is number three on the national podium.
By the way, this is peanuts compared to the most expensive licence plate in the world. At an auction in Dubai, «P7» was sold for a whopping 13.5 million francs. The proceeds went to a worldwide food aid organisation.
202,000 francs might not have been enough for a new record, but it would be enough to bag some great products from our range. Need some inspiration on what you could buy with that money? Here you go!
Party time! Get yourself an expensive bottle of wine – or two
Snatched up the third most expensive licence plate in Switzerland? Reason to celebrate! Wasn't you? No problem, we can drink to that, too. For example, with a Château Pétrus, the most expensive red wine we offer. For the price of the licence plate «ZH 50», you can easily buy a bottle. And because one usually isn't enough, why not add a bottle of our second most expensive red wine. Cheers!
Safety first: get high-visibility vests for the entire village
You're right, drinking and driving don't go together at all. Safety first. That's why you hopefully have a hazard warning triangle and a high visibility vest in your car, just in case. If not, you can buy them from us in a combo pack – for you, your family, your neighbours, your district or the entire village. The price of «ZH 50» is enough to buy 8,820 triangle-vest-packages. Please let us know in advance – we don't have that many in stock at all times.
Two cars, one number: get interchangeable licence plate holders
Have several vehicles and one licence plate? Then you'll need interchangeable licence plate holders. For the price of «ZH 50», you'll get more than 12,700. Do so and there'll be no limits to how many more licence plates you can buy.
DIY: build your own car
Got your hands on «ZH 50», but don't have enough money left for an actual car? Too bad. If you'd shopped with us, you could have afforded and assembled a BMW i8 for the same money. Or rather, more than 5,700 of them. In a scale of 1:24, though.
You're not the swanky BMW type? How about a Škoda? In fact, the Škoda Octavia RS set costs a bit more, but the model's much larger. You could buy 1,530 of them for the price of the «ZH 50» licence plate. I promise you'll be a pro at assembling cars by the time you've finished all of them.
Bling-bling: treat yourself to diamond jewellery
If glittering jewellery is more your thing than cars and their accessories, I have good news for you. For the price of «ZH 50», you can get a necklace, bracelet, earrings and a ring. Not just any, but the most expensive ones in our range. And you'll still have enough change left over for 2,500 hazard warning triangles and safety vests as well as over 130 interchangeable licence plate holders.
The point I'm making?
If you're asking yourself what the heck you'd want thousands of warning triangles, interchangeable licence plate holders, RC model kits, or sinfully expensive jewellery and wine for, my answer is: What would anyone need a 200,000 franc-worth piece of metal for? Well, there you go.
(For the calculation of my examples, I used the shop prices of 31 August 2023.)
Header image: Security Directorate ZH
---



I'm a full-blooded dad and husband, part-time nerd and chicken farmer, cat tamer and animal lover. I would like to know everything and yet I know nothing. I know even less, but I learn something new every day. What I am good at is dealing with words, spoken and written. And I get to prove that here. 
---