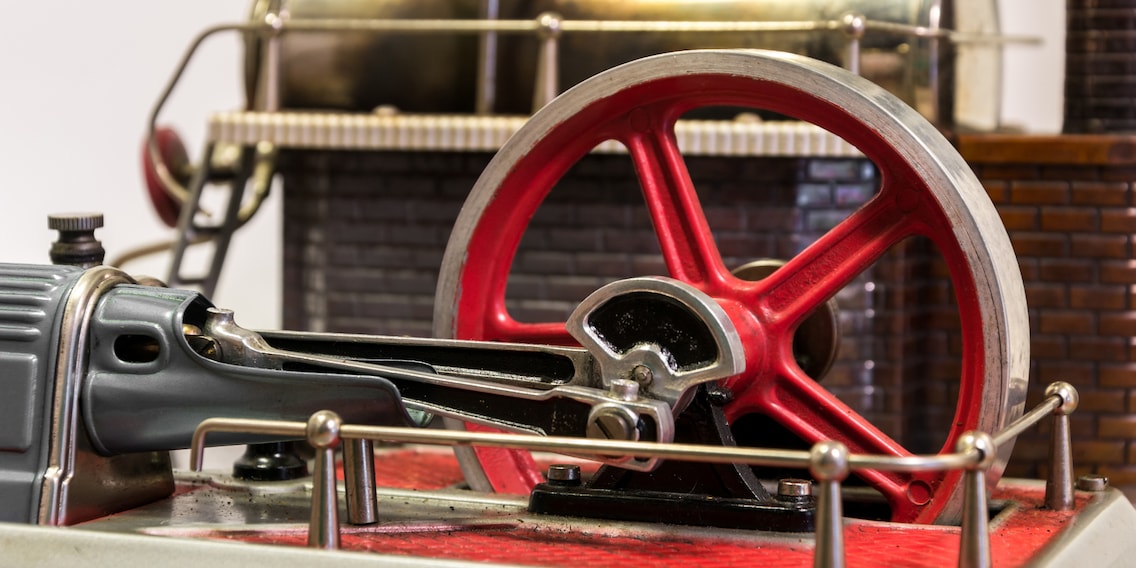 Still remember the Wilesco steam engine?

The toys of my childhood shaped, fascinated and frustrated me. One of them was the Wilesco steam engine.
It was 1996, and my mum had taken six-year-old me to visit one of her old school friends. Both of her sons were older than me – one eight, the other ten. And they shared the best kids' bedroom that I'd ever seen by a longshot. In one corner, there was a small TV with a Super Nintendo. On the table, a PC with a CRT monitor. And on the floor were two remote control cars. I was on cloud nine and, at the same time, completely overwhelmed. I couldn't make up my mind where to go for a closer look. Every part of the room contained more amazing toys to discover. Then I saw a shiny cylinder and a red wheel mounted on a platform: a Wilesco steam engine.
At that time, I was interested in all things mechanical, so I immediately wanted to know what I was looking at. The older of the two brothers showed me how it worked. Back then I still didn't quite understand it. But it had something to do with fire and water – and it moved! I was fascinated.
Just add water – and fire
Since then, I've been able to grasp the concept. To get the wheel to turn, you need to generate steam. For that, you need to fill the boiler with water and heat it from underneath with dry fuel tablets. The pressurised steam then flows through nickel-plated brass pipes to the engine.
Or, as Professor Bömmel in the 1944 German film «Feuerzangenbowle» would say: «A steam engine? That's a big, black chamber with a hole in the front and a hole in the back. The one hole is where the steam comes in. And the other hole ... well, we'll get to that later.»
The steam whistle on top of the boiler allows you to keep an eye on the pressure. If it whistles, you're ready for action. To get the wheel moving, you just have to give it a little push. After that, it'll turn on its own because of the steam moving the piston back and forth. Depending on the model of engine, a valve can be used to regulate the speed of the wheel. Or as Professor Bömmel would say: «A valve is where something goes in and never comes out again.»
And that's it. Simple but brilliant mechanics. But if that's not exciting enough for you, you can use drive belts to transmit the power to various drive models. Wilesco has a variety of these in its range, including a drill, a bandsaw and a small carousel – all of which can be powered by the steam engine.
From aluminium cutlery to steam-powered toys
The name Wilecso is a shortened form of Wilhelm Schröder GmbH & Co, a metal factory in Lüdenscheid, North Rhine-Westphalia that's been in business since 1912. At its inception, the factory was an aluminium foundry and mostly produced cutlery and furniture fittings. Zinc and aluminium die casting came along later, allowing a wide variety of parts to be produced for the automotive and electrical industries as well as coat stands and towel rails.
During the post-war period from 1950 onwards, Wilesco started making steam engines. In the seventy years since, the company has continued to add new configurations of models to its range. As well as stationary steam engines, locomotives are also part and parcel of Wilesco's range. Take the steam roller, for example, which can be steered via remote control. As for how the steam engine is made, no-one explains it better than the man who explained so much to me during my childhood: German TV presenter and author Peter Lustig (video in German).
Always on my wish list
After my visit to the best kids' bedroom in the world, I was desperate to get my hands on a steam engine. I was fascinated by the fact you could use water and fire to make things move. It didn't matter if it was Christmas or my birthday: a steam engine always made it onto my wish list.
Alas, that was the last time I ever laid a finger on a steam engine. I never got one. My parents presumably thought that I'd heat it up five times and then get tired of it. Or they caught sight of the price tag. We're certainly not talking bargain prices here. Small models start at 150 francs, while larger or special editions go for several thousand.
Today, I understand my parents had their reasons. But back then, it was as if a small piece of my world had imploded.
---



Riding my motorbike makes me feel free, fishing brings out my inner hunter, using my camera gets me creative. I make my money messing around with toys all day.
---
---
These articles might also interest you
Skeleton Loader

Skeleton Loader

Skeleton Loader

Skeleton Loader

Skeleton Loader

Skeleton Loader