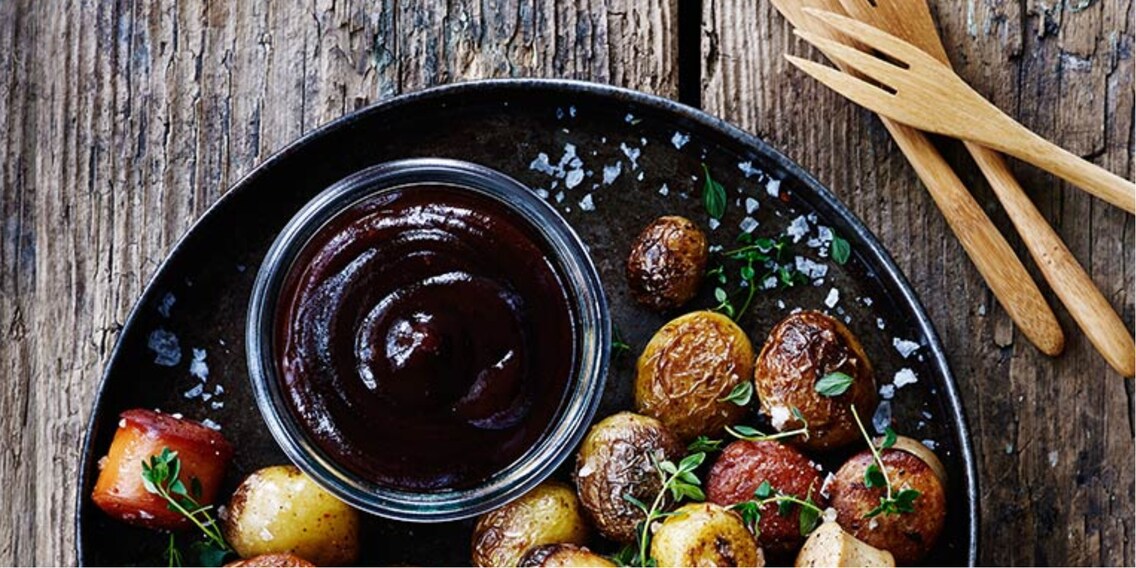 Weber BBQ accessories for perfect Euro 2016 finger food

This summer stands for football on the TV and BBQ on the menu. Our tip: Enjoy the games and tuck into bratwursts, burgers and finger food. Or how about a barbecued sausage mix? It's easy to prepare and tastes great as a side dish with the footie.
Sausage mix recipe
Requires approx. 1 hour BBQ time for 4 helpings
Ingredients:
8 sausages of your choice
2 tbsp oil
2 tbsp curry powder
1 tbsp cayenne pepper
800g par-boiled baby new potatoes, halved
For the barbecue sauce:
1 small onion
2 cloves of garlic
1 tbsp rapeseed oil
1 tsp fennel seeds
60g brown sugar
75ml cider vinegar
1 tbsp celery salt
1 1/2 tsp cayenne pepper
1 tbsp chilli flakes
1 1/2 tbsp Worcestershire sauce
250ml tomato purée
50ml bourbon
Salt and pepper
In the kitchen:
Cut each sausage into 5 pieces. Mix in a bowl the oil with the cayenne pepper and curry powder. Then add the sausage pieces and allow it to marinade for 20 minutes.

In the meantime, make the barbecue sauce. Peel the onion and garlic and chop both finely. Put the rapeseed oil in a pan and sauté the onion, garlic and the fennel seeds until soft and golden. Then add all the other ingredients for the barbecue sauce apart from the bourbon. Simmer the sauce over a low heat for about 15 minutes. Finely add the bourbon and season if necessary with salt and pepper. If you would like to add a smoky flavour to the barbecue sauce – smoke the sauce on the barbecue.
At the barbecue:
Prepare the barbecue for indirect heat, approx. 200°C. Pour the barbecue sauce into a container that can stand the heat from the barbecue. Add smoke chips to the briquettes or in the smoker box and place the sauce over indirect heat, close the lid and smoke the sauce for 10 minutes. Remove it from the barbecue and let it cool off.
These products will help you light the BBQ:
Fasten the basket to the rotisserie. Drain the pieces of sausage and put them in the basket together with the par-boiled new potatoes. Close the basket and place the spit in the rotisserie motor. Turn it on and grill the sausage mix for about 20 minutes until the potatoes and sausages are brown. Serve with the homemade barbecue sauce.
Et voilà – your sausage mix!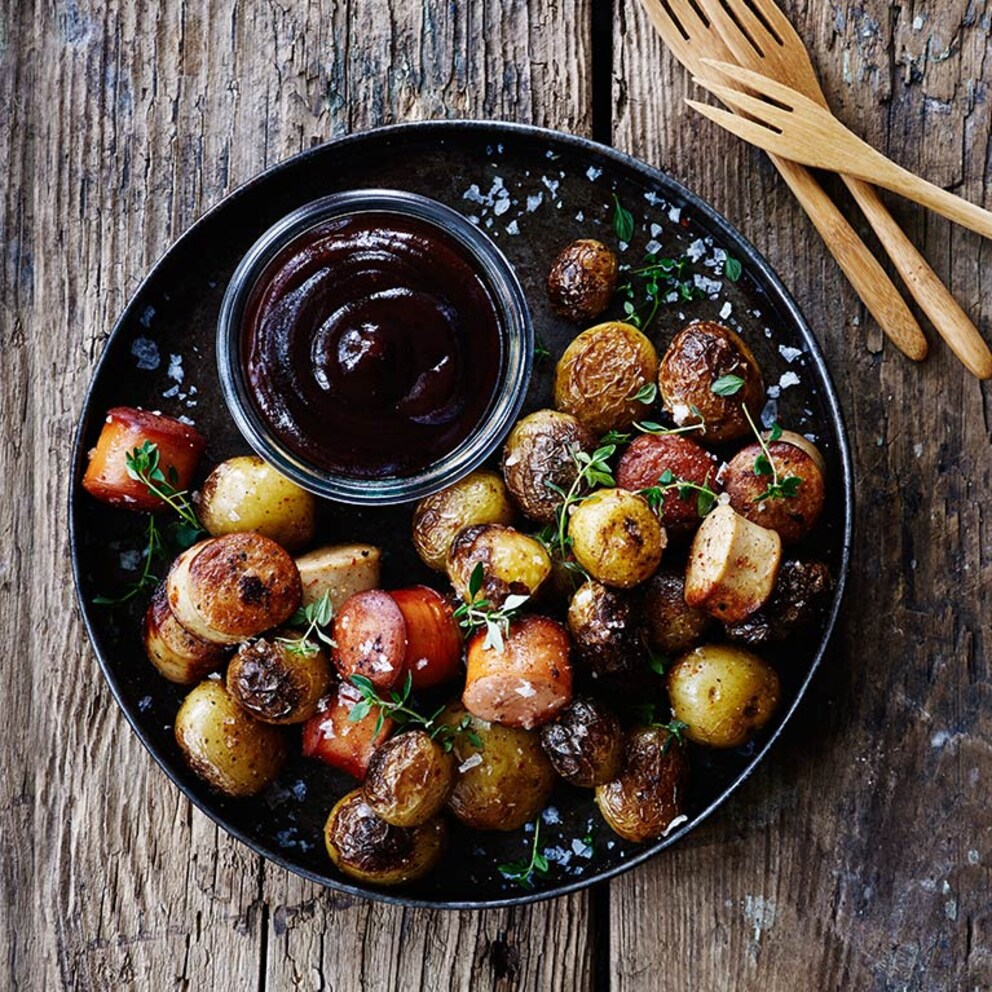 More Weber BBQ recipes
Find more Weber recipes here.
Accessories that might come in handy for other recipes:
You might also like this article:
Skeleton Loader

Skeleton Loader
---



I draw inspiration and energy from nature – whether I'm hiking, skiing in the mountains or travelling to new places. I also have a passion for photography, music, TV series and good food.
---
These articles might also interest you
Skeleton Loader

Skeleton Loader

Skeleton Loader

Skeleton Loader

Skeleton Loader

Skeleton Loader