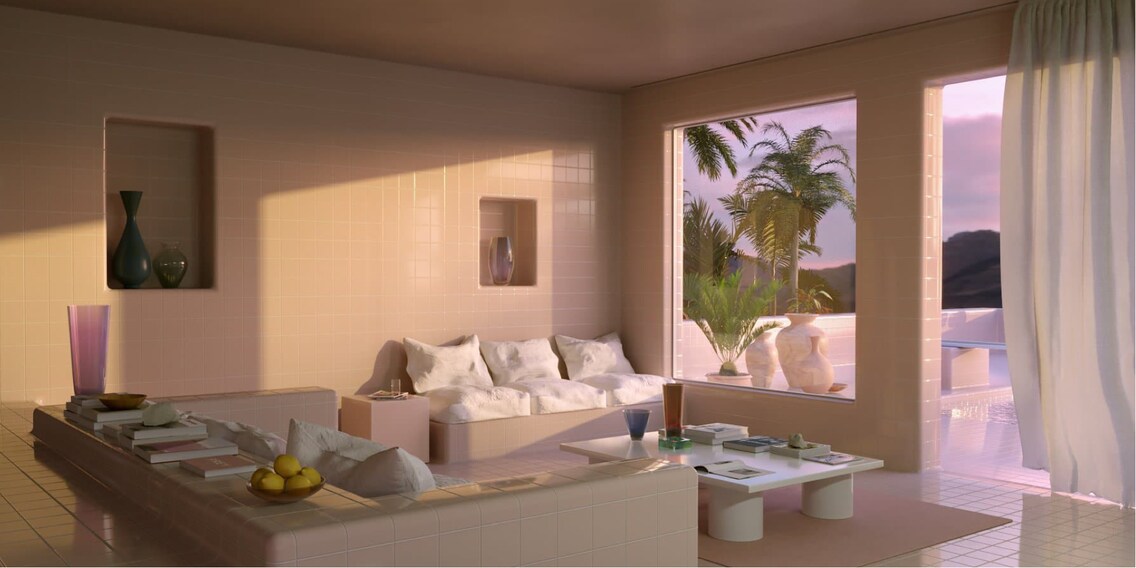 «Poolside Lounge» by Charlotte Taylor and Hannes Lippert.
Travelling in spite of the situation

3D renders whisk you away to imaginary spaces. So in spite of closed borders, you can go to places you've definitely not seen before.
The sky is a twilight blue, the room is tiled from floor to ceiling and the view is of palm trees and pink water. With his render titled «Poolside Lounge», 3D artist Hannes Lippert has created a scene that exudes calm. Since 2018, he's been running Form und Rausch, a contemporary design studio based in Berlin. The studio regularly creates visualisations for interior design brands and fashion labels including Jacquemus. Like many other 3D design studios, Form und Rausch have been sharing many of the exterior and interior worlds they've created on social media during the lockdown. The majority of renders are created in cooperation with other studios. The 3D design community is supporting and inspiring each other from a distance.
Their creations are somewhat filling the void caused by cancelled design weeks and travel bans. They're also a sustainable, environmentally friendly alternative to large events, as they leave no footprint other than a visual feast for the eyes. Hannes and two other 3D artists tell me how the images are created and what opportunities renders offer in times of social distancing.
«Poolside Lounge»
What's the idea behind «Poolside Lounge»?
Hannes Lippert: The image is part of the «The Tiled House» series. It was created in cooperation with London-based designer Charlotte Taylor, who wanted to create a fully tiled house for the Dutch company Dtile. She asked me if I would help her visualise the idea. From what I've heard, Charlotte has had a fascination for pieces of furniture that are substantially integrated into the architecture of a room or building for a while now. «Dtiles» tiles are perfect for this because of their many different shapes. The rounded edges give the whole thing an organic and very aesthetic touch. We started off with the bathtub. This was followed by a creative exchange between the two of us and resulted in an entire house with an outdoor area and a pool.
How was the image made?
Charlotte sent me some of her hand-drawn sketches and mood boards of the spaces. I started off by drawing the rooms and the outside area in 3D. In a second step, I experimented with tile colours and lighting. After this, the room was brought to life by adding details such as books, vases and pieces of furniture.
Does a render require real elements at any point in time?
Generally speaking, I'd say no. Depending on your know-how, you can reproduce (almost) anything digitally. There are specialists for every area. But if you have real objects available, it helps a lot to get a feeling for detail and material properties. That's why image compositions are often created by placing a photographed object in front of a rendered environment in the studio or vice versa. I often use CAD drawings or reference photos as templates and recreate the objects based on the templates.
How do you work with other 3D designers?
Digital means of communication make it pretty easy to exchange ideas at a distance. We send each other sketches, screenshots or moodboards. The ideal scenario is if we're all using the same software. This enables a smooth data exchange and a solid workflow. Having said that, I still prefer working together in person and at the same location. It minimises communication loops and eliminates the «Chinese whispers effect».
What role do rendered images currently play in your opinion?
During lockdown, a conventional photo shoot can be replaced by a render. Even before this corona crisis renders had many advantages over photography. Not a single personal meeting is required to create them. In the entertainment industry, renders now also provide a great alternative to virtual and augmented reality. They offer an unlimited number of perspectives and allow you to adjust materials and lighting conditions in no time. This gives you a lot of flexibility. However, this doesn't mean that the path to your desired result is any less complex.
Would you say your work is more in demand than before?
Yes and no. Before corona, I did a lot of work for events and visualised many concepts. In other words, 90 per cent of my jobs have been cancelled due to the situation. On the other hand, I'm receiving a lot more requests in the field of design and architecture. I'm fairly sure that some of them are due to the lockdown. In any case, I'm glad it gives me the opportunity to work on exciting projects. Actually, I'm hoping that my work will start going more in this direction – even after corona.
«Maison Pilat»
Charlotte Taylor, who created «The Tiled House» together with Hannes, is not only a 3D artist but also a set designer. She creates large physical installations as well as sculptures for customers in the interior design and fashion industry. You can feast your eyes on her latest creations on her Instagram profile «Maison de Sable». One of them is the house «Maison Pilat». The first time I saw it, I searched in vain for its location. The house is in the middle of a lavender field and its warm colours are very inviting.
How did «Maison Pilat» come about?
Charlotte Taylor: The imagined location of this seaside home was only created after the first room was designed. The view onto sand dunes, the warm light and mood of the space evoked a French coast feel. «Dune du Pilat» felt like a perfect match. It's the largest moving dune in Europe, located on the Atlantic coast near Arcachon, France.
How were the individual images created?
Everything was created digitally. I worked with Joe Mortell, who's also a 3D artist. Joe is entirely responsible for the super-realistic furnishing, spatial elements and lighting. The light in the space plays a big role in the realism aspect. The model was built from hand sketches and moodboards I drew up. Joe then interpreted them adding his touch to the space.
Do you use physical elements for these kinds of renders?
Currently I don't use any physical elements in any of my render collaborations. Something I'm starting to explore for a few artists is the technology of 3D scanning to scan and digitise physical furnishings, objects and spaces.
How do you collaborate with other 3D studios?
All of the render artists I've worked with have been remote collaborations. Our initial connection was made through social media channels. Unfortunately, I've only met a few of the render artists I've worked with, as we're normally based in different countries. Joe's one of the exceptions. He also lives in London. However, given the situation, we work entirely remotely. The process really adapts with each artist I work with. Sometimes I conceptualise the entire space as a starting point; other times, the artist takes the lead and I focus more on interior and furnishing elements. It's always a very fluid process and it becomes a bit blurry who was responsible for what, as the image bounces back between us so much.
How do you see the role of rendering in social distancing times?
Rendered images allow brands to keep creating content and campaigns in a time when physical sets and shoots are impossible. I think it's a shift that will continue after the quarantine, given its economic and ecological benefits. It also allows for so much freedom for creatives to express themselves. I love the initiative at the moment. Designers hosting digital exhibitions and collection launches utilising this 3D technology.
«Population 001»
«Where is this?» an Instagram user wanted to know about one of Alexis Christodoulouy images that recently went viral. It seems to be a popular question, seeing that it pops up under almost all of his Instagram posts. Since 2017, the 3D artist based in Cape Town has been creating spaces with unworldly contemporary aesthetics. As a video game enthusiast, he taught himself the art of 3D. This was his key to designing virtual spaces the way he wanted them to be – modern and idyllic.
Could you tell me something about this render?
Alexis Christodoulouy: I really wanted to do something Cycladic with a summertime feeling as the autumn is setting in here down south, but i think the autumn flower colours snuck in.
How did you create the image?
I used 3D software and modelling tools that are also used by animators and architectural firms to create images of building proposals. It's the same process at the end of the day. The only difference is that I create the spaces in my head rather than using an architect's ideas. However, I wouldn't condone building any of my creations.
Do you need «real» objects for rendering?
Yes, my keyboard, mouse, two monitors and PC.
How do you work with other 3D artists?
We usually just send e-mails and drawings back and forth. Sometimes I end up being in the same city and room as the other person, but mostly it's just done over good old e-mail or Skype.
Have you noticed an increasing demand for your work?
The demand was already growing before the lockdown. Now it's just crazy! I think brands are struggling to figure out how to visualise their products without being able to physically shoot them. This could be an opportunity, also in the future.
---



«There are only two ways to live your life. One is as though nothing is a miracle. The other is as though everything is a miracle. I believe in the latter.»
– Albert Einstein
---
These articles might also interest you
Skeleton Loader

Skeleton Loader

Skeleton Loader

Skeleton Loader

Skeleton Loader

Skeleton Loader