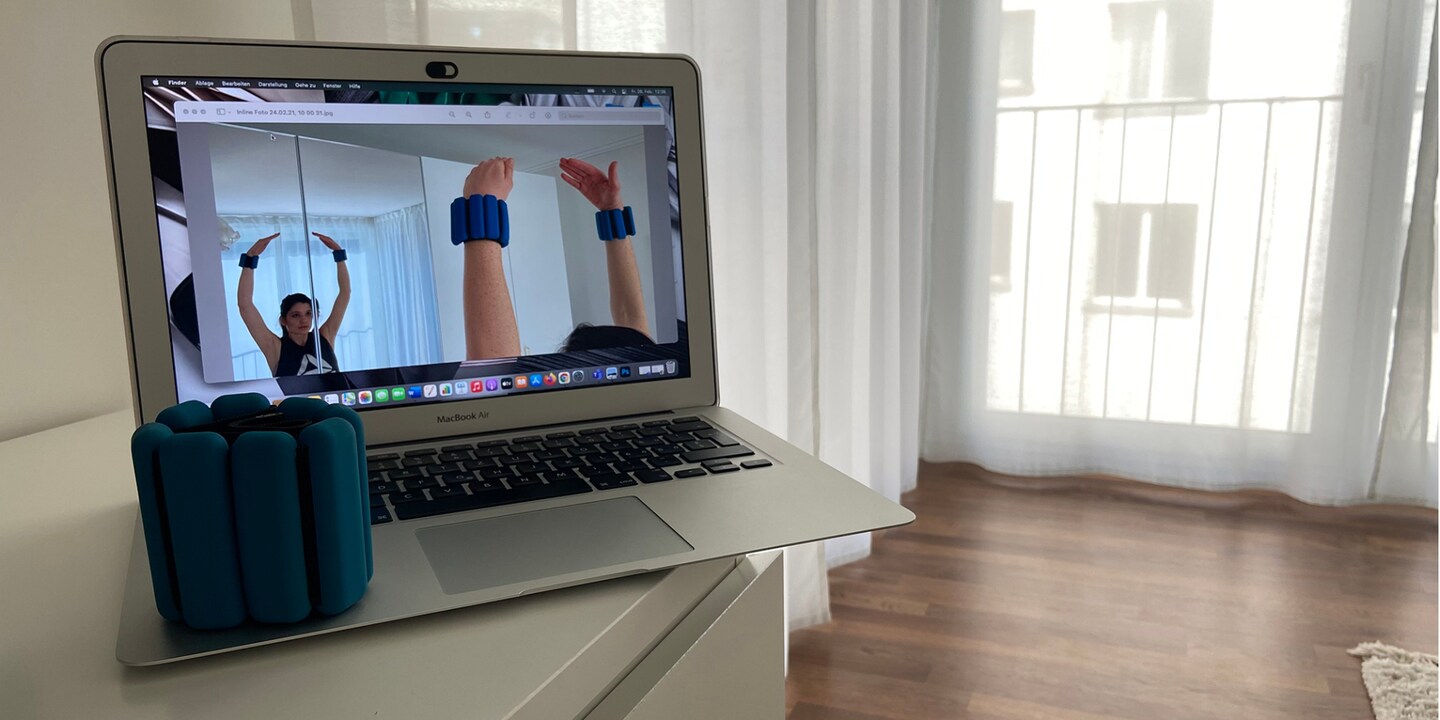 This is how you intensify an online workout

My workouts on Zoom aren't nearly as strenuous as the ones I used to do at the gym. So I decided to take my home exercise routine to the next level with some Bala weight sleeves.
Ever since my dance studio became the victim of partial lockdown and had to close temporarily, I've been doing my workouts on Zoom. Online fitness classes are practical. I just wish I didn't have to fight my inner couch potato. Although I start out feeling really motivated, I catch myself cheating in group workouts. For instance, I could technically go lower in squats or higher in jumping jacks. But hey, no one's going to notice, are they? All that means is, by the end of the online class, I don't feel half as worn out as I am after a lesson in the dance studio.
There's nothing for it. I have to add weights to the mix to drag me out of my complacency and give my muscles an extra incentive. I don't mean dumbbells, though. They'd just get in the way when I'm doing planks and press-ups. And given that part of my barre workouts involve using a ballet bar, I need something that's hands-free and doesn't restrict me when I'm dancing. That's why I ended up opting for the weight sleeves.
Challenge accepted
I soon strike it lucky while scrolling through our range of weights. The brightly coloured «bangles», made by sports brand Bala, appeal to me. That normally never happens with sports gadgets. The wrist and ankle weight sleeves look like prettier but heavier bracelets or anklets. Of course, a nice-looking thing like that might not make me train better or longer, but it does make exercising more fun.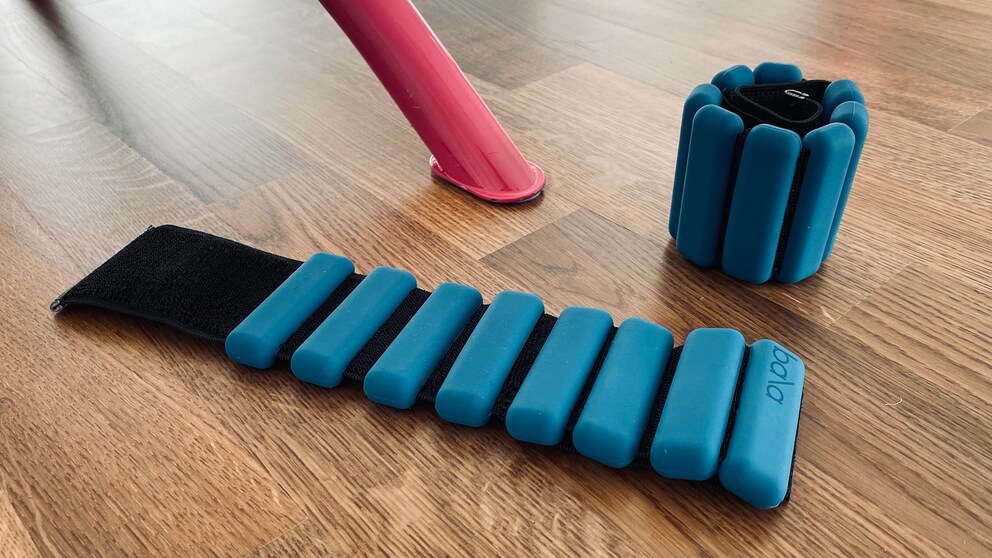 First impressions
As well as the two bangles weighing 0.447 kg each, you also get a black zipped storage bag. The sleeves are made up of eight small, silicon-covered, cast iron rods joined together on a rubber band with Velcro. It's this Velcro fastening that lets you adjust the width of the weight sleeve to fit any wrist. The petrol-coloured silicon feels soft, and the Velcro makes it seem durable. Incidentally, the petrol looks nicer in real life. What makes me dubious is the fact the weights are barely 500 grammes. At first, it just doesn't sound like enough. But given my arm muscles are weaker than my leg muscles, I'm quietly confident it can work.
Endurance test
I reckon my upper arms could be more defined, so I put the bangles on my wrists before getting started with my workout. Any doubts I had about whether I'd even notice weights that only add 447 grammes per arm go straight out the window after the 20-minute warm-up. I can feel the weights slowing down my movements and making me use more muscle power. Even the various arm positions during the barre workout are suddenly a huge effort. With the weights on, it's not so easy to extend my arms gracefully above my head into a semicircle. My arms shake when I'm actually meant to be standing stock-still like a soldier.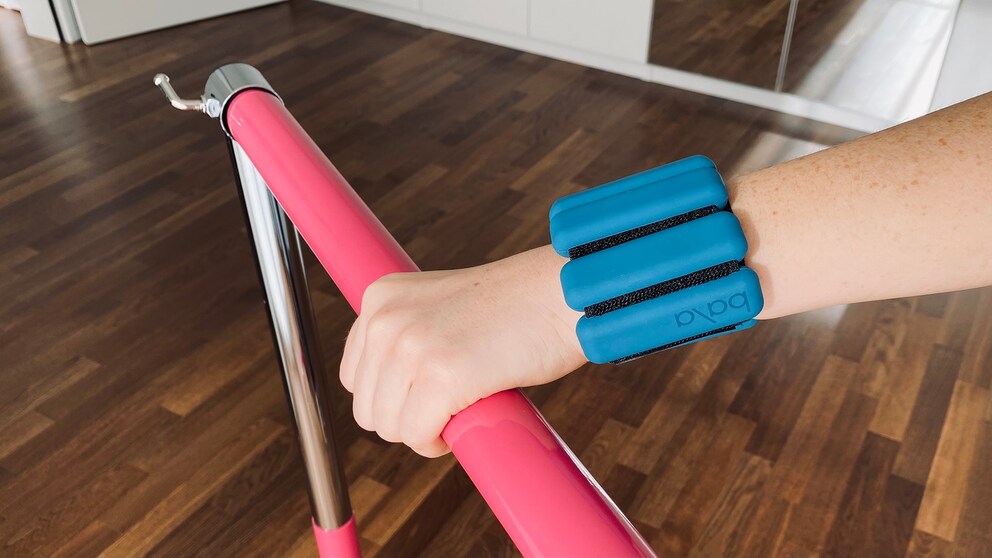 What struck me in a negative sense was that as soon as I sweat, the weight sleeves slip down slightly in floor exercises such as press-ups. As my arms are mostly out to the side or over my head during barre workouts, that's not a problem. But if you're doing another kind of exercise where you have to support yourself on the floor, you might be better with weight sleeves that have a thumb loop. To get a direct comparison, I tried out one of [Kettler's thumb loop models] (/en/s3/product/kettler-gewichtsmanschetten-zusatzgewicht-11436412). Cuffs or sleeves with a loop for the thumb do give you more stability. They don't even move about in yoga poses such as downward dog.
Another advantage of narrower models like Kettler's is that they give you space for your Apple Watch. I always track my workouts on my smartwatch, but with broader bangles like Bala's, I don't know where to put it. Now I'm torn. Should I intensify my workout with weights on or wear my Apple Watch so I can track my half-hearted effort?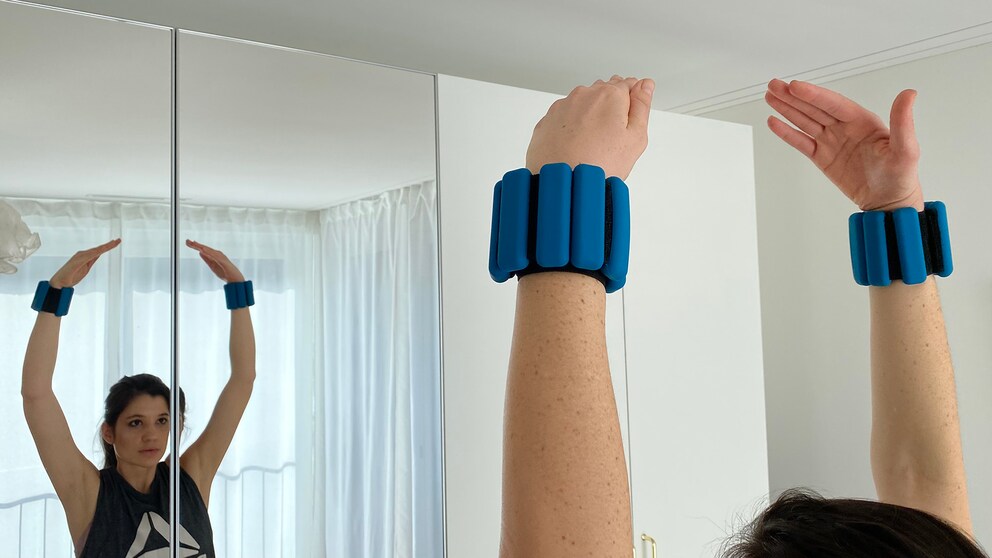 Verdict
The next morning, my arms are like lead for the first time in ages. What a lovely feeling. I'm glad I can push my muscles further in this time of online fitness classes. That's what made me decide weight sleeves are going to be a permanent fixture in my workouts from now on. And in case you were wondering, it was the sports watch that won my inner battle. I don't want to forgo my trusty tracker, so it's with a heavy heart that I have to wave goodbye to the Bala bangles – at least as far as wrist weights are concerned. In its place, I'll be using a narrow but not so pretty version with a thumb loop. That way I can combine it with my smartwatch and kill two birds with one stone.
---

When I'm not exploring the depths of the sea as an open water diver, I enjoy plunging into the world of fashion. On the streets of Paris, Milan and New York is where I keep my eyes peeled for the latest trends. And I'll show you how to take them from the catwalk to your everyday life.
---
---
These articles might also interest you
Skeleton Loader

Skeleton Loader

Skeleton Loader

Skeleton Loader

Skeleton Loader

Skeleton Loader