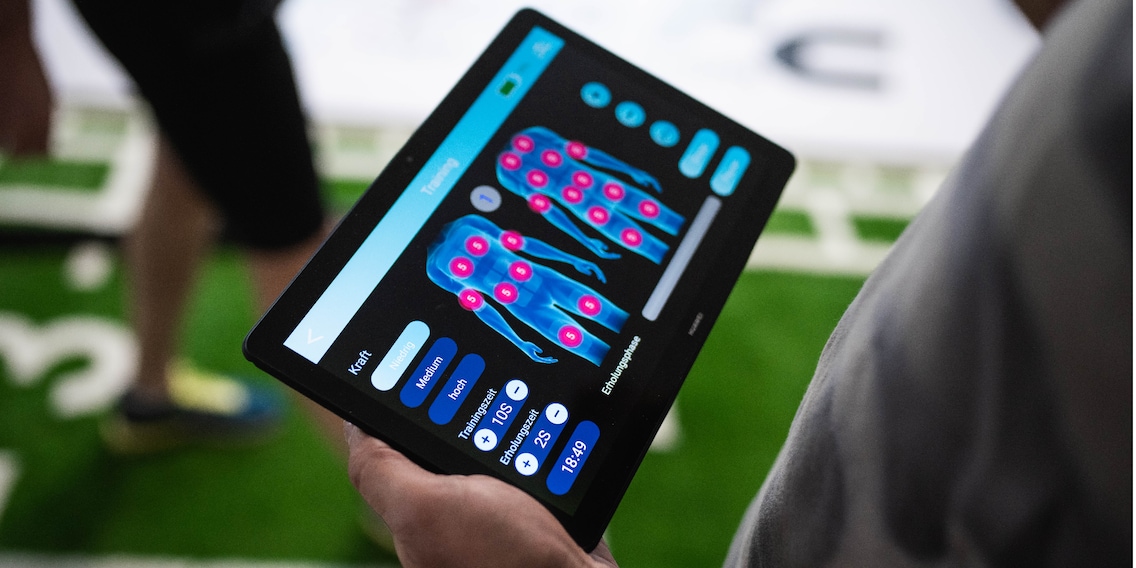 EMS: plug-in muscles?

Electrical muscle stimulation is the new fitness trend. What is it about plug-in workout? I'm testing the new muscle stimulator by Fortis. Stimulator not simulator.
One letter can make all the difference. Our user Patric1975 thought exactly this and wrote this comment: « I read muscle simulator at first ... I would have preferred to read about your personal experience :)» What are we talking about? Electrical muscle stimulation, EMS for short. We recently added this product to our range:
Personal experience? Here you go.
Patric1975 called for less simulation and more stimulation and wanted me to try out EMS myself. I am happy to fulfil this wish and am testing the EMS suite by Fortis during the next months. Before I start, I ask Fortis managing director Branislav Jovic to talk me through the details of this plug-in suit. I meet him for a trial training session.
Our brain transmits bioelectric impulses directly to the muscles via the nerve fibres, making our muscles contract and allow movement. In electrical muscle stimulation, the muscles are stimulated by light electrical impulses, imitating the natural process. Muscles makes no distinction between commands coming from the brain or from the power socket.
As Branislav Jovic tells me, the suit and the app that controls it took about four years to develop. For the time being, the app is only available for Android. The programming work is done in Belgrade and the suit is made in China. Workouts with EMS suits have been offered in specialised gyms or by physiotherapists for a while now. However, most suits are wired, which restricts the freedom of movement. The Fortis suit has no cables at all. It's equipped with a box and the current paths are integrated into the suit.
The app offers pre-programmed workouts such as warm up, aerobics, strength and relaxation. All you need to do is choose your training and off you go. The intensity is adjusted by setting the current level to low, medium or high. On top of this, The EMS suit allows you to control muscle groups such as the thighs separately. This is useful if you want to train your legs specifically.
So far, so good. And what does the electricity workout feel like? I give it a try – it lasts 20 minutes. Short but intense. Branislav Jovic has put together a small crossfit circuit with some exercises, which I perform for one minute each with a one-minute break in between exercises. I repeat the circuit twice.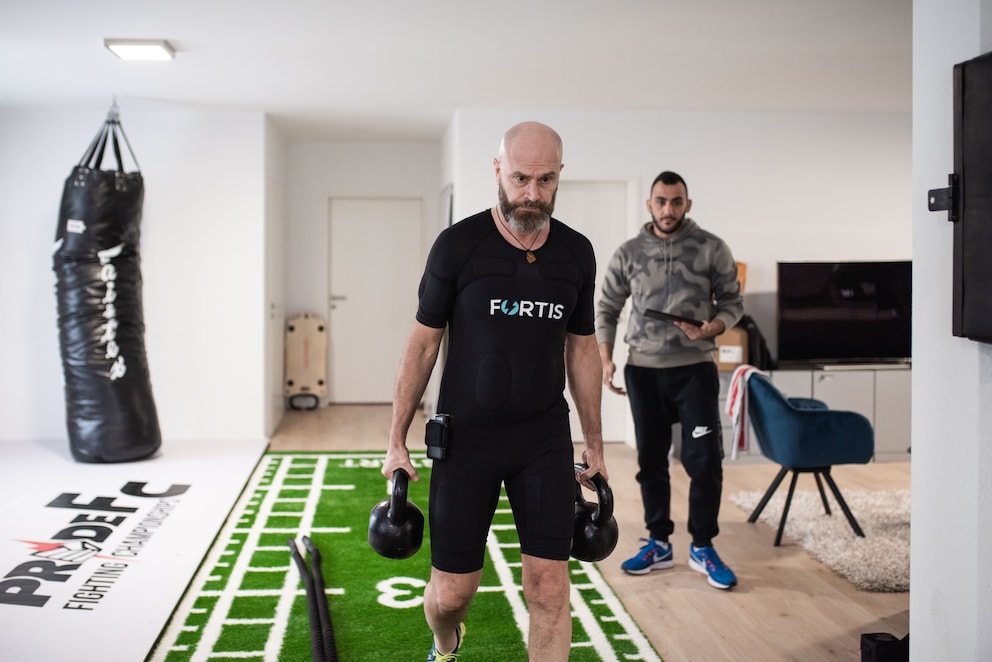 My first impression
The workout is exhausting. But that's not because of the suit, it's because I'm no longer used to the combination of strength and endurance training. I usually either train strength or endurance, not both. I can't feel the electricity when I'm performing the exercises, as I'm focused on the exercise. During the short breaks, I feel a gentle tingling and sometimes a slight prickling sensation. The first time I do the circuit, the intensity level of the current is low; in the second it's medium, in intervals of ten seconds, interrupted by a two second pause. That's it. I was expecting a much more unpleasant experience. I'm happy with that. As well as with the fact that the suit is comfortable and allows me to move freely. The only problem I have is the zipper at the back. And it remains to be seen what the suit smells like after I've sweated in it for three months.
The self-experiment
This is a good start into my EMS test. What is it about plug-in workout? That's what I plan to find out in the next three months. However, I do have one problem: how can I make a meaningful assessment of the results? I'd need a control group, a clone of myself, and have my clone work out without an EMS suit. Well... I need to figure that one out. Besides, I'd like to know what you'd like to know: what should I focus on? Medical training to strengthen my back or an attempt at melting my belly fat? Comment below and let me know what you think.
Want to learn more about training with the EMS suit by Fortis? Click here to follow my author profile.
---



What matters isn't how well you play when you're playing well. What matters is how well you play when you're playing badly.
---
---
These articles might also interest you
Skeleton Loader

Skeleton Loader

Skeleton Loader

Skeleton Loader

Skeleton Loader

Skeleton Loader