This chair went viral before it even «existed» – now it's being made

The first piece of furniture from the digital world is now available offline, thanks to the brand Moooi. And all because a photo of it went viral. Which makes it a game changer, and another reason to never stop dreaming.
The Dutch furniture brand Moooi has managed something that no-one else has dared to: it is mass-producing a chair that 3D artist Andrés Reisinger came up with in 2018 and then went viral on Instagram. It was «the chair that couldn't be made».
3D designers are like Pippi Longstocking, whose motto is «I'll make the world as I like it». They create fictional spaces via software rendering. Instagram is full of furniture, interiors and entire houses that have never existed. Now, according to Dezeen, the «Hortensia armchair» by Andrés Reisinger and Júlia Esqué is «the first product developed for the digital world» to have gone into mass production because it was viewed and shared so frantically online.
So, you can now take the Hortensia – «the softest place on Earth» – home with you. Its bounty of soft, smooth petals no longer just cocoon you hypothetically; now they can envelop you for real. The chair's physical structure is made up of a steel frame, which is covered in foam and wrapped with an elastic backing material. Finally, it's adorned with modules consisting of 40 petals.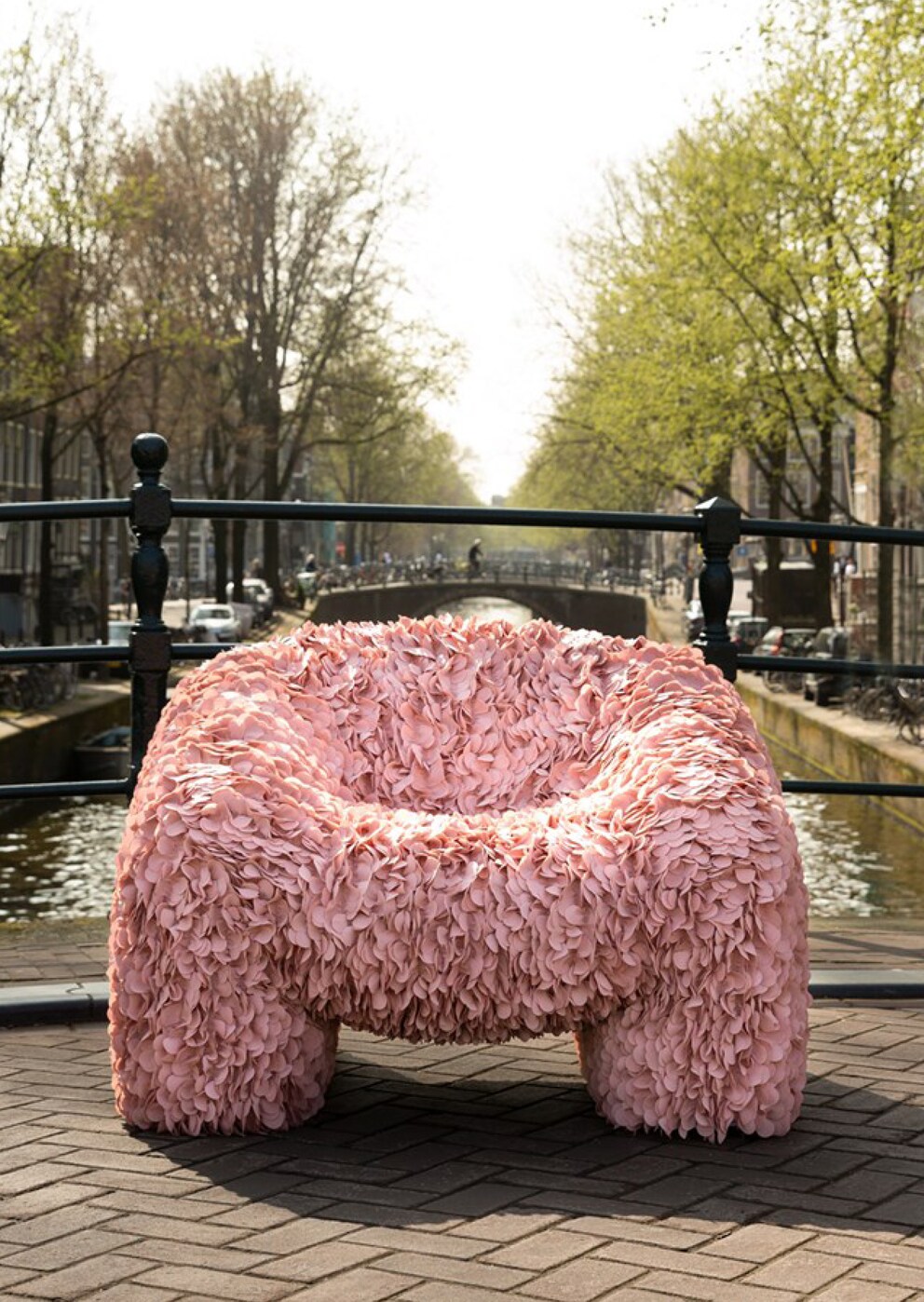 «Can I buy it?» featured frequently in the comments. For a long time, there was no answer. Apart from a limited edition made with real flowers in 2019, the chair was destined to remain a fantasy. The digital, flower-laden version created demand before anything had even been launched. Then Moooi acquired Andrés Reisinger's original design and, working with textile designer Júlia Esqué, found a way to make it. The end result isn't scented, but it is made from around 30,000 fabric petals that make you feel like you're sitting in a sea of flowers.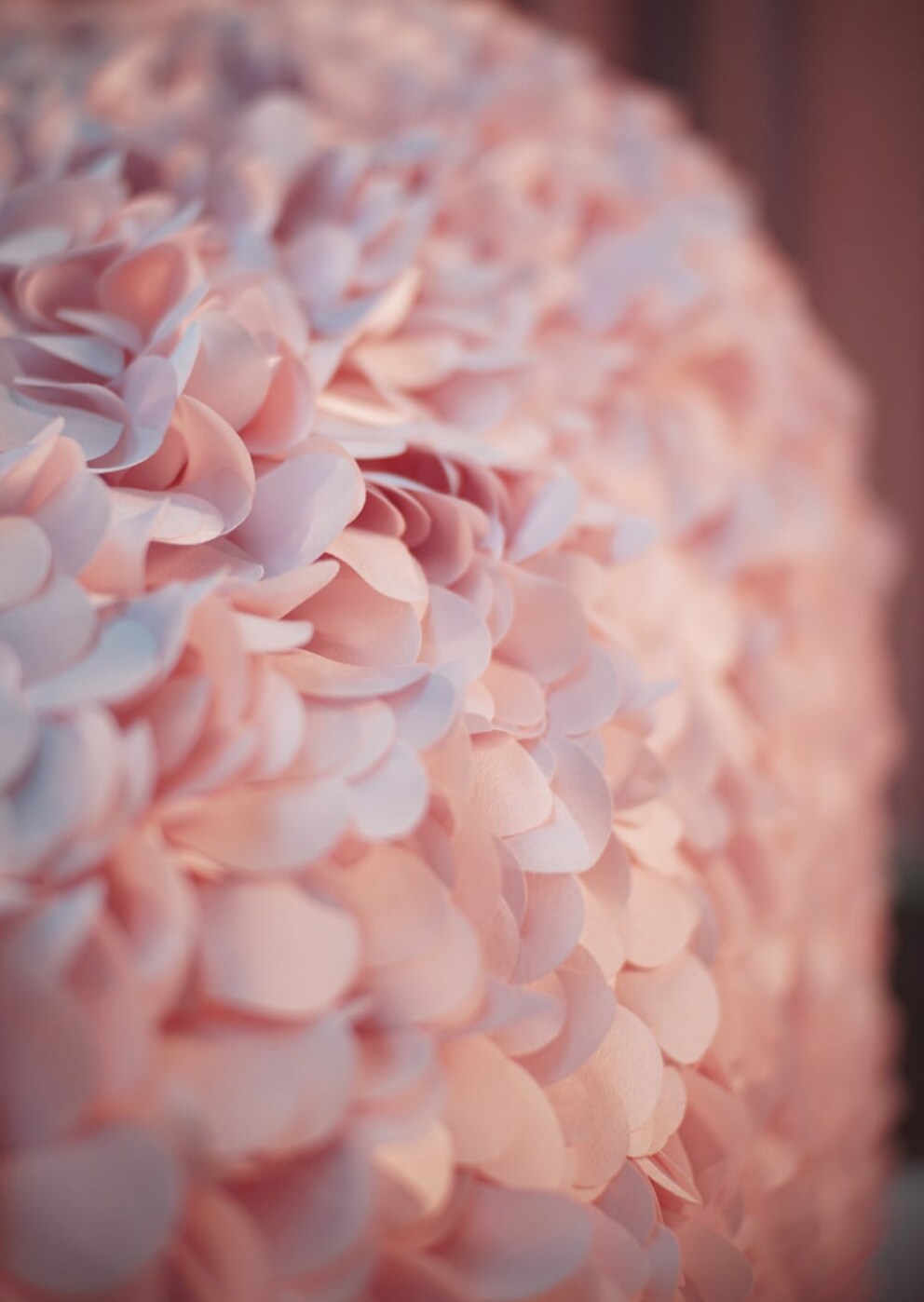 Designers usually approach established brands and manufacturers. This time, the roles were reversed. Moooi, whose style is generally proudly extravagant, was keen to include the design in its collection. It knows commercial potential when it sees it and must have thought: a lot of likes online means high sales figures offline.
Which makes the chair a game changer for the furniture industry. It's setting new standards and simplifying the previously arduous process from design to end product. It's often too risky and expensive for individuals like students to produce their own designs before they know whether they'll catch on. That's why they present their prototypes at exhibitions such as SaloneSatellite – the first event for new talent under 35 years of age – hoping to be discovered. But there are only a limited number of places. Plus, it hasn't taken place for over a year because of the coronavirus pandemic. Since then, everything has been happening on social media.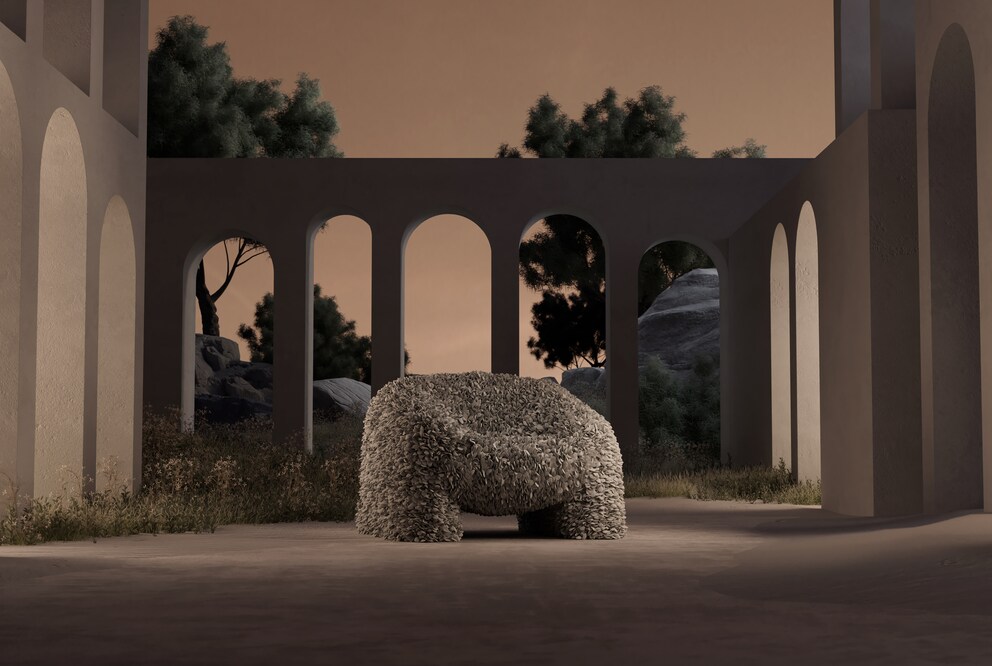 Whether it's newcomers or big names, everyone launches new products in virtual showrooms and saves on costly photoshoots and travel to locations. This change has led to a boom in the 3D business. In fact, 3D artist and set designer Charlotte Taylor told me that her work was already more in demand than ever a year ago.
Digital first has the potential to save valuable resources in the long term. Not just for an exhibition stand; for production too. If other brands did the same as Moooi, they wouldn't need large sums to make a product, have to store it somewhere and only then drive demand through marketing. And they could also use 3D designs that have gone viral. Because a good Instagram post speaks to a wide audience. An audience that doesn't tend to go to design exhibitions.
Time to fantasise
So, has the Hortensia turned all those likes into just as many sales? Probably not. Ultimately, I've added a lot of furniture to my digital collection, but I have no intention of buying them all. However, the example of the Hortensia flower chair shows that a like has more value than I thought. Since then, I've been more generous with my heart(s). And not just for furniture. For all ideas that aren't restricted by the physical world and its limits. Limits like means and money, which young talent often lacks.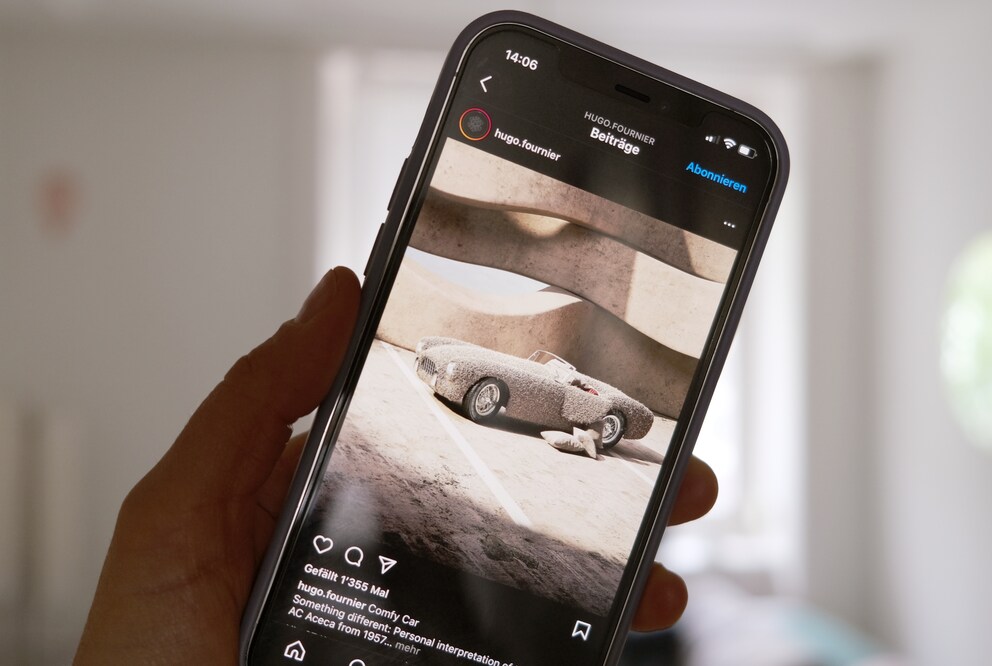 3D artists don't make their dreams dependent on what is possible, and you shouldn't either. In the digital world, I zip around as carefree as Pippi in my «Comfy Car» by Hugo Fournier. In real life, I bestow my like on this fur-covered teddy bear car and plan where it would go at home.
---



«There are only two ways to live your life. One is as though nothing is a miracle. The other is as though everything is a miracle. I believe in the latter.»
– Albert Einstein
---
---
These articles might also interest you
Skeleton Loader

Skeleton Loader

Skeleton Loader

Skeleton Loader

Skeleton Loader

Skeleton Loader