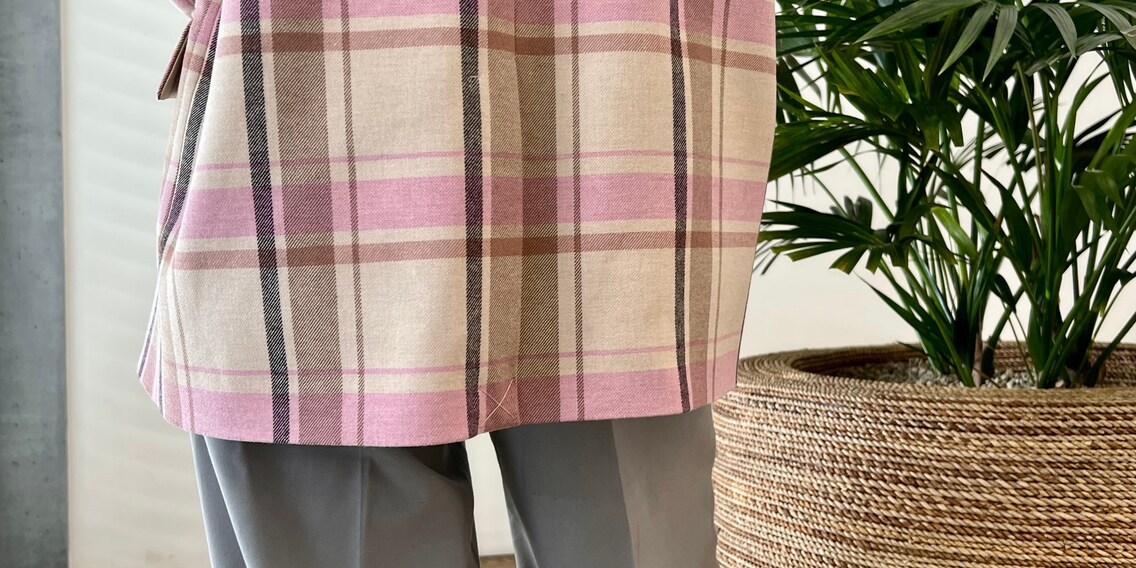 These 5 details will sabotage your outfit without you even realising it

Many fashion faux pas are so inconspicuous and commonplace that we barely pay attention to them. Watch out, though: the devil's in the detail. In fact, it's in these five fashion fails.
1. Annoying hanger straps
Some items of clothing come with two loops designed to be secured to a hanger. This is supposed to stop the garment from slipping onto the floor of your wardrobe. A problem arises when the clothes make their way out of the wardrobe and onto your back. Here, the straps fill absolutely no purpose besides sabotaging your outfit. It doesn't matter how neatly you tuck them away – they always find their way back out. While this might not be as embarrassing as an undone fly, it's just as annoying. The only thing for it is to grab a pair of scissors and invest in non-slip hangers with a velvet surface.
2. Threads as belt loops
Thin loops of thread at waist level on a garment ensure that matching belts don't get lost in transit or in store. As soon as you've taken the dress or top home, the threads have fulfilled their purpose. Unlike real belt loops, which are thicker and tend to be made from the same material as the garment itself, these threads are meant as a temporary solution. That's obvious from looking at them – they just don't look like they belong.
To cut them off neatly, it's best to use precise embroidery scissors or thread cutters. You'll still be able to wear the belt without these scruffy loops, and you can position it wherever it's most flattering on your body.
3. Sewn-in back slits
Most blazers and coats have a slit at the back, which tends to be sewn in. Why? So that the garment retains its shape on the journey from factory to coat rack and doesn't get too crumpled.
Arrived safely, however, the seams stay open, screaming «just off the peg» as loudly as a visible price tag would. The slit is important for the garment's fit too. It makes blazers and coats sit more beautifully and dynamically. Most of the time, you can take the seam off with a small pair of scissors no problem. Otherwise, a seam ripper might help.
4. Stubbornly clingy lint and hair
Though very few people would walk around with spaghetti stains on their shirt, most of us are happy to turn a blind eye to lint, pilling and pet hair. All to the detriment of our outfit. With a few flicks of the wrist and the right tools, however, it's easy to get rid of these little textile troublemakers.
Textile brushes are particularly efficient in dealing with pet hair, but be careful when using them on delicate fabrics.
You can get rid of lint and dust with an ordinary lint roller.
A fabric shaver can help against pilling.
5. Visible underwear
Smartly executed, the sheen of underwear peeking through your clothes can look great. But bra straps and knickers that push their way through thin or tight clothing? That's another story. They disrupt the complete image and look scruffy. An underwear imprint can usually be minimised by wearing seamless underwear that matches your skin tone. When wearing very transparent fabrics, you'll need an extra layer. Pop a seamless undershirt, bodysuit or shapewear panties in your skin tone on over your underwear.
---



Has endless love for shoulder pads, Stratocasters and sashimi, but a limited tolerance for bad impressions of her Eastern Swiss dialect.
---
---
These articles might also interest you
Skeleton Loader

Skeleton Loader

Skeleton Loader

Skeleton Loader

Skeleton Loader

Skeleton Loader