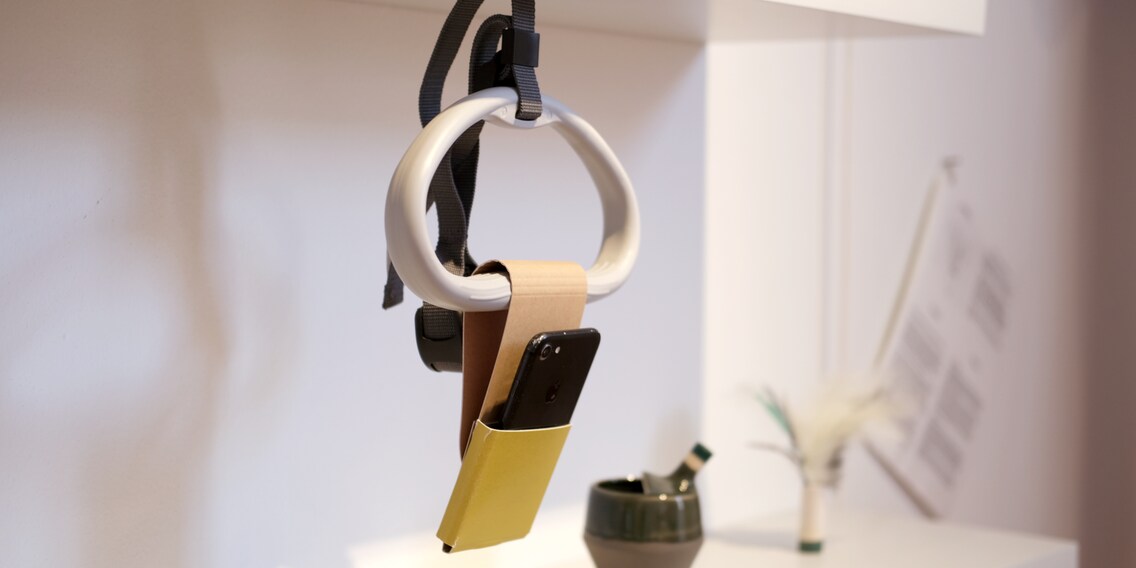 The mobile phone holder, the bed box and the care cup – 7 home accessories for the last stage of life

Designer and trend researcher Bitten Stetter designs products for ill and dying people that are more attractive and functional than widespread but poorly thought-out care tools and furniture. An exhibition at the Gewerbemuseum Winterthur is currently providing an insight into her work and her «Finally» project.
When Bitten Stetter last accompanied her mother on a trip, she noticed multiple inadequacies in the design of consumable products and furniture in care facilities. Since then, the trend researcher and designer has advocated human-centric product design in care and a new culture of dying. This includes working with experts in the palliative care sector to design new objects for all the ups and downs of life's journey. Some of their fairly and climate-consciously produced prototypes are already being tested in practice and are currently on display at the Gewerbemuseum Winterthur. These seven objects illustrate particularly well how the last stage of life could be made more dignified.
1. Storage box
«Bettbox» is a flexible, foldable object and home accessory that's attached to the side of the bed, replacing a bedside table. This allows seriously ill people to access their personal belongings without outside help. The box can contain little things like pens, paper or care tools such as a mouthwash stick.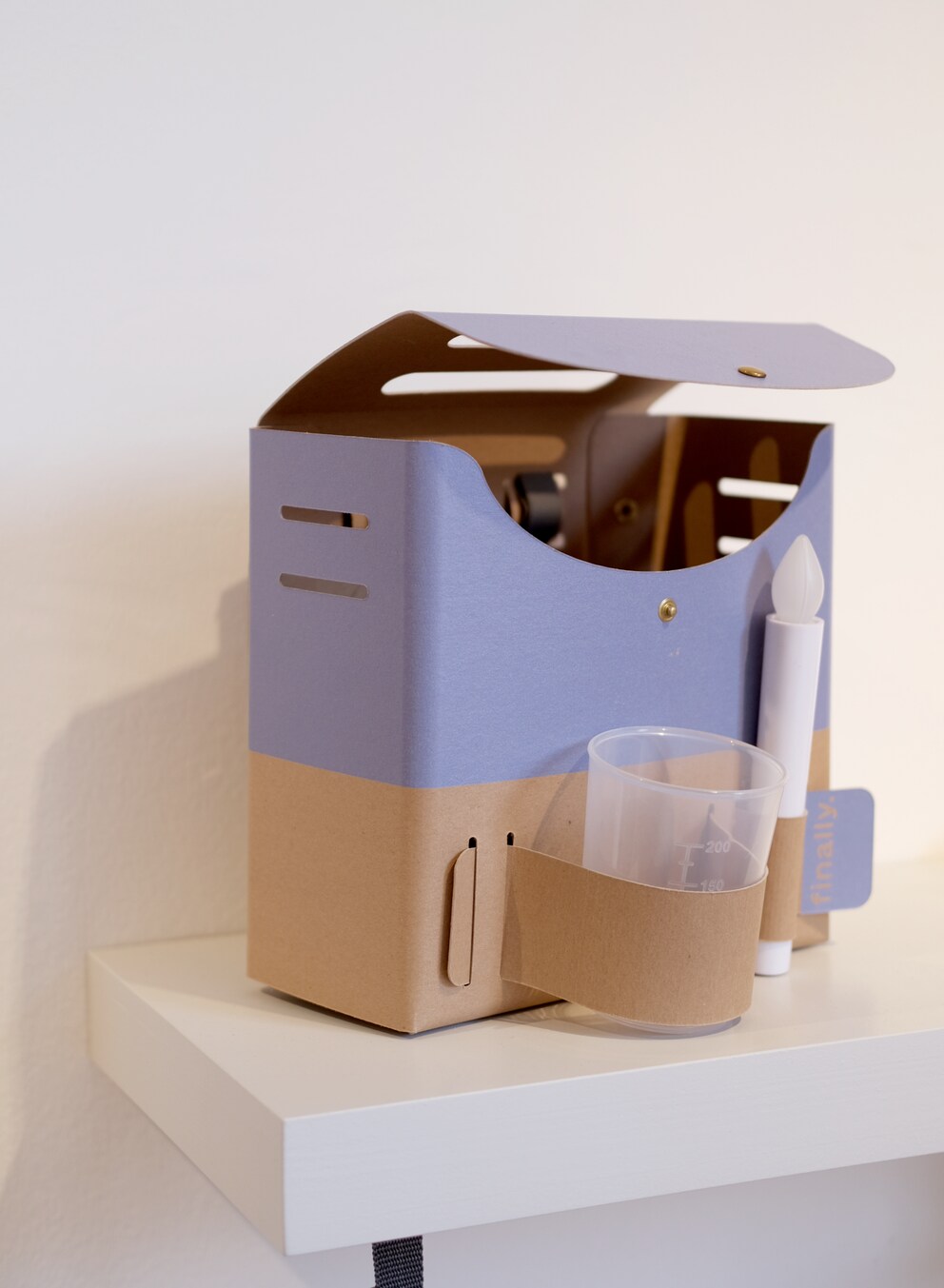 Three years ago, the designer – who lives and works in Zurich – explained to me in an interview why the standardised bedside table is insufficient: «When someone's range of motion is restricted, they also hoard their things in bed. However, the nursing staff clear them off again for nursing activities. Because of their high volume of work, they often forget to put things back.»
Situations like this require solutions that can be attached to the bedside so that people can access their belongings at any time. Bitten Stetter first improvised by repurposing a bicycle basket for her mother. Now, she's turned the improvised solution into a sophisticated design object that doesn't need to be cleaned, can be moved around by caregivers and doesn't get in the way of their work.
2. Decoration
«Mobile» is a foldable DIY decorative object for hospital bed handles. Little things such as photos, greeting cards or good luck charms can be attached to its small wooden clips.
The foldable object is intended to bring more movement into the everyday life of bedridden people, stimulate the senses and initiate conversations about what's attached to it. It remains in the field of vision of those affected – without impairing caregivers' ability to work. The more colourful the design, the more it brightens up rather dreary hospital rooms.
3. Smartphone holder
The «Handyfänger» (mobile phone holder) clearly shows that the designer is also concerned with life's journey in the age of digital change. The foldable object is attached next to the bell on the handle of the trapeze bar or on the bed rail. There's a hole underneath for the charging cable.
The holder ensures that smartphones don't get lost in bed. Unlike being left on a bedside table, it's easier to grab and gives people back a bit of autonomy.
4. Canopy
Bitten Stetter developed the «Baldachin» (canopy) design with nursing staff. It has pockets for personal items and care items and is made of fine, translucent cotton fabric that's wound onto a spiral and fastened over the bed with two Velcro strips.
When people are confined to bed, the canopy is a way to withdraw and have some privacy. It can be drawn either partially or fully. These options allow the day to be divided into phases and lighting conditions to be modified. By keeping out bright neon lights or sunlight, the canopy creates a homely feeling and is perfect for quiet periods, for example.
5. Feathers
The «Federfühler» (feather feeler) consists of ceramic and bird feathers. It can help people overcome a fear of contact and also be a conversation starter.
Because Bitten Stetter has observed that physical contact often falls by the wayside during illness, she's developed an aid that enables gentle stroking. No matter how small they are, touches create closeness, are a means of communication and trigger a pleasant feeling that can give comfort.
6. Spill-proof cup
The Zurich native has also given the spill-proof cup a redesign. Her «Care Cup» design is tapered for a good grip and bulbous for a pleasant drinking experience. It's made of ceramic instead of plastic and makes it easier to drink in small sips – lying down or leaning.
Sippy cups for babies are lovingly designed, often colourful and patterned. Cups for adults, however, are mostly white or grey. In contrast, the «Care Cup» is available in a range of different colours. The individual design allows people to make the ambience in their otherwise sterile hospital room homelier.
7. Dice game
The wooden dice set has keywords such as «authority», «pain» or «farewell» on its sides. It can serve as a communication aid and conversation starter.
Precisely because it's often difficult to address topics like this, the game can stimulate conversation about illness, our mortality and other relevant topics in the course of life's journey. In the best-case scenario, decisions are made that grant people a better quality of life or make it easier for relatives to deal with the situation.
«Designing death»
The «Finally» project is part of the exhibition «The Bigger Picture: Design – Women – Society» until 14 May 2023, which includes works by selected Swiss designers from the last 120 years. On 30 March, there will also be a conference on the subject of «Designing Death» at the Berner Generationenhaus, with Bitten Stetter taking part. Registration is open on the official website (in German).
Header photo: Pia Seidel
---



«There are only two ways to live your life. One is as though nothing is a miracle. The other is as though everything is a miracle. I believe in the latter.»
– Albert Einstein
---
---
---