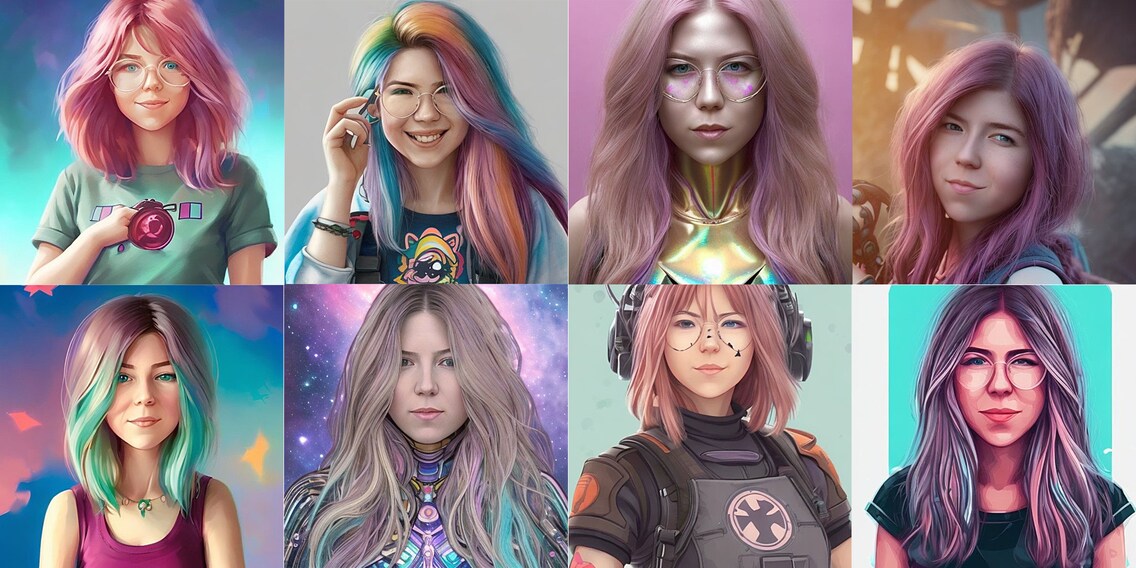 The artifice of art: how AI is shaking up the art market

Ever-improving tools such as Stable Diffusion mean art-creating AIs are more present than ever before. As a result, controversial discussions about the definition of art are brewing. But all of this presents opportunities, too.
Joseph Bueys' maxim that «everyone is an artist» is taking on a whole new meaning in light of modern technology. Using just a few descriptive words, you can create new works of art in under a minute. This is made possible by new tools that make use of artificial intelligence (AI), with examples including Midjourney and Lensa.
The issue is weighing on creative minds in the industry, a number of whom have spoken out about the issue – mostly critically. If you ask me, this new technology is opening up opportunities for us. It's also a good time to rethink the definition of art. I'm convinced that human-made art, rather than being replaced by AI, can use AI to reinvent itself.
Art at the click of a button
An increasing number of programs and apps are generating high-quality images practically at the click of a button. The Lensa app takes a handful of selfies you've uploaded and uses them to generate portraits that look as if they've been painted.
On the Midjourney platform, you can create any image you want using a couple of lines of text. The AI even generates four variations for you in under a minute.
These gimmicks may sound harmless and fun, but no sooner were these programs available to the public when there was a hailstorm of criticism. People claimed AIs copied the work of real artists for their results, that AI art wasn't real art and that the whole thing was illegal in the first place. Above all, the criticism stemmed from the fact that AIs are reliant on human-made art in order to learn.
How AI tools work
The AI model used by Lensa is called Stable Diffusion and specialises in generating images.
The program is based on a neural network, which needs to be fed with as much data as possible in order to recognise patterns. Stable Diffusion uses millions of images in order to spot the most diverse of patterns and motifs. The images also require a text description so that the AI can learn a connection between text and pictures.
Using countless facial images and suitable descriptions, for instance, the AI has the features of a portrait drilled into it. If you want a portrait of a young, blonde woman, the algorithm searches for exactly that amongst its stock, piecing together a new portrait using suitable features of existing images.
But where does the flood of images required actually come from? Stable Diffusion makes use of the freely available LAION-5B database, which contains over 600 million Internet images. A lot can certainly be achieved with this, but unfortunately, the tool lacks specific source information for the images.
Real-life examples providing food for thought
Amongst all the theory, there are interesting real-life cases of AIs being used in design. These three gave me plenty of food for thought.
The children's book Alice and Sparkle
San Francisco product designer Ammaar Reshi was working with ChatGPT, an AI-driven chatbot created by the research company OpenAI. In doing so, he came up with the idea of using it to design a children's book.
Reshi then used illustrations generated by Midjourney for his creation. For the book text, he took story elements from a conversation with the ChatGPT bot.
The book didn't turn out perfect. The AI-generated illustrations have a number of problems: hands resembling claws, floating objects and some incorrect shading. Even the style is incoherent.
Midjourney instantly churns out images based on prompts, i.e. texts that describe what the image is supposed to look like. In this way, Reshi kept on working through the illustrations, changing the prompts to get the best possible results. It took him a weekend to complete the book of twelve illustrations – a feat he proudly announced on Twitter. In December 2022, he sold the finished product, Alice and Sparkle, on Amazon. No longer on sale,
Reshi's book resonated extremely poorly. Many artists feel they've been replaced – and are afraid. To me, however, the finished product demonstrates something else entirely, namely how cumbersome and labour-intensive the process really is. The AI spits out something random and you have to invest a huge amount of time in tweaking the output to your liking. What's more, the AI's randomness ensures that you rarely manage to achieve a style that's consistent across all illustrations.
You also need a text AI, programs which, in my view, don't write especially creatively. Instead, they tend to regurgitate information that's been compiled.
The finished book looks to me like a piecemeal collage. In the literal sense, book illustrators have much more artistic freedom regarding the images – and the text, too.
I imagine it's especially tricky for the person commissioning a book if they don't know what kind of style could emerge or how the story might be written. It's also confusing to readers in general if, for instance, a main character looks totally different in every picture.
An AI-generated artwork wins a competition
Another example is the case of artist Jason Allen, who hit headlines in September 2022 when he entered a Midjourney-generated piece in an art contest – and won. The competition was open to «digital art/digitally manipulated photography». Some felt this was breaking the rules.
Jason Allen explained that the artwork created by the AI served as a foundation. He had to continually revise the image prompt until he got a suitable result, before going on to edit the image in Photoshop.
I don't think the randomness with which images like these emerge has much to do with creativity or artistry. Given that most prompts undergo serious reworking and that the image is altered afterwards, the tool seems to literally be a tool. One that gives you only limited control over what you produce. With this in mind, I think the process isn't really artistic creation, which involves learning and doing everything from the ground up.
The AI-generated San Francisco Ballet poster
When the San Francisco Ballet advertised a performance of The Nutcracker using an AI-generated poster in December 2022, creatives voiced their frustrations.
The Ballet enlisted the help of nearly 30 ad agency designers, producers and creatives for the Nutcracker campaign. There are also hundreds of artists working on every aspect of the San Francisco Ballet. So, why use an AI here of all places?
Like in the previous cases, I see a positive side to this story. If the basis for a poster can be generated so quickly, plenty of time is left to work on other jobs related to the ballet. For ballet performances in particular, there's an unbelievable amount of creative work to be done. Not only that, but human beings are still necessary for the operation of the tool; giving it creative inputs and carrying out editing.
A dreary picture? Humans are still the ones doing the painting
Tools such as Midjourney and Lensa are based on a large image database. In all of the practical examples mentioned, the AI took these images and used them to throw together something new. It doesn't sound particularly innovative,
but when I think about it, human beings seldom do things differently. People cover or remix old songs, films are remade time and again, and famous images are made into merch (these days, you can wear Mona Lisa socks).
That said, there are always works from the worlds of film, music and art that stand out artistically. But what is it about a film that draws us in, a piece of music that brings us to tears or an artwork we can barely pull our gaze away from? It's the human being behind it: the experiences an artist shares with us; the dreams and desires an artist processes through their work. The emotions that go into it. In addition, it's observers who impose their own feelings and experiences onto these works. For me, this makes for an exciting dialogue.
Something I've generally noticed during my experiences with digital art is that people love one-offs. These unique pieces come from traditional art alone: a cursory pencil sketch, an oil painting, a washed-out watercolour. One-of-a-kind artworks like these are certainly more valuable than reproducible digital art. Maybe they'll become even more so. The energy that images like these give off is irreplaceable.
Plus, there are the tools' limitations as well as the AI's inability to think in an abstract way. Human wit and ingenuity are unique. One example of person-driven humour and creativity that can't be replicated by AI was demonstrated in a Twitter appeal for artists to complete a half-finished picture of a T-Rex. The results were endlessly amusing – and made me feel even more optimistic.
The prognosis? AI could be our friend and helper
When photography was first invented, artists voiced critical opinions. Often hired as portrait painters, their fears were existential. Nevertheless, some artists began integrating photography into their art. Meanwhile, the medium of painting reinvented itself, with abstract painting and experimental art emerging as a counterpoint to the reality depicted by photography.
In my opinion, rather than being viewed with hostility, artificial intelligence should be used as a new tool. It can help us to go beyond our own limits, as it provides us with image ideas that we wouldn't have thought of ourselves. Or it can provide a quick basis for an image to be edited into a poster or album cover. Moreover, it empowers us to put the definition of art under heavier scrutiny. What is «real» art anyway?
I'm of the belief that art is connected with feelings, experience and individuality. These are things that a computer program doesn't have; things we're more able to emphasise in art. Human beings' creativity and abstract way of thinking, demonstrated best in the example of the T-Rex, can never be replaced. I'm optimistic that we can hold on to our creativity and humanity, full of positive energy. After all, AI can never replace that entirely. Not even if it manages to generate better results than these ones:
---



In my world, Super Mario chases Stormtroopers with a unicorn and Harley Quinn mixes cocktails for Eddie and Peter at the beach bar. Wherever I can live out my creativity, my fingers tingle. Or maybe it's because nothing flows through my veins but chocolate, glitter and coffee. 
---
---
---
These articles might also interest you