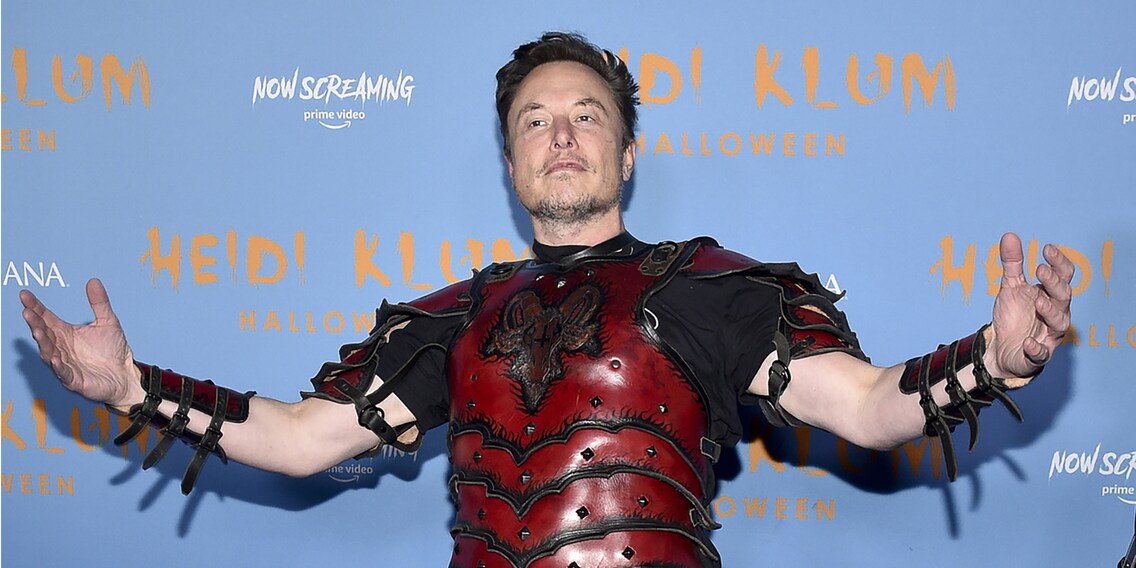 Hurricane Elon, two weeks after making landfall on Twitter

Speed, ambition and a dazzling personality characterise Elon Musk's ventures. This combination is now also having an effect on Twitter. However, it is hampering the blue bird's ability to fly.
«Twitter is now an Elon Musk company.» So went the headline gracing the homepage of American tech magazine «The Verge» in early November. An apt title. Because when Elon Musk touches something, any discourse no longer surrounds just the thing itself – everyone's got their eyes on the world's richest man. But what does that entail?
Speed is key
«Move fast and break things» actually became (in)famous as Facebook's motto. But it fits surprisingly well with Elon Musk and his management style. The billionaire prefers to rush into experiments quickly and recklessly instead of exercising care.
Same goes for his new role as Twitter's chief executive: he immediately fired CEO Parag Agrawal and the rest of Twitter's management team and board of directors. Then employees were up for the chop – and not just a few of them. More than 3,000 employees – about half of Twitter's workforce – weren't allowed back into their Twitter offices. This following impersonal emails informing them of their dismissal.
But not to worry, Elon's still flying half a ship. Any remaining «Tweeps» will – for better or worse – be able to see Twitter's next steps right on their new boss' feed. A practice familiar to Tesla employees: before Tesla unveiled the cyber truck, Musk fired off new specs and promises on Twitter. Tesla employees at the factory were blindsided by the challenging to-do list in tweet form.
Regarding Twitter, Musk announced his plans by tweet, featuring: the ability to add larger sections of text to tweets, an improved search function and a program to put certain content behind a paywall.
All this, and more, without first informing his employees. It wasn't until two weeks after his acquisition that the new owner held a first meeting to answer questions and present his plans. These included the possible introduction of banking services or Tik-Tok-like features on Twitter. In addition, Musk warned in the meeting that, going forward, it would be imperative for Twitter to bring in more money than it was spending. Otherwise, the company's bankruptcy could not be ruled out.
«Lots of dumb things» on purpose
Confusion surrounding the blue checkmark in particular continues to be fascinating. Previously, it served as an identifier for verified individuals or organisations. Musk wanted to make it an identifier of subscribers to Twitter's paid «Twitter Blue» feature – for a short time, the blue checkmark was available for eight US dollars a month.
However, in order to label verified persons or official organisations somehow, an additional grey checkmark was simultaneously added. It disappeared just as quickly, included in the blue checkmark. The grey checkmark disappeared altogether, only to return shortly thereafter. At time of writing, users are reporting that the login option for Twitter Blue and thus the blue checkmark have also disappeared. It seems the future of verification is completely up in the air for now.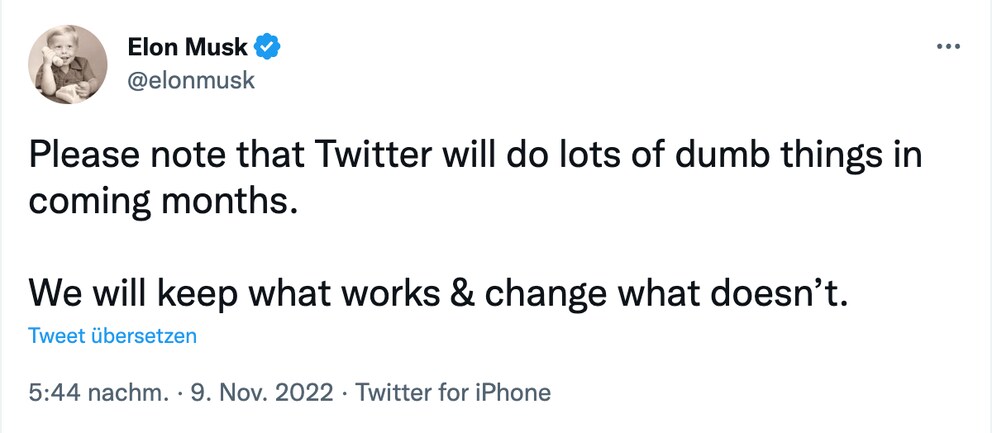 «Lots of dumb things» will be coming in the next few months according to Musk, proclaimed in a tweet during the checkmark fiasco. What works, stays on the platform. It seems the 51-year-old isn't only aware of his fast, reckless behaviour – he's doing it on purpose.
Ambition: the sky is not the limit
Musk's speed is fuelled by his unbridled ambition. SpaceX's reusable rockets are just one stop on a much larger mission: the colonisation of Mars. Initial Tesla models were just the first stage in the dash to electrify the global automotive industry.
And acquiring Twitter? Just the first step toward a «common digital town square, where a wide range of beliefs can be debated without resorting to violence». Musk is aiming to help humanity, as he wrote in a tweet shortly after the acquisition.
In accordance with his astronomical ambitions, Musk works with absolute dedication and total efficiency – and demands the same from those around him. The happiest Tesla employees are those who describe themselves as workaholics and enjoy working more than 70 hours a week, according to a 2018 report in Business Insider magazine. But not everyone can tolerate such extreme schedules.
To keep employee motivation at Tesla factories high, Musk himself wants to be a stoic role model. Therefore, it's important to him that as many employees as possible see how he too sleeps on the floor of his factory.
A habit that has now entered the work culture of new Twitter, as evidenced by a picture of Esther Crawford slumbering in her sleeping bag. She's in charge of product management at Twitter and is currently working around the clock on a new version of the «Twitter Blue» paid subscription. Many employees are doing the same – because if you don't deliver by the insanely close deadlines, you're fired.
This is a stark contrast to conditions before the takeover. Twitter employees each enjoyed one additional day off per month. In addition, there was a generous working-from-home policy. Founder and former CEO Jack Dorsey wanted to prevent burnout.
To suddenly motivate employees from that era to embrace Musk's hardcore work culture, featuring mountains of overtime, overnight stays in boardrooms and a ban on remote work, the incentives must be extraordinary. With Musk's other companies, futuristic visions and a noble social mission fulfil this effect – but with Twitter, this is likely to be more difficult.
After all, Musk withdrawing his initial purchase offer already cast doubt on his own conviction and idealism with regard to the platform. Then came the time before the court case, when Musk had to prove that Twitter wasn't worth as much as he had offered: he generously humiliated his future social media platform by criticising its quality. For example, Twitter – unlike Tesla and SpaceX – will likely find it more cumbersome to get people excited about its ambitions.
The man, the myth, the Musk
Musk's vision and social mission are so contagious to so many people in part because of who he is: he's approachable and direct. He presents himself as easy-going, likeable and humorous. A meme-loving nerd who revolutionises space travel by day and relaxes by passing around joints by night.
In the wake of the Twitter acquisition, this image is crumbling more and more. Instead of meaningfulness, the billionaire currently offers chaotic spectacle. He appears increasingly thin-skinned, as evidenced by his blocking of parody accounts making fun of him. As a Twitter user, he's always been loud, provocative and sometimes rash. But as the owner of the platform, these features have become a visible handicap. The jarring about-face, confusing communication and constant jibes don't paint the image of a cool «real life Tony Stark».
Twitter had to evolve sooner or later. The business model wasn't generating enough revenue. Companies shied away from placing large-scale advertising on Twitter. Mainly because of the presence of controversial or illegal content, something the platform always struggled with. But whether Hurricane Elon's methods will make the bird soar once more seems doubtful.
Keystone
---



«I want it all! The terrifying lows, the dizzying highs, the creamy middles!» – these words spoken by an iconic American TV celebrity could have been mine. It's a take on life I also apply to my job. What does this mean in concrete terms? That every story has its charm; no matter how small, large, exciting or trivial. The more eclectic the mix, the better. 
---
---
These articles might also interest you
Skeleton Loader

Skeleton Loader

Skeleton Loader

Skeleton Loader

Skeleton Loader

Skeleton Loader