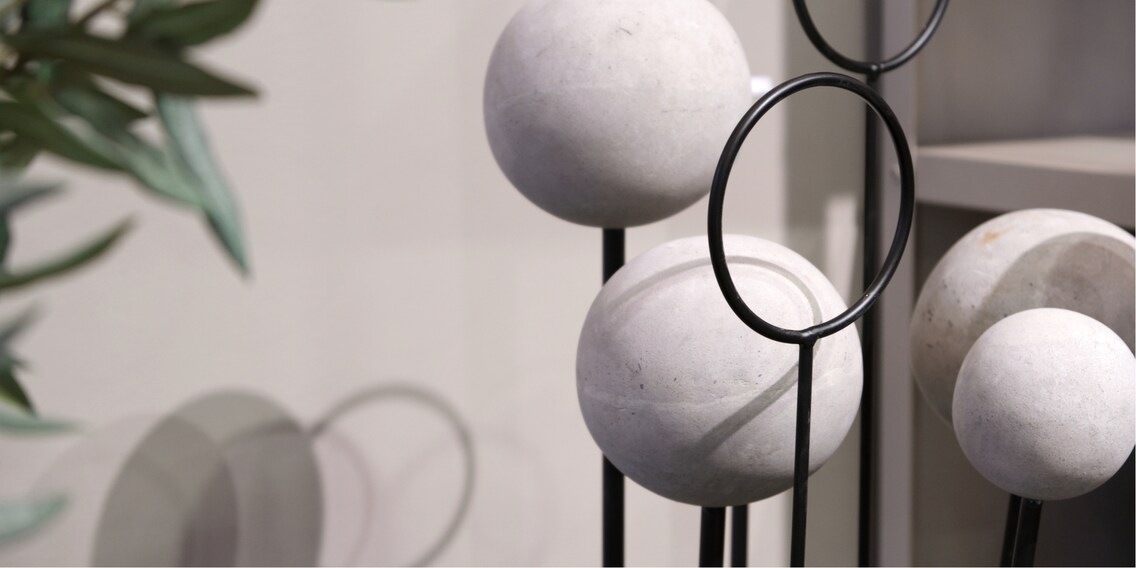 This article was translated automatically.
Stylish decoration for the garden
Just a little garden decoration is enough to make your outdoor space more individual. And with the right light and accessories, it will be much more beautiful.
If you've already trimmed every hedge and cleaned the terrace spotless - but even if not - you can dedicate yourself to the garden decoration. At the last "Maison et Objet" I noticed five trendy designs that might give you new ideas. At the fair, the lamps and decorative objects were not yet seen outdoors, but they inspired me already there to get more out of my place in the sun.
1. wire
With or without flowers - climbing aids decorate any pot, no matter how boring. They are easy to stick in the ground and suit romantic or modern gardens.
The "Garden Stick" from the brand Dbkd brings hanging plants into a circular shape that is so classic that it looks good in any outdoor area - individually or in a group. Especially if you arrange the garden sticks at different heights.
2. pictorial
Insects, birds or mushrooms already exist outdoors, but as a decorative object they are a tasteful alternative to garden gnomes. With them, you can distribute varied splashes of color or visually delimit different areas. Either way, you'll make a statement outside with these design exotics.
At the fair, the spider from Dbkd was crawling around. It is made of concrete and looks deceptively real from a distance. Thus it provides for surprises. Mushrooms made of mango wood and aluminum like the one from Lorberon, on the other hand, transform the outdoor area into an enchanted forest.
3. mobiles
Portable table lamps have become indispensable outdoors and are in no way inferior to the aesthetics of indoor lights. They can often be hung or dimmed and are always weatherproof. Use LED and solar lights as table decorations or use them selectively to make other spots more homey.
Models like "Light Two," the dimmable table lamp from The Humble Co. , create a moody atmosphere in an instant. At the same time, it is an eye-catcher. With its curved shade as well as its gold, black or silver aluminum base, it shines even without light.
4. flickering
Instead of the fireplace or real candles, LED candles are high in popularity. Their fake flame radiates warmth and withstands any gust of wind. From sculptural designs to colored candles, there is now a wide selection that is fancier than any tea light.
Deluxe Homeheart staged their LED candles in pastel colors together with flower wreaths, making them the perfect decoration for outdoor dinners. But single candles like the LED flame "Dot" by Star Trading also enhance any table decoration. Their bubbles accentuate the natural shapes outdoors.
5. concrete
Minimalist cement decorations are modern and appealing because they provide a cool contrast to flowers and plants. Unlike wood, which is distracting with its grain, they stand out especially nicely against the greenery of their surroundings. Even more so when the objects have geometric shapes.
The concrete sphere "Garden Concrete" by Dbkd had something antique about it at the furniture fair. It is always a good choice because of its timeless shape and serves as a flower pot ornament, doorstop or demarcation to the terrace. Star Trading 's cement stone also looks confusingly like a work of art. This is exactly the kind of highlight you need to make your outdoor living room special.
---



«There are only two ways to live your life. One is as though nothing is a miracle. The other is as though everything is a miracle. I believe in the latter.»
– Albert Einstein
---
---
---
These articles might also interest you
Skeleton Loader

Skeleton Loader

Skeleton Loader

Skeleton Loader

Skeleton Loader

Skeleton Loader