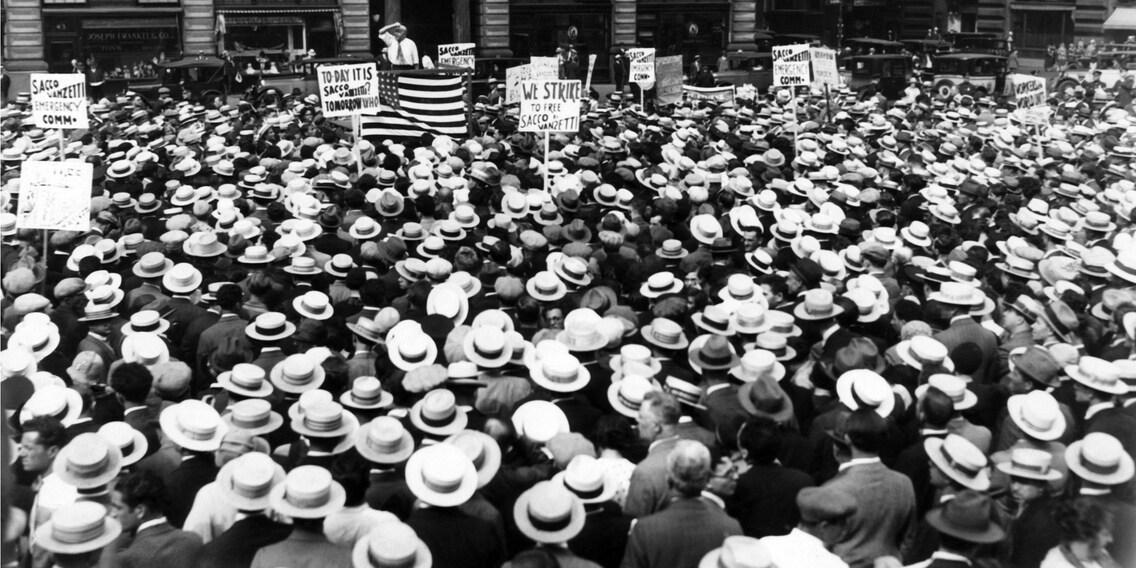 Straw hat riots: how a fashion faux pas once triggered a mass brawl

Translation:
Julia Graham
The role straw hats now play in current fashion is minor. But rewind 100 years and it was an integral part of men's wardrobes. It even had the power to bring parts of New York to a standstill.
These days, we're familiar with straw hats, especially when we see them on drunk tourists in Majorca or as merch at festivals. But there was a time when they were considered THE summer hat. We just have to take a trip back in time, to 100 years ago.
Welcome to New York, where the year is currently 1922. Let me set the scene. World War I is over and the economic upswing has lent the decade the nickname of the Roaring Twenties. Straw hats are an integral part of your outfit, much like a shirt or pair of shoes. It protects workers and people strolling or idling from the sun as well as the rain. A task that the car will increasingly take on over the next few decades, turning the hat from fashion must-have to accessory.
But the «boater» is ever-present. From the beginning of the century, the straw hat was to be found on men's heads throughout the city. It was a must on summer boat trips in particular (hence the name). It meant New Yorkers didn't have to sweat under a felt hat anymore when it was 35 degrees. Those wouldn't be used again until autumn. Or more specifically, from 15 September, which is cut-off day (content in German).
On that day, the men of New York have to stow their boater back in the wardrobe and dig out their felt hat, according to an unwritten fashion rule. But one that's adhered to rigorously. Anyone caught on 16 September with a straw hat on would be mobbed, laughed at and even lose their hat. It's a common occurrence to see most of a person's friends beat the straw hat off their head and even trample the hat afterwards.
What is clear is that fashion was more of a social code than a way to play around and express yourself back then. But there was an exception in 1922 in the form of a group of young people. Either through boredom or rebellion, a few boys decided to bring cut-off day forward and knock straw hats off men's heads on 13 September. They begin their raid in Mulberry Bend in Manhattan. The area is now the home of Chinatown, but then it was considered a densely populated, disease-ridden criminal district.
The first people the boys come across are factory workers, who they take by surprise with the premature tradition. It's to be assumed the workers react with a few choice insults, but the situation remains peaceful. That changes when the young people try the same thing with dock workers. They don't find it funny and hit back. What ensues is a mass brawl, which impedes traffic on Manhattan Bridge and has to be dispersed by the police. A few youths get arrested.
However, the straw hat riots, as the riots were soon to be called, aren't over yet. The next evening numerous teenage gangs march through the streets of the city to continue the campaign. Some carry spiked sticks to help them fish the hats from the top of the wearer's head. A 1000-man mob terrorises entire blocks near Amsterdam Avenue. Several of the men who put up a fight when their hats are being stolen get beaten up and find themselves in A&E. At the same time, hat shop owners are rubbing their hands in glee. They stay open later just so anxious New Yorkers can get their hands (or heads) on felt hats – and so shops can do a roaring trade.
The police are slow to get the riots under control. They arrest several young people, but those under 15 can't be arrested. As a result, officers have to leave the punishment to the parents, although they do recommend giving the kids a good hiding. Those older than 15 usually get away with a fine; only a few end up in prison. And if they do, it's for at most three days.
In spite of this incident, the tradition continues for a few more years to come. In 1924, a man was even murdered for wearing a straw hat for too long. This was too much for the then president, Coolidge, which is why a year later he decides to simply ignore cut-off day. As a result, he makes it to the front page of the New York Times and simultaneously ends the tradition of knocking hats off.
---


My life in a nutshell? On a quest to broaden my horizon. I love discovering and learning new skills and I see a chance to experience something new in everything – be it travelling, reading, cooking, movies or DIY.
---
---
These articles might also interest you
Skeleton Loader

Skeleton Loader

Skeleton Loader

Skeleton Loader

Skeleton Loader

Skeleton Loader