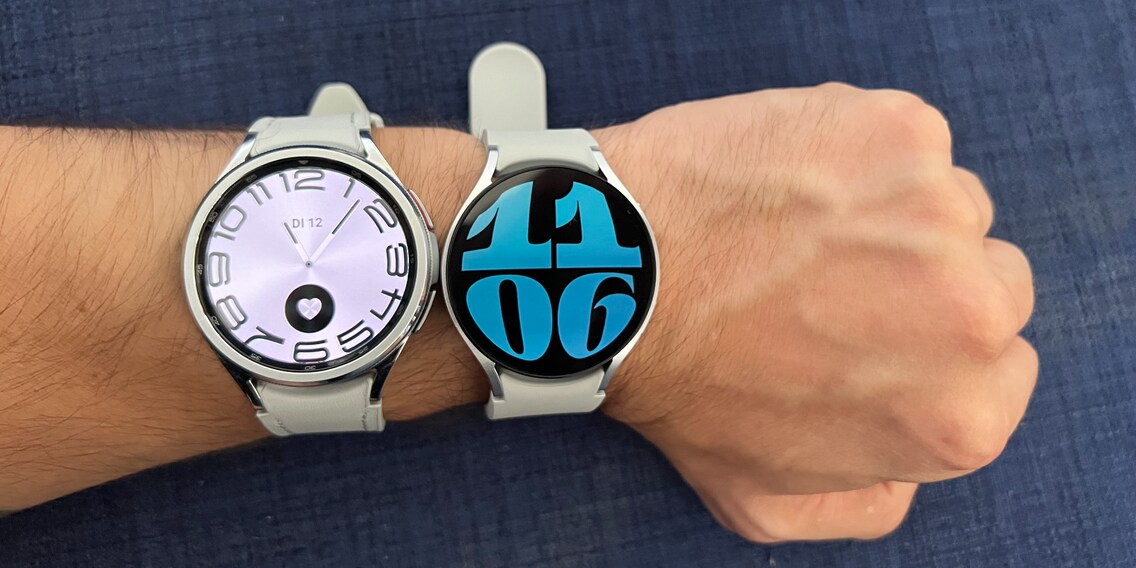 Samsung Galaxy Watch 6: not revolutionary but still a great smartwatch

This is product maintenance at its best. Samsung has built a new smartwatch and continues what has been tried and tested with the Galaxy Watch 5. The result is a great, reliable, high-performance smartwatch. But it's starting to bore me.
I'm not going to lie. The Galaxy Watch 6 and I – we had a rough start. But that's not because I have a fundamental problem with smartwatches.
Samsung is actually making it difficult for me to love the Galaxy Watch 6 from the start. That's despite the fact it looks good. The Watch 6 is available in both the standard and fancy Classic models. The first features a water-repellent strap, while the other comes with a synthetic leather one. You have two colour variants to choose from: graphite (to me, this just looks like black) and silver. The design is based heavily on the Watch 5. The Classic sees the return of the rotating bezel after a break in the previous generation. However, apart from the bezel and size, the two watches are functionally identical.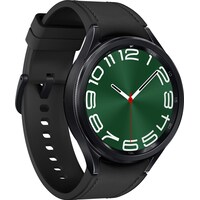 Everything is obviously a matter of taste, but I personally really like the Galaxy Watch 6. I'm a big fan of classic watch designs. Think round cases and analogue design for the time display. If there were a crown (knob) on the side now, I'd be absolutely ecstatic. But the discreet snap fasteners are also fine. These aren't to be mistaken with the two differently shaped buttons on the Huawei Watch 4 Pro, which I almost couldn't stand because I have a thing for symmetry.
So far, so good. Well then, why wasn't it love at first sight? Just because.
Setting up the watch: meltdown
It may just be my lack of experience with Galaxy watches. So, if you're used to this brand, it might be completely normal. But setting it up pushed me to my limit and tested my nerves. And if you're a newcomer like me, it'll likely be the same for you too.
It starts with the fact that you can basically throw your iPhone in the bin if you want to use the Galaxy Watch. Android-only is the motto. Don't get me wrong, Apple can hardly point any fingers given its own insular system. But I still think it's a shame Samsung doesn't support this combo. It didn't actually used to be this way. Samsung only halted compatibility with iPhones with the launch of Galaxy Watch 4. It's a good thing I operate in both universes. So, I continue the setup with the help of my Oppo phone.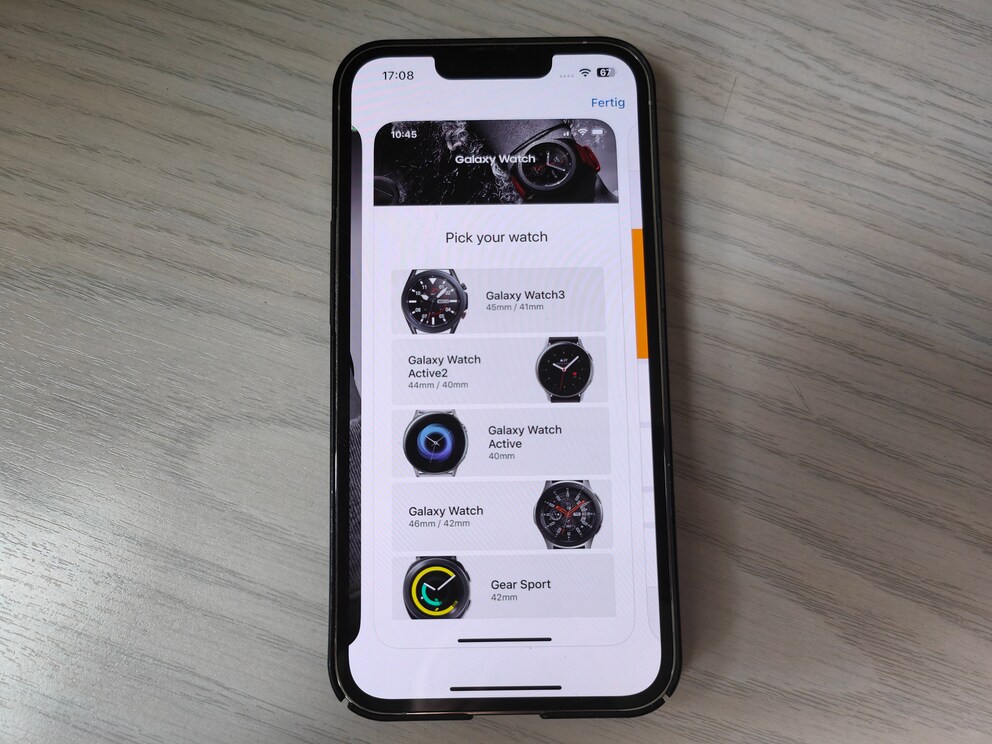 Next, Samsung forces me to download the Galaxy Wearable app. It's the only way to connect the watch. The app can't do much more than that. I sigh. It's far from the only app I'll have to install.
I launch the app and add the watch, which is quick to find. Unfortunately, I have to sign in to a Samsung account if I want to use the health features. After all, those are pretty essential.
Once I've logged in, the setup begins. After various «agrees» to unread T&Cs, my smartwatch is set up (it can take a few minutes). Then I log in with my Google account, and it checks my credentials (this can take a few minutes).
After that, Samsung asks if I'd like to regularly back-up the data and files on my watch to my Android phone. However, you need a different app called Smart Switch for this. My eyelids twitch. I download it, connect it to my Watch, and everything gets set up (it can take a few minutes). After a few introductory pointers, I'm ready.
But no, wait. Not quite yet. I swipe through the menu, wanting to measure my blood pressure. The watch asks me to download the Samsung Health Monitor app to my phone. That'll be app number three then. Of course, the Health Monitor app isn't the same as the Health app. I want to download it, because I'm sure it'd spit out an interesting result for me by now.
However, the link to the app doesn't take you to the Play Store. Instead it leads to Samsung's own Galaxy App Store. I can't download the app and either need the Samsung browser or Chrome. Frowning, I check my browser. I'm already using Chrome, I check for updates. There aren't any. And yet, it still doesn't work. I'll find out why later.
The right size for every wrist
The Galaxy Watch 6 is available in 40 and 44 mm, with an aluminum casing. The Classic version comes in 43 and 47 mm and is made of stainless steel. The cases on the devices I'm testing out are 43 and 44 mm wide respectively. Quite frankly, it looks ridiculous on my slim wrist.
Both models boast a 1.5-inch (38.1-mm) display. This makes the edge just under 6 mm wide. Samsung describes the edges of the Galaxy Watch 5 as 15% thicker than this year's Classic model. The edges of the Watch 6, standard, not Classic, are even 30% narrower than those of the Watch 5.
Display: crazy bright
Samsung has built a super AMOLED display into the Galaxy Watch 6. Its resolution differs depending on the size of the display. I'm testing the 43 mm classic model which boasts a 480-×-480-pixel resolution. It's really fun to scroll through the menus. The rotating bezel is undeniably an excellent feature. However, the purely digital scroll solution on the standard watch also works flawlessly. I didn't notice any lags or hanging. With smartwatch software, this is far from always the case.
You can customise the watch face, font, font size and so on in the menus until it's to your taste and liking. Not only that, you can also alter touch sensitivity settings. This is particularly important in winter when you often want to use your watch with gloves.
The big flex feature, however, is the brightness, which reaches 2000 nits at its peak. Even in direct sunlight, you can still see the the watch display. I didn't detect any issues here, making it perfectly suitable for outdoor use.
You have two options when adjusting the brightness. Either manually via the quick settings menu on the watch – just swipe from top to bottom – or by activating adaptive brightness. You can find this menu item under Settings -> Display. The watch's sensor then measures the light conditions and adjusts display brightness accordingly.
In this menu, you'll also find the always-on feature for the display. This means you don't have to lift your arm or tap on the display. The disadvantage is it drains the battery.
Battery: a step backwards, but still good
One area where Samsung performs well is battery life. Of course, it comes up against tough competition in the form of outdoor devices from Garmin and Suunto. However, Samsung is leaps ahead of everyday watches, such as Huawei's Watch 4. The Classic version spent the night and a whole day on my arm (on a 100% charge). When I finished work at 5 p.m., it was still showing 20%. But it wasn't quite enough for another night. By 1 a.m. the next morning, the watch had checked out. At that time, it had been active for 27 hours (with an always-on display). Even the e-mails and messages that arrive almost every minute and are reliably displayed don't detract from the watch's performance.
Nevertheless, it still has less performance than its predecessor, in spite of the Watch 6 boasting a slightly larger battery capacity (425 mAh instead of 410 mAh). But it does also feature a larger display. Keep in mind, though, that this'll be even less with the 40 mm watch. Nevertheless, it's still true to say it can go a night without charging.
Sports and health: same old same old?
Don't expect any big advancements in terms of sports and health features, because there aren't any. However, it's not entirely necessary, because what Samsung has offered so far has certainly been appealing. Similar to the Apple Watch, the Watch 6 features coloured rings that close when you reach a set sports goals. That could be a number of steps, active time or calories burned. The close-the-loop principle isn't particularly original, but it works. If it ain't broke, don't fix it.
What I find exciting about this device is something known as bioelectrical impedance analysis. It allows you to use a sensor to measure your body composition. This includes skeletal muscle, fat percentage and body water. You'll also find BMI and metabolic rate in the same menu. It's almost like a mobile body-fat scale.
Samsung obviously points out that the information this feature provides isn't as precise as a professional, medical assessment. It's to be taken more as approximate data. The health app displays these stats clearly. The more often you take this measurement – always at about the same time and on an empty stomach – the more accurate the information will be. I took a reading at 7 a.m. on three separate days.
Another cool feature is the sleep coach. As well as sleep duration, this measures blood oxygen, snoring habits and skin temperature. Based on the results, it gives tips on how to optimise bedtime habits to improve your sleep. What's more, the sleep coach's skin temperature check can help work out where you are in your menstrual cycle – and also monitor it.
The Galaxy Watch 6 did a pretty good job of tracking what time I fell asleep and how long I actually slept. Unfortunately, however, the sleep tracker doesn't measure REM phases.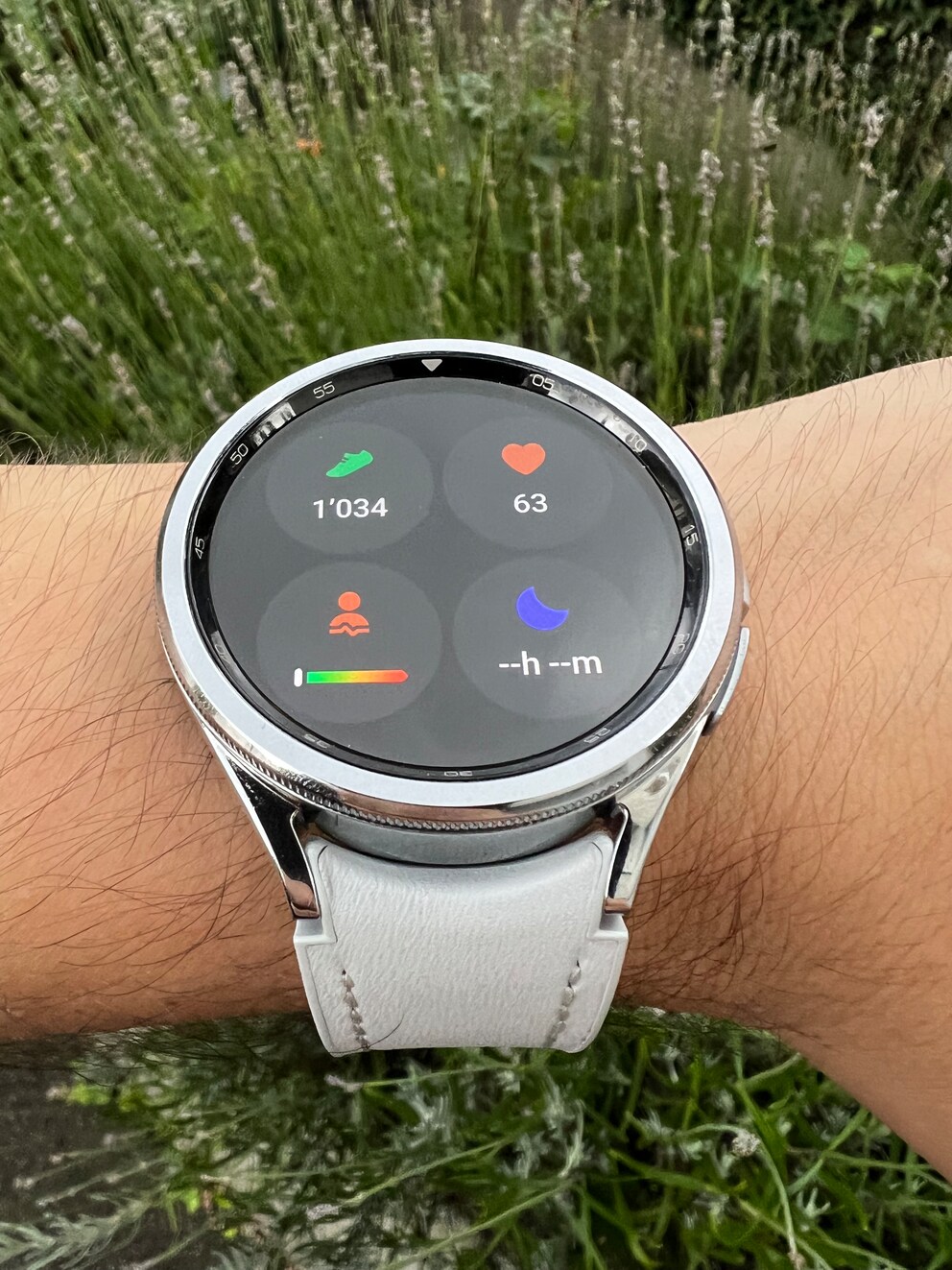 The different training modes cover pretty much all my needs. And automatic motion detection is particularly cool. The watch can pinpoint with amazing precision when I'm using my muscles more than average or when I start running. I like this because it means I don't have to fiddle about for minutes at a time on the small screen to find and start a particular training mode.
The rest of the health features aren't a big surprise. Also included are:
More than 90 training modes
Automatic workout detection
Stress tracking
Cycle tracking
SpO2 tracking i.e. oxygen saturation
(Heart rate monitoring)
(ECG)
(Blood pressure measurement)
Why are the last three points in brackets? Because Samsung keeps this info close to its chest. These functions are only available if you have a Samsung smartphone as well as your Galaxy Watch 6. What a shame.
The rotating bezel: pros and cons
The rotating bezel was probably the most eagerly awaited comeback amongst the Galaxy Watch fan base. After a few days with the Watch 6 classic, I already understand why. For one thing, the menu is pretty extensive. If you could only access it with swipe gestures, it wouldn't be nearly as pleasant to use. And yet, at the same time, it's haptically speaking very comfortable and reliable. There aren't any weird jumps, hanging or lapses.
But the digital bezel doesn't have those issues either. Samsung invested a lot of time in this. Thanks to the narrower watch edges, I also have more space to scroll. In addition, the standard version looks a lot smaller, even though it's not. And you can turn off haptic feedback if it annoys you.
The bottom line is, of course, that it's a matter of taste. Personally, I couldn't do without this mechanical component. It's too practical and convenient. I'll put up with the loss in visuals.
Verdict: solid product maintenance without any surprises
The Galaxy Watch series is the FC Bayern Munich of smartwatches. Kind of boring, kind of the same every year and yet always at the top. Only small adjustments are made.
However, the Watch 6 and Watch 6 Classic are among the best smartwatches on the market for everyday users, even without major innovations. If you have a Samsung smartphone, that is. The increasing proprietary nature of some of its health features has really irritated me.
Apart from that, there's not much to find fault with. At least, once the setup ordeal is over. The battery life is OK, even though it's less than last year. The health and sports tracking options are top notch. In terms of comfort, the watch is pleasant to wear and it's finished to a high standard. Meanwhile, the Health app offers a great overview and combines sports and wellbeing features.
In a nutshell, if you have a Galaxy Watch 5 you may as well stick with that unless you have your heart set on the rotating bezel. But if you're still on the hunt for an everyday smartwatch, this one's for one.
Header image: Florian Bodoky
---



I've been tinkering with digital networks ever since I found out how to activate both telephone channels on the ISDN card for greater bandwidth. As for the analogue variety, I've been doing that since I learned to talk. Though Winterthur is my adoptive home city, my heart still bleeds red and blue. 
---
---