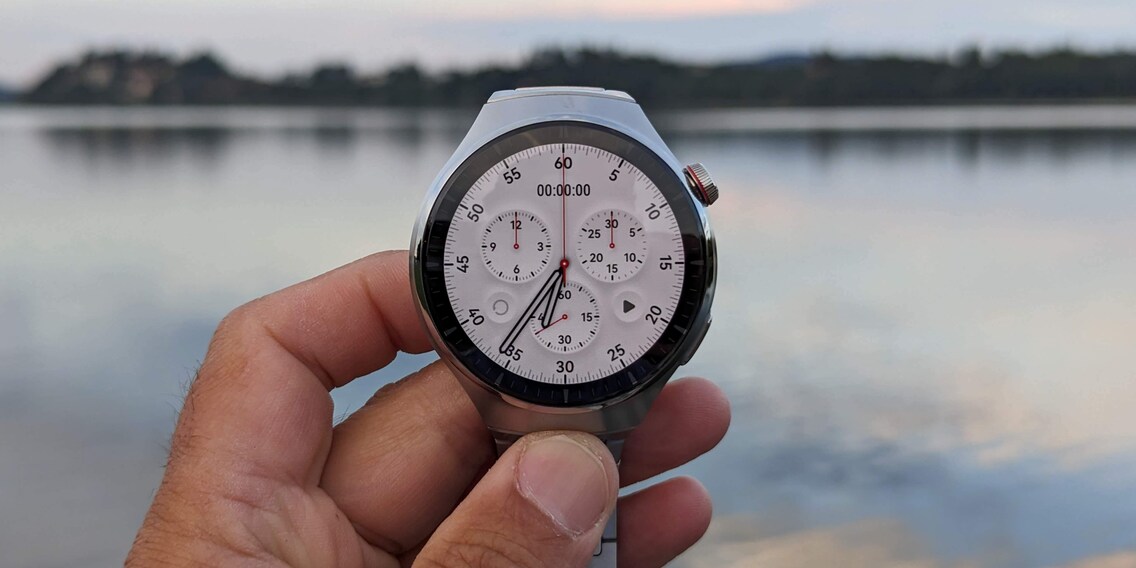 A roller coaster of emotions: Huawei Watch 4 Pro

Thrilled by the design and battery life, disappointed by its price and weaknesses – my Huawei Watch 4 Pro test leaves me undecided. Is it enough for a recommendation?
The potential for a puff piece is huge. Huawei's Watch 4 Pro is one of the nicest smart watches I've tested so far. The manufacturer sent me the top model made of ceramic and titanium. It looks absolutely elite thanks to the classic watch design.
Strap: you can switch, not that it's necessary
You can change the wristband at the touch of a button. But I didn't even get the idea to try this out until several weeks in. The metal band perfectly matches the case. Anyone who spent the almost 800 francs for the Watch 4 Pro in this combo will usually stick with it.
Alternatively, the smartwatch is available with leather or silicone straps, so you can save a bit on price here. In the end, it's a matter of taste which material you prefer.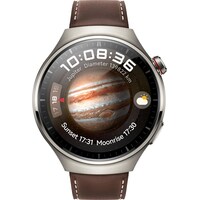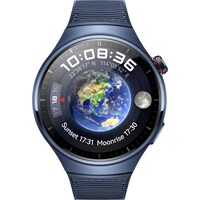 By the way, normal 22-millimetre bracelets don't fit the watch, although the clasp isn't much larger. They have to be EasyFit wristbands made for Huawei. Still, at least all models will fit any 46, 48, and 48.5-millimetre Huawei watch – like the Watch GT 3 Pro, to name one example.
Design: a really weighty watch look
Looks might be one of the most important reasons for many to consider the Huawei watch. With its 48-millimetre dial, the Watch 4 Pro is quite hefty. Whether you want to wear the watch like this on a slimmer wrist is a personal choice. Some like it, others prefer a smaller size.
Be aware, the 4 Pro is one of the biggest smartwatches on the market. I measure 112 grammes for the watch plus the strap, and I can definitely feel it on my wrist. Not that it's uncomfortable.
The visually impressive overall presentation also includes the 1.5-inch AMOLED screen. Thanks to low-temperature polycrystalline oxide technology (LTPO), the contrasts are high and blacks are really black. Overall, the screen is easy to read, even if the brightness isn't outstanding. The slightly curved sapphire crystal also makes quite an impression visually. It gives the dial some depth – just like an analogue watch.
Dials: from colourful to shrill – getting the balance just right
I'm not quite as enthusiastic about the dials. Over 20 already come pre-installed, and you can find more via the app on your smartphone. So you're spoiled for choice. However, most of the designs are very much out there, which doesn't really match the sleek hardware.
Same goes for other examples in the store. Many of the loud dials don't really fit the European mass market, but with a little time, you're sure to find a few usable variants.
The always-on display is nicely done, showing a smaller version of the selected dial. However, implementation only works for the graphics preloaded by Huawei in any case. For dials from the store, looks can vary greatly in economy mode. Sometimes they're cleverly simple, other times it's just boring hour and minute hands.
Operating system: fast, but overloaded
The design of the Watch's Harmony operating system is also a wild ride. Always gaudy, usually very well thought-out, but often a bit overloaded. For example, the weather display has the sun spinning non-stop. Reminds me of websites from the 1990s that'd make you anxious with hundreds of GIFs. And in the small-scale health centre you can call up seven values at once.
Overall, I can definitely live with the software. Especially since it runs smoothly on the watch.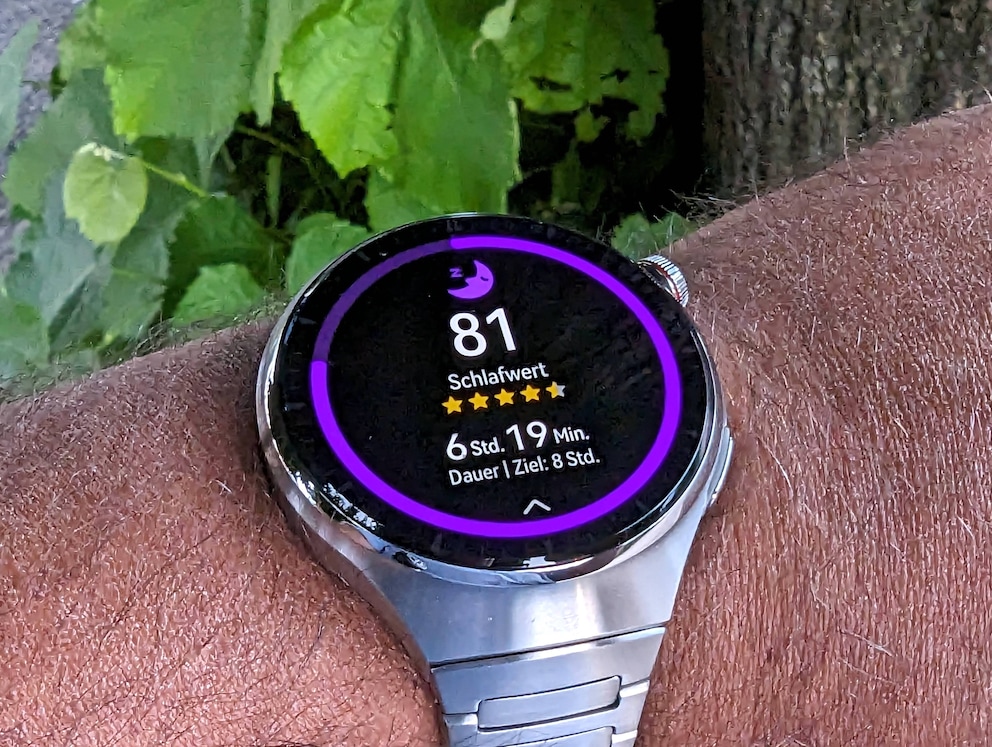 Battery: 72 hours all-around tracking
Huawei promises 4.5 days on a single charge. You can achieve this by disabling the always-on display and exercising restraint when tracking. Then you really only have to charge the 780 mAh battery every four to five days.
I used a more realistic scenario in the everyday test. The always-on display is enabled so that I can check the most important info at any time – without activating the screen completely with a turn of the wrist. In addition to steps and activity, I also continuously track my pulse and body temperature. And at night, sleep is monitored.
This way, I got about 72 hours of battery life with everyday use. In other words, I can wear the Watch 4 Pro for around three days and nights at a stretch, then I have to charge it. That's significantly more than many smart watches – but not groundbreaking either. Overall, however, it definitely helps not having to constantly look at the battery display, and you can leave the charger at home for a long weekend.
Thanks to fast charging, the watch usually didn't need much more than an hour on the charger with 10 to 20 per cent remaining capacity in the test. According to the manufacturer, it should take 90 minutes to go from 0 to 100 per cent; I pretty much got this too during measurement.
Hardware: solid features
Huawei relies on the Qualcomm Snapdragon W5 Gen 1 processor with 2 GB of working memory. The fairly new chip certainly helps apps launch quickly, and everything generally runs nice and smooth.
The rest of the specs:
1.5-inch AMOLED screen, 466 × 466 pixel resolution, 60 Hz
32 GB of storage
NFC, sensors: brightness, gyroscope, barometer, acceleration, pulse, temperature, ECG
WiFi 4, Bluetooth 5.2, LTE/4G modem
Speaker, dual band GNSS (GPS)
Waterproof down to 30 metres free diving
Apps: want more? You're going to have a bad time
Unfortunately, there's a clear deal breaker for many users. As long as you primarily use the functions that are pre-installed, you'll be satisfied with the Huawei watch. The sleep tracking is fancy, recording a short jog goes well, and I can even run an ECG and various other health parameters. Quickly checking many factors from pulse to stress is also nice at a click.
However, other basic functions from the smartwatch world simply don't exist. Huawei still doesn't offer the option to pay wirelessly with the watch. Other additional functions steal my last nerve during installation.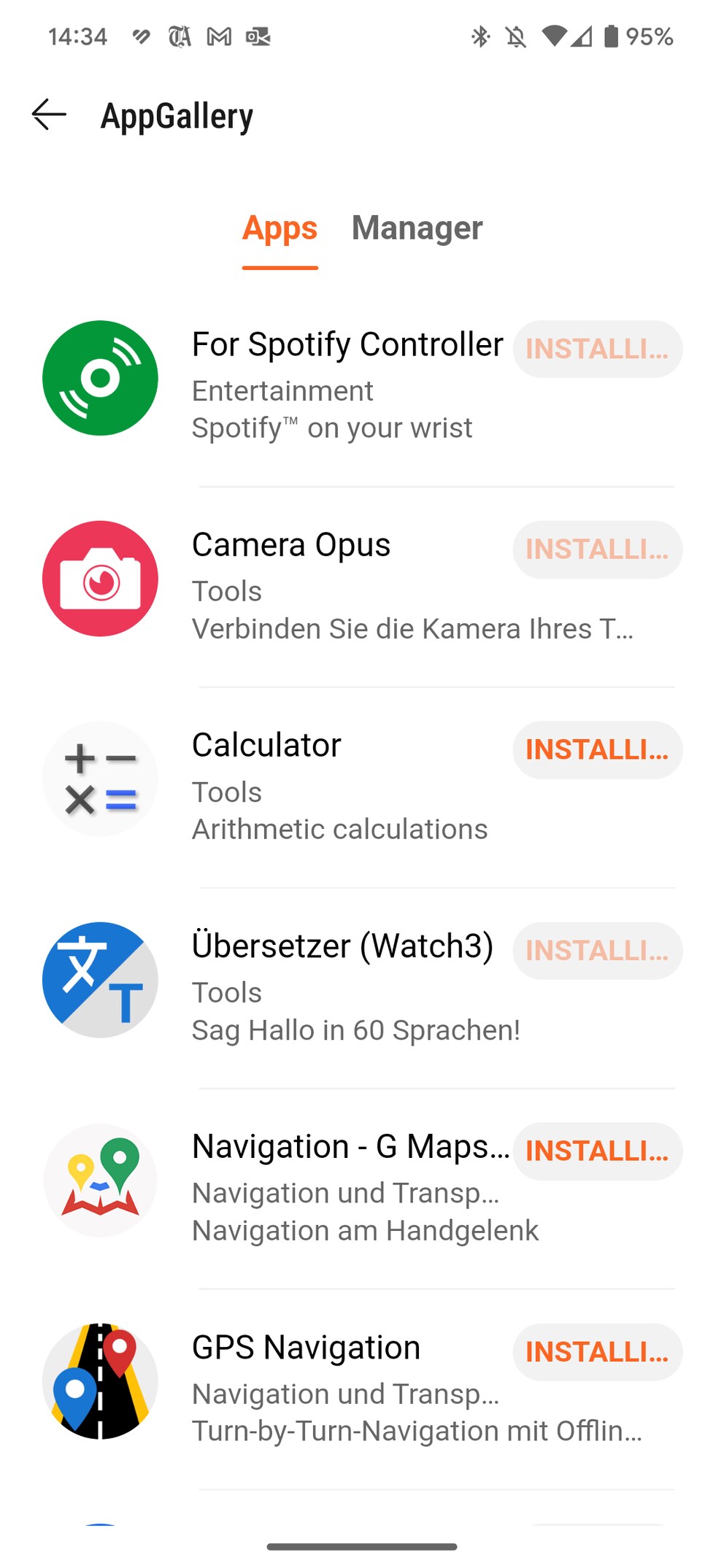 You can connect the Watch 4 Pro to any Android phone, which works via the Huawei Health app. It's OK for health functions, but it doesn't sync directly with Google Fit. This requires a third app workaround (page in German). At least one step more complicated than all other smartwatches.
There's a special store for additional watches in the Huawei Health app. Unfortunately, they're completely disorganised and can't be properly searched. In some cases, the App Gallerypp was only accessible after several attempts. All this doesn't inspire much confidence.
I've now tried some of the apps suggested at the top. Camera Opus, for example, which allows me to trigger my smartphone camera from the watch and use the watch screen as a viewfinder. However, this requires installing an additional camera app on my Android phone. Only that can then connect to the app on the watch; the normal camera app on the Android phone can't be used.
Everything is far too complicated – and on top, the connection isn't even stable and image transmission is totally delayed. Another negative is that the watch app also keeps turning on with a glitch screen until I actively close the app on the phone. The only logical response: uninstall.
With Spotify Connect to control the streaming service, but I still have to download a separate app to my phone again first. It isn't even available in the Google Play Store, only in Huawei's App Store, which I also have to download to my smartphone first. I don't think I'm the only one getting annoyed.
Conclusion: only good if you can live with restrictions
Reading the time, watch functions from timer to alarm clock, notifications and tracking without the need for special apps to connect. If this is exactly what you look for in a smartwatch, then the Huawei Watch 4 Pro is a viable option. It additionally scores with a great design and a long battery life. It's quite expensive compared to the competition, however.
But as soon as you want more or greater functionality between smartphone and watch, it fails completely. Yes, theoretically you could even pair your iPhone with the Watch 4 Pro via the Huawei Health app. But that makes no sense at all, the Huawei Watch is so much worse next to the Apple Watch in terms of software and system integration.
I really enjoyed wearing and using the Huawei watch during everyday life. However, only in a slimmed down frame as a watch, for notifications and to track my steps. Once I got deeper into the additional features, it was a lot of work and not much fun.
If you just want these exact features and are willing to spend a lot of money for the look, then the Watch 4 Pro is worth it. However, the same functions are already available on many cheaper devices. Or you can simply stick with an analogue watch for that elegant look.
Header image: Lorenz Keller
---



Gadgets are my passion - whether you need them for the home office, for the household, for sport and pleasure or for the smart home. Or, of course, for the big hobby next to the family, namely fishing.
---
---