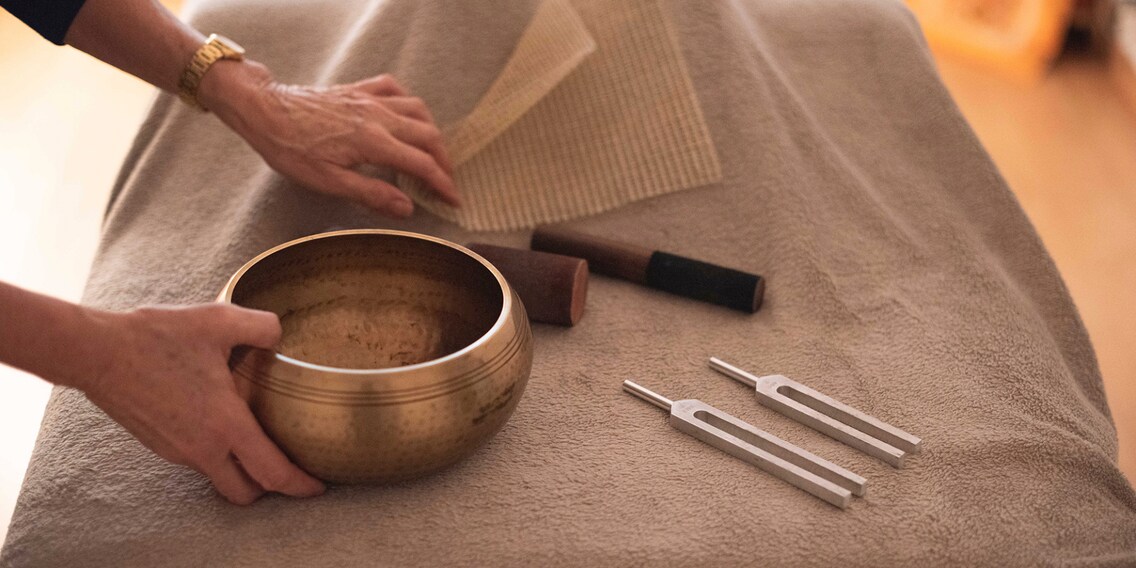 Relaxing with heavy metal

Christine Grimm is convinced that music has the power to ease pain or even help fight addiction. I went to see the sound therapist and experienced first-hand what it's like to not just hear music but to feel it in your bones.
«Do you have any broken bones?» I shake my head. Before the session starts, I'm also asked if I have a pacemaker. I say no before lying down on my back and closing my eyes as instructed. Silence fills the cosy room. Christine grabs my feet and shakes them. As my muscles start to relax, she asks me to gradually direct my attention towards my thoughts and feelings. I'm told to exhale three times to free my body from heavy or negative feelings. «This breathing exercise will help you engage in this treatment.»
I'm about to get a massage. Not by kneading hands but by sound waves. I'm getting a so-called sound massage. Christine Grimm is a sound therapist and has been treating people with music for twenty years. She uses instruments including tuning forks and singing bowls. I find it hard to imagine how that's supposed to work, but I'm at Christine's practice in Zurich to find out.
Crescendo
The sound of a gong penetrates the room and a muffled rattling rains down on me. Cue rainstick, gentle drumming, silence. There's the occasional click of Thomas' camera. I feel Christine place the singing bowls on my body. My body vibrates as they sing. There's a high-pitched whirring sound circling around my head. That's got to be the tuning fork. They're said to have a grounding effect, I learn later on.
Using another vibrating fork, Christine starts working on acupressure points on my body, head and face. I hear almost nothing but feel all the more. The sensation is like being tickled, massaged and caressed at the same time. A particularly impressive feeling remains after the fork is applied to my breastbone. It sends impulses through my body that spread like waves. You could remotely compare it to the bass pounding in your chest at a concert. Only this is more intense. It's indescribably satisfying – even a little addictive. Later on, Christine tells me that she applies this method to people who want to stop smoking. «If your body is craving that secure feeling smoking a cigarette gives you in your chest, you can replace it with the vibrations of the tuning fork.»
I turn over onto my belly. I'm covered with bowls again. There are more of them this time. «Your back is made up of lots of bones. They conduct the sound through your body. This may cause pain if the bones are broken. Emergency doctors use tuning forks to detect fractures,» Christine explains to me during the initial consultation. «Each singing bowl emits a different sound and is traditionally made of an alloy of seven different metals.» During my massage, she works her way up the musical scale with the bowls. At times, all four of them are humming away on my back. The weight of the heavy metal in combination with the vibrations make me feel comfortably sheltered. Right before the end, a type of wind chime sets in. It sounds restless and harmonious at the same time. After 45 minutes it's all over. I let the experience sink in with a breathing exercise and remain lying down until I'm back in the here and now.
Feeling over hearing
Relaxed and slightly woozy, I go back to the next room a few minutes later. Photographer Thomas and Christine are already waiting for me. «You might feel after-effects in the coming hours and days. These could include unusual dreams, tears or old feelings arising. Music is closely tied to our emotions,» Christine, who has a German-American background, explains to me. «What I do is hard to put into words. That's why I prefer to show it to people. They immediately feel that the sounds move something in them. It's similar to a live show. There's no way you would put a concert on par with listening to a song on your smartphone. And that's exactly why people enjoy going to concerts, because they perceive the music in a totally different way.»
Backstage
Christine Grimm is a pro when it comes to concerts. She grew up in California and was on the road as a singer and guitarist with various country rock bands for a long time. In 1997 the single mum suffered a nervous breakdown. «It all got too much for me. I was crying all the time. That's when I came across a magazine on sound healing.» Christine decided to take part in a seminar in Germany. «The seminar was supervised by the independent brain researcher Günter Haffelder. He showed us what effect the sounds had on our brain and nervous system. It was fascinating and helped me deal with my problems.» Today, it's Christine who offers sound massages and therapies with vibratuning.
«Voices and instruments can clear blockages, help beat sleep disorders and even addictions. This is not woo-woo, as we like to call it in the US. There are physical laws behind it,» says Christine. It's all about giving people what they lack. Each part of the body is assigned a tone, a frequency. «If you have a problem in a specific area, a complementary tone is used in the massage or therapy. The tone completes the problem's tone to a fifth. These complementary tones feel particularly pleasant.»
Voice analysis is also part of the therapy. Christine applies this method to create a chart of her client's voice by using a microphone and tuner. The method reveals which tones are pronounced and which aren't. The voice is considered the expression of the body and brain. According to her, vocal deficits stand for a person's weak points. «Your voice is very personal and says a lot about you,» 67-year-old Christine explains. When I ask her what my voice is saying about me, she replies: «You need grounding. You have an airy voice.»
Feeling safe and sound
Christine does not consider herself a healer. «All I do is try to activate the healer within my clients so they can help themselves. By listening to sounds or singing sounds. Those are the tools I can provide on their path to relaxation. But it's up to each of them to find their inner balance again.»
Ramona (name changed by the editor) is a client who received one of those tools. She regularly receives treatment from Christine and tells me about her experience: «At first I just wanted to relax. The sound massage helped me switch off.» A difficult phase in Ramona's life followed – panic attacks, a kidney defect and a doctor's diagnosis that there was a cyst on her uterus. This resulted in severe pain during her menstrual cycle. Her doctor recommended medication. «I was taking up to eight tablets a day just to cope with the pain. At times I was incapable of moving from one room to next,» she tells me.
That's when Ramona decided to try sound therapy. Together with Christine, she looks for a bowl with a sound that intuitively appeals to her. It will also be the bowl she'll be working with at home. «Many people are guided by visuals when buying a bowl. But the look of it doesn't matter. The most important thing is the right sound. It's something a low-quality bowl can also offer. It doesn't need to be one from 18th century Tibet,» Christine explains. Alternatively, you can use your own voice by simply humming the sound or playing it back from a CD. Ramona chooses a bowl that resonates in E. This comes as no surprise to Christine. «This tone is commonly used when working on the kidneys.» Since her sessions with Christine, Ramona has had no more pain. She's certain it's not a placebo effect.
«The advantage of this type of therapy is that you don't need to tell your sound therapist anything about yourself if you don't want to. All the therapist needs to know is right there in the voice analysis or revealed by your reaction to certain sounds,» Ramona says. According to Christine, relaxation is the key to self-help. «Victims of sexual abuse often struggle with being touched. So a regular massage is out of the question for many of them. Sound offers a great alternative.»
«Some of my clients wish to improve their ability to concentrate. I treat them with a tuning fork that vibrates on a beta frequency. For sleep disorders, I rely on delta waves. They oscillate at a frequency of four hertz and help the brain switch off,» Christine explains. She goes on to say that it's important for her to respond to the needs of her clients because every person is unique. «We all have different brain frequencies. These frequencies like some of my instruments better than others. That's why it was important to me during our treatment session that you tell me if something feels uncomfortable.»
Diminuendo
I had no unpleasant feelings during my treatment. Quite the opposite. I was deeply relaxed. However, I had a stiff neck the following day. A stiffness that affected all sides. After three days of discomfort, everything had faded. My neck, which is normally very tense, felt as light as it hasn't done in forever. Were these the after-effects Christine was talking about? Who knows... But one thing is clear. I'll definitely be spending more time on Christine's couch in the future.
---



As a massive Disney fan, I see the world through rose-tinted glasses. I worship series from the 90s and consider mermaids a religion. When I'm not dancing in glitter rain, I'm either hanging out at pyjama parties or sitting at my make-up table. P.S. I love you, bacon, garlic and onions. 
---
---
---