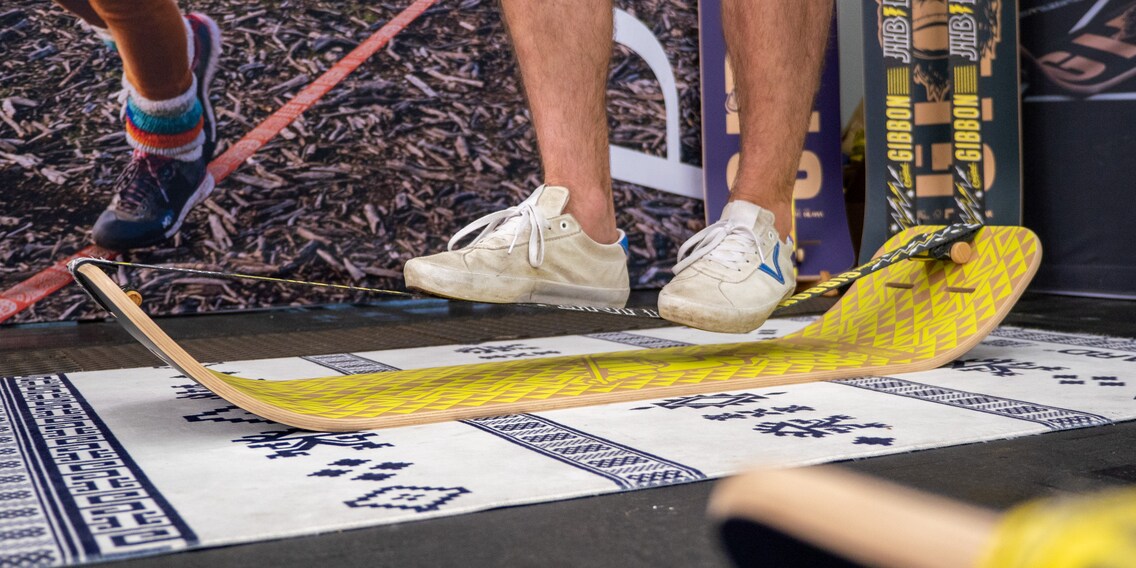 Probably the shortest slackline in the world

The Giboard from Gibbon brings slacklining to your living room. The wooden board looks good, and you can do a lot with it: you can exercise, make a fool of yourself or even cut some great shapes.
If you want to venture far and wide (or rather, high), Giboard isn't for you. Fourteen centimetres above ground and a good metre long, it's prime for use in both the playground and the gym. It requires balance, and delicate, creative movements. At Gibbon's booth at the OutDoor by ISPO tradeshow, I find out that the manufacturers wanted to make something that could also be used indoors and in bad weather. What emerged was a curved wooden board with a built-in mini slackline. It looks good. I'm keen to try it out straight away, and Pedro gives me a little private lesson.
My first impression? Yep, it feels like slacklining. And boy do things get tricky when I need to do more standing or turning. The Giboard definitely presents a coordination challenge, and has a certain style about it.
A work of art made of beechwood
For 15 years, Stuttgart-based Gibbon has been allowing people to dance on ropes between trees. If you don't have trees, but you do have some space, you can practise on the Slackrack, covering at least a couple of metres. For very short distances, there's now the Giboard. With this, your goal isn't to reach the other side. The trick is to incorporate the movement of the board, which, when things are going well, is a bit like skating.
Even if your first attempts don't turn out to be especially elegant, the Giboard itself is an eye-catcher. It's made of FSC certified beechwood from the EU and comes in various designs. You can either choose a set containing a board and line, or you can choose one of each element to combine yourself.
«Lock & Roll» with no tools required
It doesn't matter whether you're doing high-spec tricks on a Jibline or keeping it simple with a Classic Line. At short distances, width is the most important factor. The dynamic on the Giboard is mostly created by the give and take of the wood.
You can regulate the basic tension by putting pressure on the line accordingly. This works by way of a clamping system called «Lock & Roll» with just a little elbow grease and no metal parts. Wooden locking pins do the job. The Giboard can hold someone weighing up to 100 kilogrammes. Alternatively, a couple of centimetres underneath, you can attach two lines next to each other.
However, the idea that «two is better» doesn't apply here. Quite the opposite, in fact. There's a 60-kilogramme weight limit for double lines. This is down to the fact they're not fixed in the middle of the board, meaning the wooden structure has to withstand more. Children, and adults of a light build can take their first steps on it a few centimetres above the ground; the low-stakes nature of it being what makes it fun. Anyone can make some impromptu moves on it. Once you've mastered standing, turning and balancing, you'll start tipping the board and honing your skills. Not only that, but the balancing act on the short line is also suitable for all kinds of strengthening and stabilisation exercises.
Freestyle meets fitness
There are plenty of possibilities, be it lunges or push-ups whereby you have to keep your body stable, or using the trampoline effect for dynamic fitness – and it's worth working on your fine motor skills. It's not just your ankle joints that'll thank you for it. The company cheekily tells me: «We have the only sports equipment that you can injure yourself with and take directly to rehab». Not quite. I reckon I'd manage that with the Roller Bone too.
I'm reminded of this balance board. Like the Giboard, it's visually appealing, which is enough to earn it a place in my everyday life. The almost 4.5-kilogramme Giboard falls into the same category as the pretty fitness gadgets that win me over every time. This mini slackline is something I can actually see myself using in the living room, either as a piece of sports equipment or a toy for the whole family.
Would you put a Giboard in your apartment?
Sure, I like it!
Nah, not my thing.
The competition has ended.
---



Sports scientist, high-performance dad and remote worker in the service of Her Majesty the Turtle.
---
---
These articles might also interest you
Skeleton Loader

Skeleton Loader

Skeleton Loader

Skeleton Loader

Skeleton Loader

Skeleton Loader