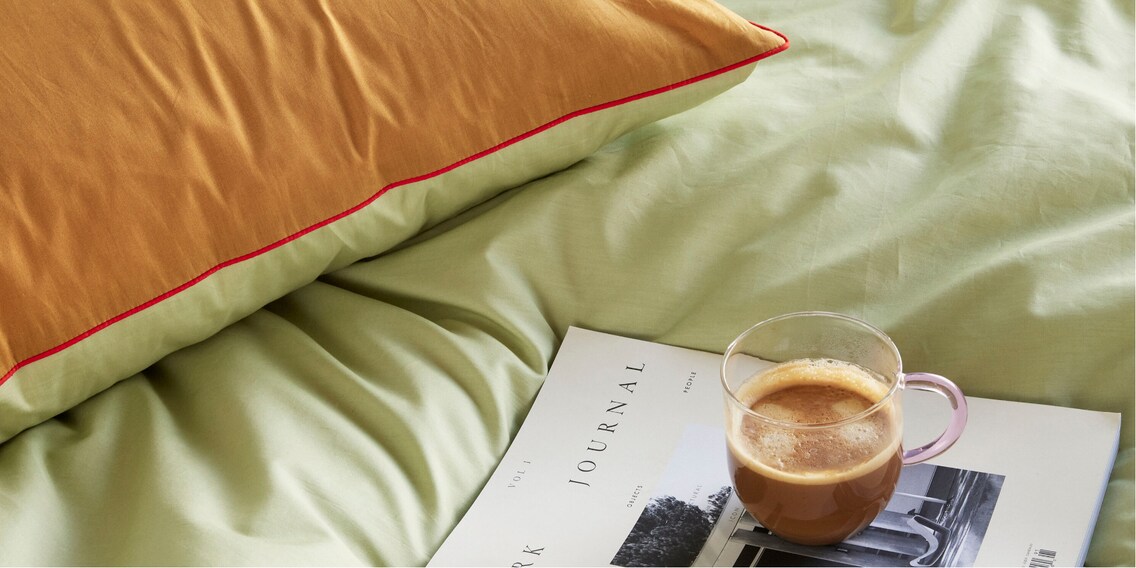 Pia's Picks: the easiest interior hack for injecting your home with freshness

When we say that «the tables have turned», we're usually talking about being lucky – or the opposite. Turning down your bed, on the other hand, can only lead somewhere good.
It's such a simple way to spice things up. And yet, it works every time: changing your pillows, blankets and bed linen. Textiles can lend a new look to any room in a flash. A new look at home is exactly what I need – I'm getting sick of winter with its wall-to-wall greys and monochromatic decor. I want spring. Indoors as well as outdoors. Mostly in my bedroom, but in my living room, too. That's why I'm bringing in some colours and patterns that put me in a good mood as soon as I get up in the morning.
As early as 1950, Le Corbusier proved with his «Unité d'Habitation» homes that by adding colourful bricks, even grey, concrete blocks can be transformed into explosions of colour. So, if you want to give your room a makeover, the bed is the first thing you need to spruce up. Chunky and rectangular, it takes up a lot of space. On the other hand, that's exactly why it's so full of possibility.
The uninterrupted surface of the bed serves as a blank canvas. If you focus on the individual elements and build it up from there, it'll become an artistic image. To do that, you'll need pillows, blankets and preferably a reversible bedspread with two different colours or patterns functioning as geometric blocks. This way, you can quickly flip one of the pillowcases inside out, contrast two complementary colours and achieve a colour blocking effect. Alternatively, you can do a bit of pattern mixing – just arrange two pillows with differing prints next to each other. Take this striped pattern contrasted with a block colour pictured by the brand Hübsch, for example.
Whichever way you turn your pillows, two-colour combos can only be a good thing. The advantage of brightly coloured bed linen is that it freshens up the room, and is eye-catching, too. Its rich, solid colours hide stray hairs, while patterned versions conceal creases. And you don't have to wait for laundry day to create a new look. Turning over the bed cover is enough to conjure up a new look and feel. That's what makes reversible bed sheets so versatile in comparison to monochrome ones.
In the series «Pia's Picks», I regularly share items from my watch list that might appeal to you, too. This time, it's reversible bedding; next time, it's show-stopping plant pots.
Images: Hübsch"
---



«There are only two ways to live your life. One is as though nothing is a miracle. The other is as though everything is a miracle. I believe in the latter.»
– Albert Einstein
---
---
These articles might also interest you
Skeleton Loader

Skeleton Loader

Skeleton Loader

Skeleton Loader

Skeleton Loader

Skeleton Loader