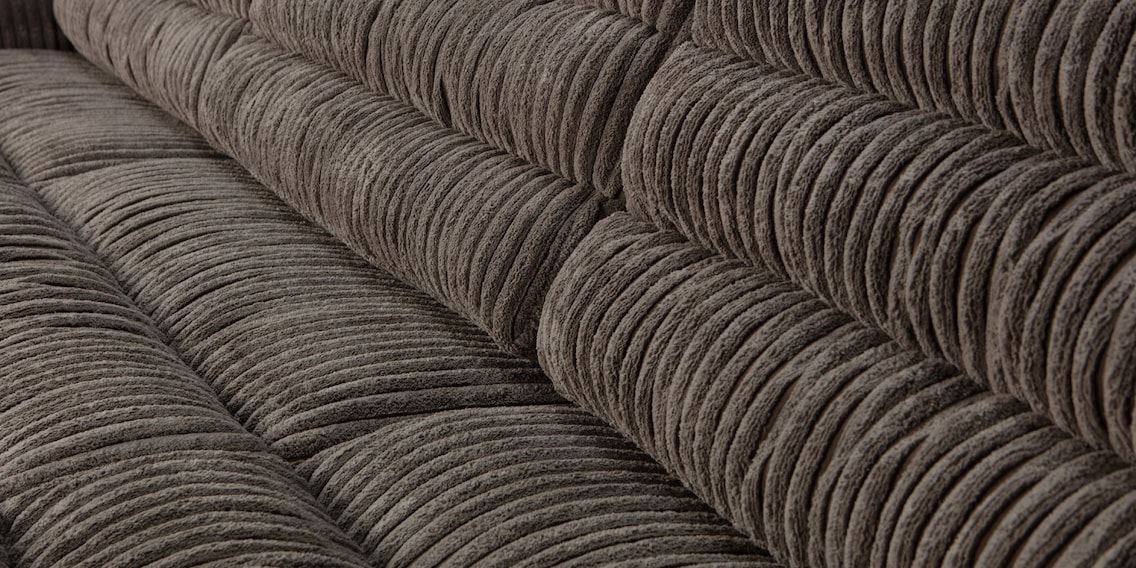 Pia's Picks: ribbed for your pleasure

Translation:
Julia Graham
Ribbing is known for giving more pleasure when it comes to lovemaking. With furniture, it's no different.
It always used to leave me cold when cord came into fashion. But now that it's made a comeback in furniture creations, my interior design heart just skipped a beat. In terms of room styling, this 70s fabric pleases the eye as well as the skin by teasing its sense of touch. What's more, its function improves my overall well-being. All of this makes me think that its revival in interior design heralds more than just a seasonal fashion trend.
The aesthetics
Cord shimmers as though it constantly has a spotlight on it. It turns anything it adorns into a highlight. The stripes on cord are the result of a weaving technique in which additional gauze thread is used alongside the usual yarn system. After weaving, the gauze that later forms the stripes is cut and sheared off to leave behind the shimmering, velvety surface that's guaranteed to provide room accents. But unlike velvet, cord stripes have a distinct advantage. They give structure to the surface and lend every furniture cover a decorative pattern. This is perfect if you find flowers or animal prints too much of a commitment and would rather opt for something plain. A single decorative cord cushion breaks up a drab sofa. The same applies the other way round. If you like to commit and go for a whole cord sofa, all you need is a simple and plain decorative cushion to create an eye-catching image.
The feeling
Like cotton wool and the sun at the same time. That's what a cord cover feels like on your skin. It heats up more than cotton or linen and is also softer. Especially if it's narrow-wave corduroy. All in all, there are four different types with varying degrees of softness. They're defined by the number and width of ribs. Fabric that has no more than 10 ribs woven across 10 cm is known as 10-wale corduroy. When there are 10 to 25 ribs in the space of 10 cm, you're looking at wide-wale corduroy. Meanwhile, if the fabric boasts 25 to 40 ribs, it's called corduroy or Manchester. If there are more than 40 ribs, you're dealing with narrow-wave corduroy. By contrast, 10-wale and wide-wale corduroy are rougher but also more tactile.
Handling
As well as its aesthetic benefits, this ribbed fabric also wins you over with its quality. It makes the fabric particularly hard-wearing. In the world of fashion, that's why cord is predominantly used to make jackets and trousers, which need to withstand more external influences than a jumper, such as the weather or their wearer wriggling about on an office chair. When it comes to interior design, this tried and tested fabric is particularly suitable for seating areas. Unlike with clothes, where the height of the gauze content of the fabric doesn't always go down well because it looks like it suddenly adds a few kilos to the hips, the fabric used for the likes of chairs promises higher abrasion resistance. And you know what the best part is? By the nature of the structure of the fabric, you hardly notice a few stains at first glance.
In the sphere of fashion, cord may only seem exciting in the colder months. But in interior design, I think it's capable of being longer-lasting. That's when I first start to appreciate the qualities of this lucky find from the past.
*In my regular «Pia's Picks» series, I share items from my watch list that you might like too.
Header image: Be Pure Home
---



«There are only two ways to live your life. One is as though nothing is a miracle. The other is as though everything is a miracle. I believe in the latter.»
– Albert Einstein
---
---
---
These articles might also interest you
Skeleton Loader

Skeleton Loader

Skeleton Loader

Skeleton Loader

Skeleton Loader

Skeleton Loader