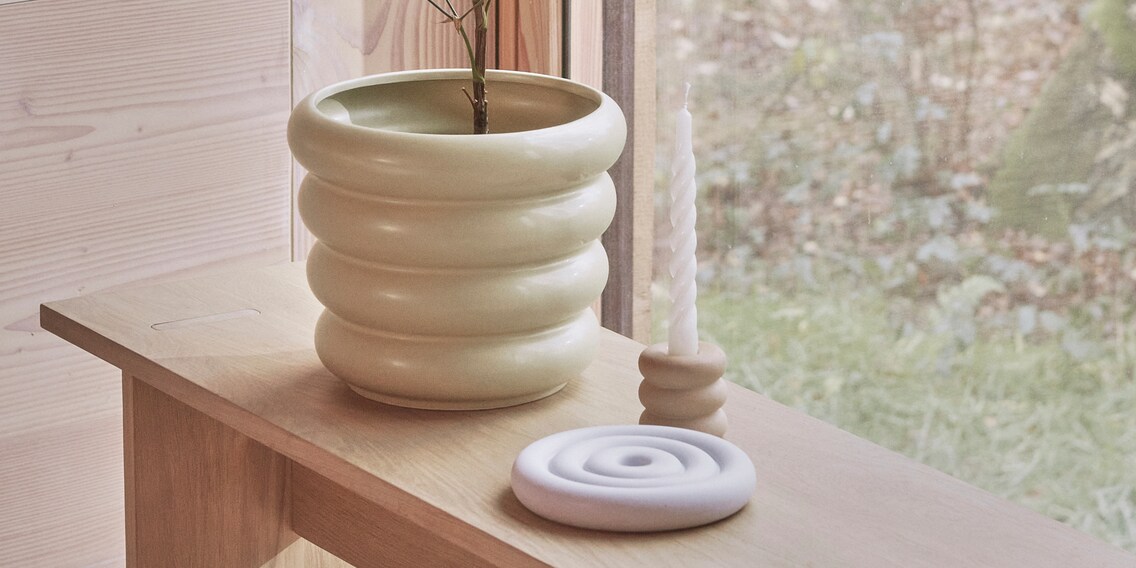 Pia's Picks: fabulous flower pots

These plant pots deserve to be showered with water, but also with compliments. After all, they're total showstoppers. With or without plants.
Plants have long been in the limelight. Now their containers want a piece of fame. From cachepots to plant ladders – they're all ready to take the stage with a brand-new performance. Hoping to draw some attention to the green but mainly to themselves.
Fancy looks and names
Now that the plant pots are sporting a new look, they also want to be rebranded. And the creative designers at Bloomingville have granted them this wish. Take «Ebbie», for example. She's no longer a cachepot but a «cane frame with woven rattan.» Sounds fancier and actually is. Her beautiful weave plays the main part in an elegant 19th century Viennese coffee house.
«Qubilah» by Hübsch is no classic flower pot either, but a «Kasten». And it has aspirations. So much so that it almost covers the plants entirely with its colourful metal casing. Clearly, it wants to bask in the spotlight alone.
Ferm Living's design piece rises to a new level, being described as a «console table». With its chic lines and two platforms, it showcases plants in a big way. But above all, it wants to impress with its slender shape – inside and out.
Showstoppers like these will stick out in your home; but that's fine. The eclectic mix is held together by the recurring green. So don't worry about going for the wavy terracotta pot instead of a standard version. And the best part? If you're not blessed with green fingers, you can use these boxes, consoles and cane frames as decorative objects and ditch the plants altogether.
In the series «Pia's Picks», I regularly share items from my watch list that may appeal to you, too. This time it was show-stopping plant pots. Next time, we'll I'll be taking a closer look at garden and living room furniture that's becoming increasingly hard to tell apart.
Header image: Oyoy"
---



«There are only two ways to live your life. One is as though nothing is a miracle. The other is as though everything is a miracle. I believe in the latter.»
– Albert Einstein
---
---
---
These articles might also interest you
Skeleton Loader

Skeleton Loader

Skeleton Loader

Skeleton Loader

Skeleton Loader

Skeleton Loader