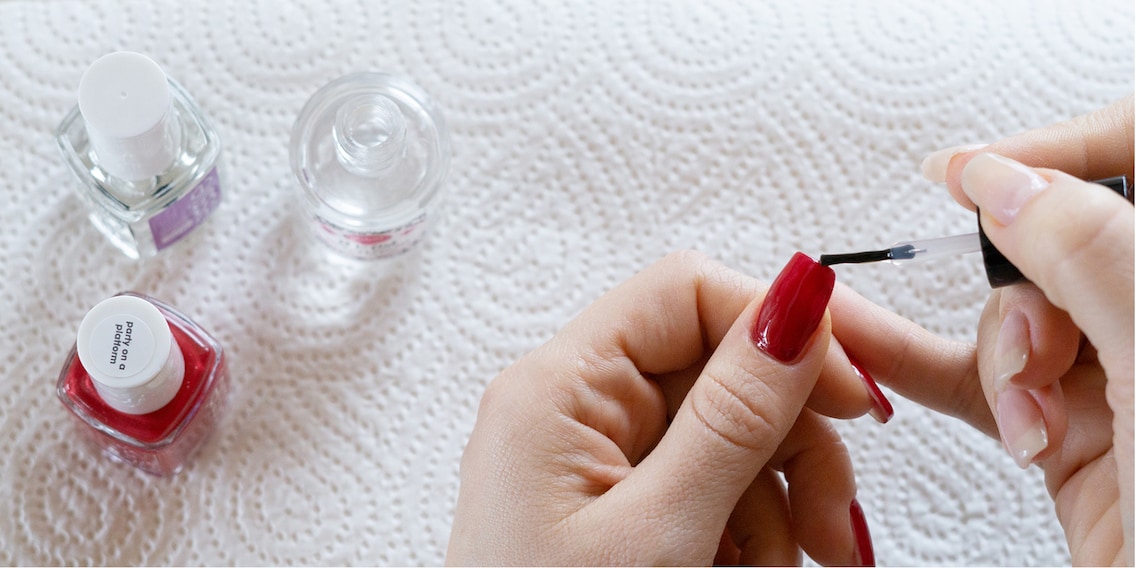 Perfectly polished nails
How will my manicure last longer and what is the best way to get rid of nail polish? In the second part of our series, nail art blogger Vanessa Bernath reveals her tips and tricks for polishing nails.
An unsteady hand makes precise application difficult and more than often nail polish makes its way rather to the cuticle than the nail. What to do when this happens? I asked nail expert Vanessa Bernath for her tricks on fixing mishaps, making polishes last longer and ways to really highlight your manicure.
Timing
Well looked-after nails are the basis. «Ideally, several hours are between care and polishing. That's how you make sure that care products such as jojoba oil or hand creme are fully absorbed and thus won't intervene with the adhesion of the nail polishes,» says Vanessa. Therefore, schedule enough time for your manicure. If you want to be super certain, start with the care routine in the morning and finish with the polish in the evening.
Also avoid washing your hands directly before applying the polish, since the water softens your nail plate and the polish will be less likely to adhere properly.
Prep and prime your nails
«If you dehydrate your nails and make sure there are no oils left on them, your nail polish will last significantly longer,» Vanessa explains. To do so, either use alcohol-soaked pads from the pharmacy or pure rubbing alcohol (isopropyl-alcohol) on a cotton pad and rub it over your nail plate. Pay special attention to the edges of your nail plates. After one or two minutes, your nails are dry and ready for the next step: the base coat.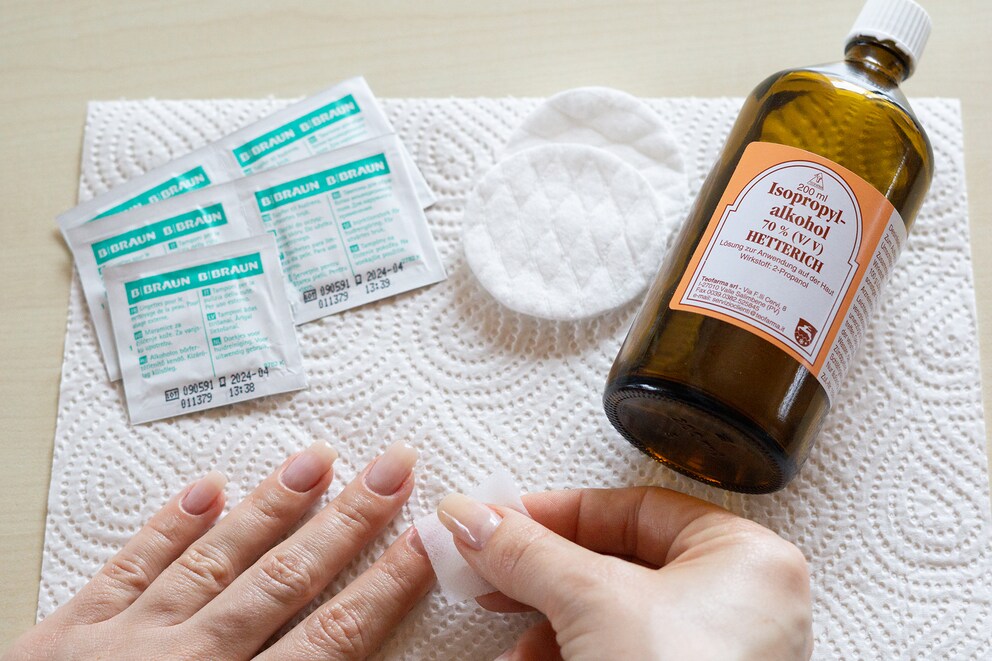 Don't go nude
A base coat will protect your nails from discolouration, which often is a side effect of colourful polishes. «If you apply a layer of transparent base coat before adding a colour, the base coat acts as a barrier between the nail and the colour polish,» Vanessa explains. Depending on the base coat, the colour layer might even last longer. «However, I was never able to detect any form of health benefits, even though base coats are said to have this side effect.»
The proper technique
Leave at least one millimetre of space around your cuticle area when polishing. «Don't polish too close to your cuticles or even beyond the cuticle. By doing this, you prevent the varnish from flowing under or past the skin.» This takes practice at first. Applying the colour polish more than a millimetre away from your cuticle will even visually lengthen your nails. Don't forget to polish the nail sides and wrap the nail tip with the polish. This way, the final look is neat and clean and you prevent early chipping.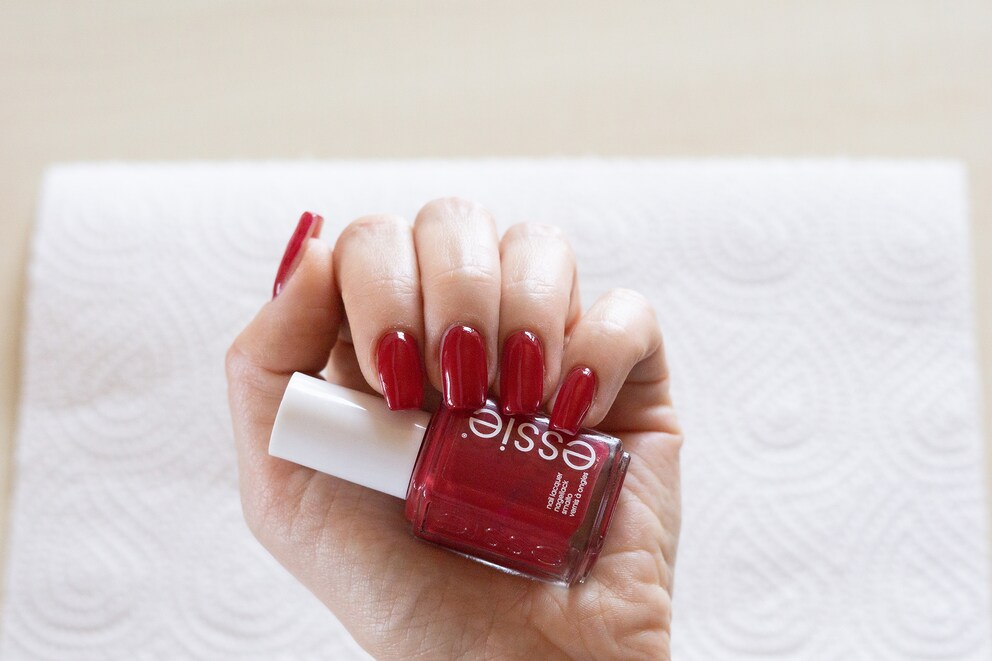 Nail varnish
10.10
per piece for 2 units
748.15/1l
Essie Nail polish
57 Forever Yummy, colour paint
Sadly, the colour «Party on a platform» which Vanessa is using here is not available any more. It's from a limited essie collection.
Correcting mistakes
You messed up in some areas? Use a nail polish remover pen to undo your mishap. In case the pencil has dried up, simply dip it into nail polish remover to rehydrate it. Alternatively, the clean-up can also be done with a thin, angled brush. «Soak a cotton pad with nail polish remover and also put some remover into the lid. To protect your table, cover the work surface with aluminium foil or something similar. Now dip the brush into the nail polish remover in the lid, wipe it off at the rim of the lid and carefully run it over the area of your mishap. Then wipe the brush on the cotton pad.» This technique helps keep the brush clean, since the cotton pad soaks up the leftover colour and the brush is ready for the next round. «Correcting is easier as long as the polish is still wet.» That's why it's best to polish one nail after another. This way, you won't be pressed for time during the clean-up.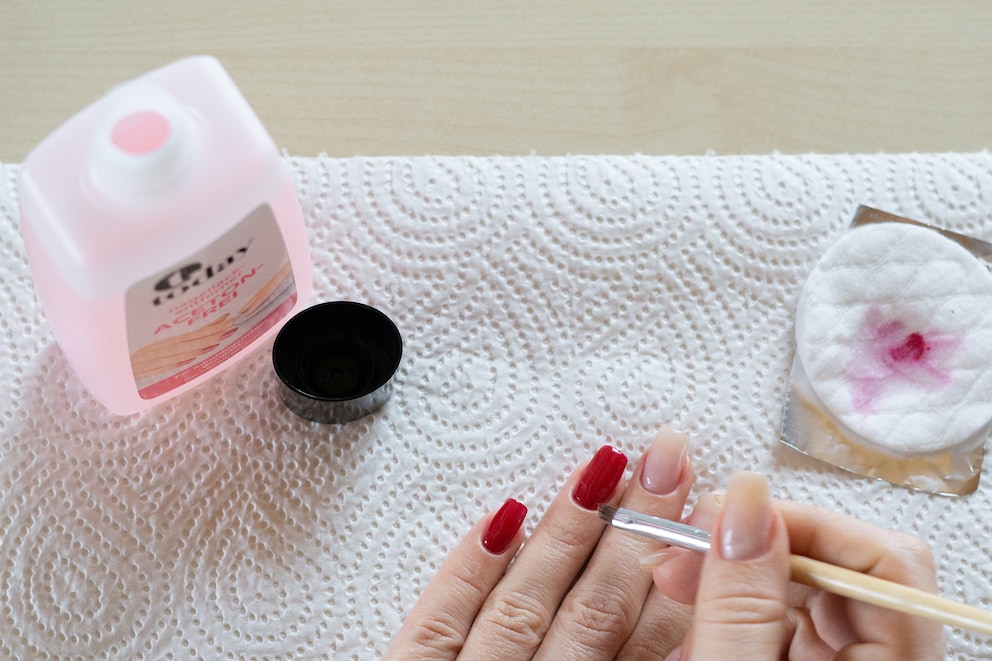 Seal your work
A so-called top coat provides a beautiful shine and seals in the applied colour. It also helps avoid colourful scratch marks on furniture or walls, which can sometimes occur when they come into contact with the painted nails. According to Vanessa, inexpensive top coats work just fine for this. However, these will take a bit longer to dry. «If you want to speed up the drying time, I recommend using the top coat by the brand 'Glisten & Glow'. It's incredible and ensures that the nails are touch-proof in a few minutes despite two or three layers of colour polish.» Wrapping the tip and the sides of the nails is just as important here as with colour polishes.
Nail varnish
12.10
per piece for 2 units
896.30/1l
Essie Good To Go
Hands off acetone
When removing the nail polish, Vanessa recommends an acetone-free remover, since acetone can be harsh to natural nails. «My personal favourite is 'Remove & Chill' by the brand 'The Sign Tribe'. Its creamy consistency makes it particularly pleasant and nourishing. However, cream removers work a little differently than liquid ones: apply to nails, leave on for ten minutes and then remove with a paper towel.»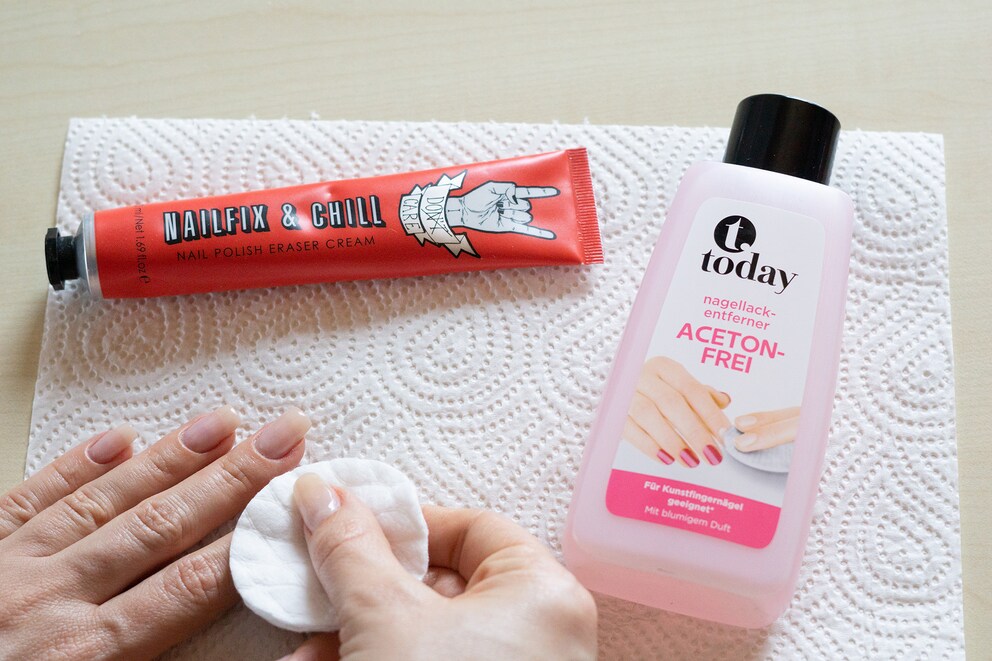 Are single-coloured nails too boring for you? In the next part of the series, Vanessa reveals which everyday items you can use to create inexpensive, simple nail designs.
This is the second article in our nails series with Vanessa Bernath. Do you have questions or anything to add? Don't hesitate to leave a comment. For more inspiration, check out Vanessa's Instagram account @poesiepixel.
Photo: Vanessa Bernath
---



As a massive Disney fan, I see the world through rose-tinted glasses. I worship series from the 90s and consider mermaids a religion. When I'm not dancing in glitter rain, I'm either hanging out at pyjama parties or sitting at my make-up table. P.S. I love you, bacon, garlic and onions. 
---
---
These articles might also interest you
Skeleton Loader

Skeleton Loader

Skeleton Loader

Skeleton Loader

Skeleton Loader

Skeleton Loader