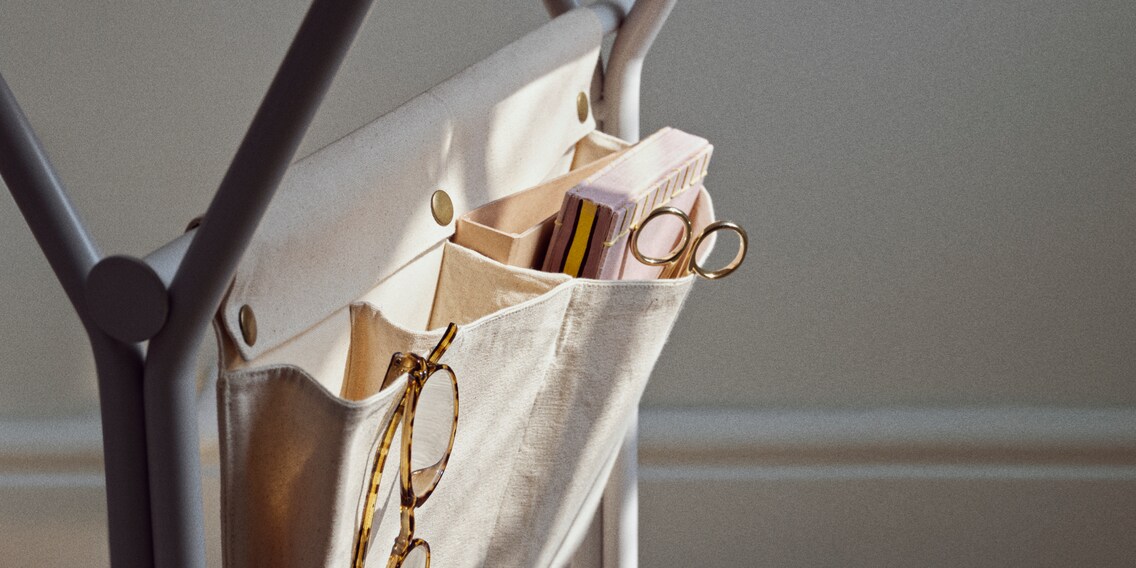 Organisers: replacing storage boxes with bags

Hanging pocket organisers used to live a fun and colourful life in children's rooms. Today, they've become elegant storage solutions for well-designed living rooms.
Scandinavian furniture makers Ferm Living and Broste Copenhagen are famous for designing collections that feature soft shapes, varied textures and special details that allow you to create surprising effects. Their wall storage bags are a great example of this. They hold toys, magazines or garden tools – all while looking elegant.
In the eighties and nineties, these organisers were often seen on walls or doors, however, they often featured colourful animal motifs. Today's models are more neutral, often in muted colours and made of linen.
The good idea of the two brands is easy to copy. Just get yourself a hanging organiser with several pockets and store small items in it that you always want to have at hand but don't want lying around. Attached to your inside or outside walls, they free up floor space and replace bulky boxes. That's why they're perfect for small rooms.
Some of the designs are suitable for furniture and are created so that they can be tucked under a sofa armrest. They can also be fixed with screws or hooks. This way, they add storage space to the side of a shelf or cupboard. Find the matching colour and they'll blend in with the furniture and become virtually invisible. Or go for colour contrasts and turn your storage solution into an eye-catcher.
This effect can also be created with conventional jute bags. Most models come with a handle and can simply be hung on the wall to create elegant storage space. Positioning several bags next to or on top of each other turns simple bags into a fancy organising solution. Showcase them by choosing a beautiful wall hook if you fancy.
---



«There are only two ways to live your life. One is as though nothing is a miracle. The other is as though everything is a miracle. I believe in the latter.»
– Albert Einstein
---
---