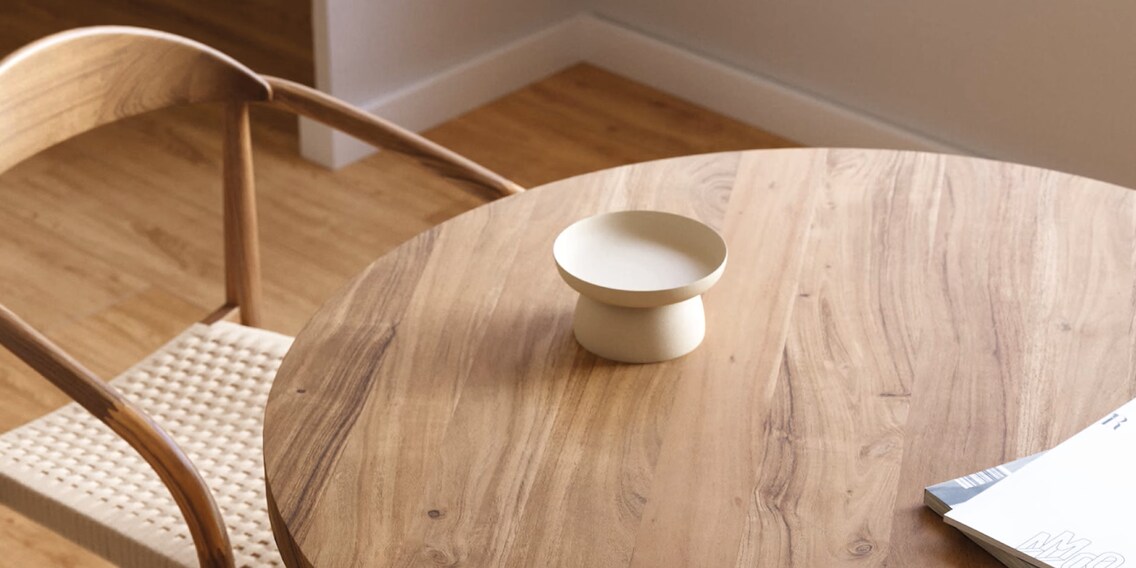 My top ten expandable dining tables

Welcome to my deep dive, where I delve into our furniture range to find my favourites that have nailed both form and function. Today I'm looking at: extendable dining tables.
Kitchens and living rooms often double up as dining rooms. That's where tables with an extendable part come in handy. While you can keep them nice and compact for weekday meals, you can bring out their full potential when guests drop by at the weekend. These days, they're not as clunky as the earlier models you might have seen at your parents' or grandparents' home. With the following stylish and practical models, you'll have everyone sitting round the table in a few simple steps.
1. Envelope: 2 to 4 people
Strictly speaking, the Envelope design by Polish company Ragaba twists out more than it extends. It takes just two steps to expand the table's surface: first, you turn the tabletop by ninety degrees, then you flip it open like a book. Another handy feature is the drawer where you can keep serviettes or placemats. Its visual highlights are the frame made of solid ash wood, the tapered legs and the tabletop. The latter has a semi-matte lacquer finish and is available in 16 different colours. This broad selection coupled with the minimalist and clear shape make Envelope easy to integrate into a contemporary or Scandinavian interior design style.
2. Colleen: 2 to 4 people
Most extendable dining tables are rectangular. Not so Colleen. The table impresses with curves that nestle nicely into any room. That makes it perfect if you tend to be clumsy and occasionally bump into furniture. The table surface consists of two parts, so you can pull it apart and add the two included tabletops in the middle for expansion. There's a nice detail, too. In its extended state, the grain of the solid wood and oak veneer comes out even better. Thanks to its natural look, Colleen is a perfect match for a country house, but also a loft. The only downside: in its extended state, the tabletop isn't equally thick throughout.
3. Biface: 2 to 6 people
Although the extendable Biface table has a minimalist design, it still stands out because of its hexagonal shape. It's a good choice if you're not a fan of round or square tables and like to have lots of people over. With its slanted edges, it can sit up to six people in its extended state. Biface looks great next to vintage pieces, but also among modern furniture.
4. Glimps: 2 to 6 people
This table's a great match if you live in a small apartment and prefer neutral designs. Glimps by Dutch brand Zuiver is compact and simple in shape, so it doesn't make a room look cluttered. The table edges are rounded, which makes the design more inviting. You can extend the tabletop by pulling the sides apart. This reveals two boards tucked away inside the table. These can be spread out like wings. It's a mechanism also referred to as butterfly function. Glimps is available in three models: ash wood, black stained or naturally treated walnut. The table legs are made of solid wood and the tabletop of lacquered veneer.
5. Metz: 4 to 6 people
The Metz dining table doesn't look like much. But surprisingly, it can sit up to six people. It's made of oiled oak and has a built-in extension top with butterfly function, where two additional tabletops are extended like wings to increase the surface area. The table top isn't made of one large piece of wood, but is composed of several small pieces. This creates a pattern that gives the dining table a distinctive look. Because of its curves, the Metz table is a great addition if your interior design style is mid-century or boho.
6. Vashti: 4 to 6 people
The Vashti table keeps a low profile in terms of colour, but stands out with its porcelain stoneware top and cross-shaped leg structure. The latter also gives you more legroom. Porcelain stoneware is ceramic made of finely ground minerals that are pressed very densely in a mould. The process gives the surface a unique pattern similar to marble. It gives the Vashti table eye-catching properties you can deliberately play with to highlight a room. It's guaranteed to add dramatic flair to your next soiree. This table also comes with a butterfly mechanism.
7. Shelter Island: 4 to 8 people
If you've gone with an industrial look in your home, Shelter Island by Rivièra Maison is for you. The designer piece combines an iron frame with several wooden panels made of spruce and elm. The panels are arranged lengthwise like a parquet floor and framed by wooden beams. This gives the table an individual pattern. Shelter Island also impresses with its generous size. The tabletop can be extended to over 2.20 metres and there are two drawers at each end to store your table accessories such as coasters. But the best part ist that the table's part of a whole line of furniture that combines wood and metal elements. This makes it easy to create a coherent interior design style. However, it can also be a great way to contrast an otherwise romantically decorated room.
8. Owen: 4 to 6 people
If space is limited in your home, this dining table by Nordic brand Bloomingville is a great choice. Why? Because it only looks as if it's taking up a lot of space. Owen adds a touch of nature and Scandinavian flair to the room. The original table legs will up your room – no matter how sober it is. Keep in mind that the large boards to expand the table will have to be stored somewhere when they're not in use.
9. Oqui: 4 to 6 people
Thanks to its white tabletop, this piece of furniture can be integrated almost anywhere. It harmonises with an eclectic interior design style – or with the opposite. In any case, the table with its soft silhouette has the potential to become the centrepiece of any room. If the white is too bright for your taste, there's also a choice of an all wood or grey tabletop. Regardless of the colour, the two extra boards will need to be stored somewhere when not in use.
10. Milian: 6 to 8 people
With the Milian, you're making the most of the space available in your living room. When extended, you can comfortably sit up to eight people round it. If your chairs are on the wide side, at least nobody will be knocking into the corners, as the Milian's are nice and round. The dining table is part of a whole collection, which combines steel and wooden elements. This suits industrial chic, but also classically furnished rooms. Its mix of materials as well as the fancy table legs make it a real head turner.
This is the tenth instalment in the Form Follows Function series, in which I present particularly well-designed furniture – from A to Z.
Survey
Which piece of furniture should I present next?
Chair
Cloakroom
Bathroom cabinet
The competition has ended.
Header image: Bloomingville
---



Like a cheerleader, I love celebrating good design and bringing you closer to everything furniture- and interior design- related. I regularly curate simple yet sophisticated interior ideas, report on trends and interview creative minds about their work.
---
---